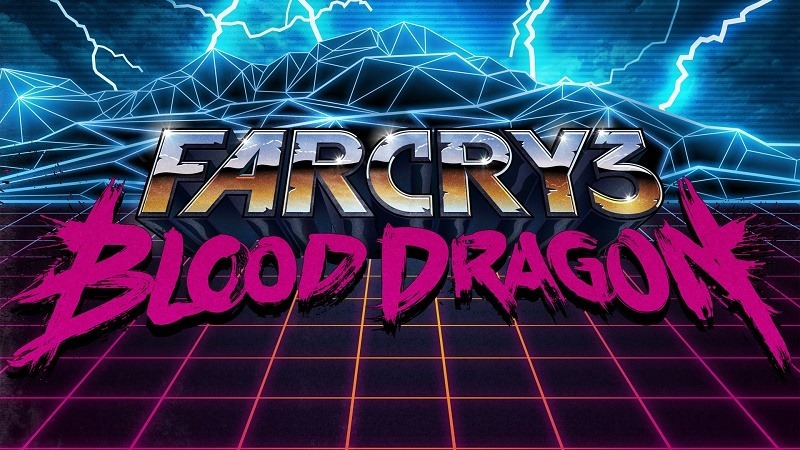 To celebrate their 30th Anniversary, Ubisoft have spent the past few months giving away free games. Thus far they've handed out Prince of Persia: The Sands of Time, Splinter Cell, Rayman Origins, The Crew, and Beyond Good and Evil.
So, what's planned for November? Oh nothing, only just the most ridiculously over the top shooter ever – Far Cry 3: Blood Dragon (via Kotaku):
Welcome to an 80's vision of the future. The year is 2007 and you are Sargent Rex Colt, a Mark IV Cyber Commando. Your mission: get the girl, kill the baddies, and save the world. Experience every cliché of a VHS era vision of a nuclear future, where cyborgs, blood dragons, mutants, and Michael Biehn (Terminator, Aliens, Navy Seals) collide.
I watched this video when the spin-off was first unveiled way back in 2013. Due to its trailer being OVER 9000 on the awesome-looking scale, I decided right then and there that I would play Blood Dragon immediately upon release. Fast forward a few years and, well, I haven't quite gotten around to it.
Now though, I can, and for FREE! If you'd like to grab the game yourself too, all you need to do is head over to the Ubi 30 page (from November the 9th onwards – you can grab Beyond Good & Evil at the moment if you missed it). Log in, add Blood Dragon to your account, and it's yours to enjoy forever and ever amen.
I really wouldn't miss this opportunity, because apparently, the shooter is a rather fun romp. So said Darryn in his review:
Blood Dragon is everything that you loved about action movies from a forgotten era, mixed with a healthy dose of cheese, Michael Bien, punchlines and some superb music. It's not just worth the buy. It should be an essential part of any game library.
To the top of the backlog Blood Dragon goes! I wonder what Ubisoft will be giving away next month?
Last Updated: November 3, 2016