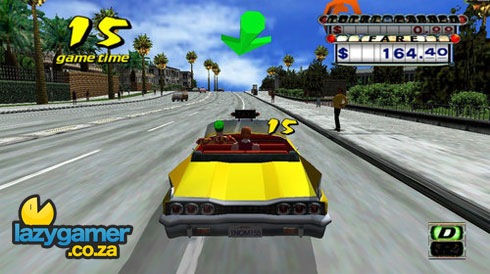 If a batch of screenshots are to believed, Dreamcast and Xbox Live arcade fans are in for a crazy ride. Unverified screenshots show that one of the system's staples – along with a host of other as-yet unannounced arcade classics will be hitting Microsoft's game service.
If you've never owned a Dreamcast, or played the arcade original, you ought be keen to jump in to a Crazy Taxi should the game find its digital distribution feet.
Crazy Taxi joins Sonic Adventure and Marvel vs Capcom 2 as ports of Dreamcast games ported to the Xbox 360. Screenshots over at Digiex include a game we've been waiting for for what seems like forever – Quake Arena Arcade. Other games shown include SNK games King of Fighters 2002, Metal Slug XX and Battle Coliseum.
Crazy Taxi with achievements sounds like a whole bunch of nostalgic fun right there – but what I really want is Jet Set Radio. Still Dreamcast games should work really well on the 360. The 360's controller is pretty much a streamlined, evolved version of the Dreamcast's – only with a much, much worse D-Pad.
Source : Digiex
Last Updated: April 19, 2010