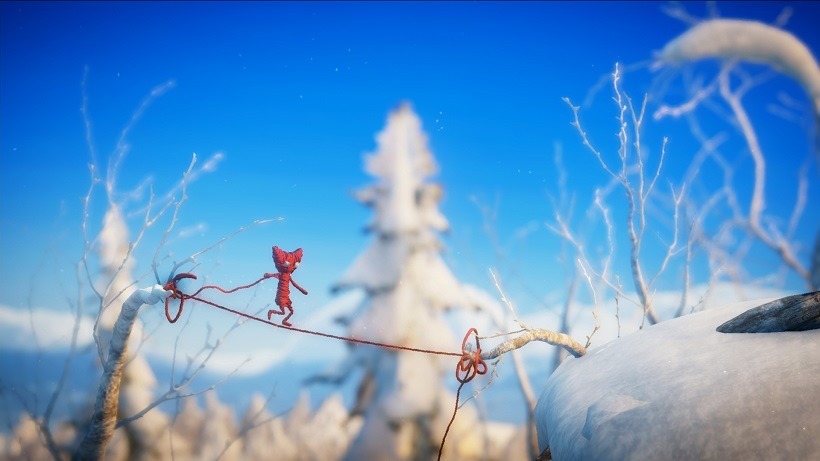 Unravel is without question one of my most anticipated games of the year, and it's been that ever since it was revealed at E3 last year. The unusual but endearing adventures of yarn spun protagonist Yarny look like compelling ones, filled to the brim with challenging puzzles gorgeous visuals and a story that is just bound to be a tear jerker.
So if you have absolutely no idea what I'm rambling on about, you're in luck. Developers Coldwood and EA have released one final gameplay trailer for the little platformer that can ahead of its release in just over two weeks. You'll get to see Yarny using his fabric powers to swing across impossible gaps. Traverse water by hitchhiking on a fish and just generally do what yarn people do. I think.
But being made of yarn isn't exactly the dream come true all the time. As you explore the wonderfully rendered world of Unravel, Yarny will leave a precarious trail of yarn behind – visually showing you how many attempts its taken to get on the path you find yourself on at any point. Problem is that yarn is also what keeps out brave explorer alive, so use to much to get to the next checkpoint and Yarny will simply up and vanish.
A premature end to his adventures for sure, and one that you'll see coming as Yarny thins every time you struggle to get past a head scratching puzzle. Unravel is special because of mechanics like this, which dig deep into the context of Yarny and his world to create something you'd image could happen to him. That, and the little guy still remains as cute today as he was on stage at E3.
Unravel is out on Xbox One, PS4 and PC on February 9th. And it looks great.
Last Updated: January 20, 2016