By Michael 'axtremes' Harmse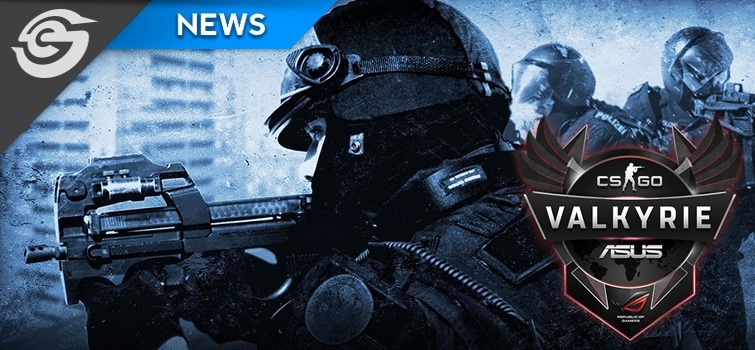 Mettlestate and ASUS did something rather unique in local esports. They recently completed the successful inaugural season of South Africa's first all-female CS:GO league. The ASUS ROG Valkyrie League. Now that the dust has settled in the aftermath, I thought I'd take a quick look back at the playoffs and talk with the victorious team's captain.
To the victors, the spoils
After nine weeks of round robin best of one group play, the playoffs were held two weekends ago to crown a champion. Bravado Finesse easily dispatched Glacier Purple in their opening match 2 – 0, while Leetpro Esports pushed past Amaryllis Gaming with a 2 – 0 win of their own. Glacier Purple was the first team sent home courtesy of yet another 2 – 0 scoreline at the hands of Amaryllis this time around. Sadly for Amaryllis, the best they could manage was third as they lost again in the decider rematch against a very motivated Leetpro, 0 – 2.
The Grand Final was set. It would be the so far dominant Bravado Finesse up against Leetpro Esports. While the scoreline doesn't necessarily reflect it, the  3 – 1 delivered by the Bravado ladies was hard-fought and more competitive than you might think. Bravado was able to emphatically overturn the loss to Leetpro in the WESG Female CS:GO Qualifiers back in December. With the Valkyrie League Season One title to their names, they've all but confirmed that they're the best female team in the country for the time being.
Giant cheques are awesome
To celebrate Bravado's win and the completion of the first season, ASUS and Mettlestate held a lovely breakfast event at the Mettlestate studios for the media. It was pretty cold outside, but that didn't do anything to lessen the enthusiasm of both the attendees and the elated Bravado Finesse players.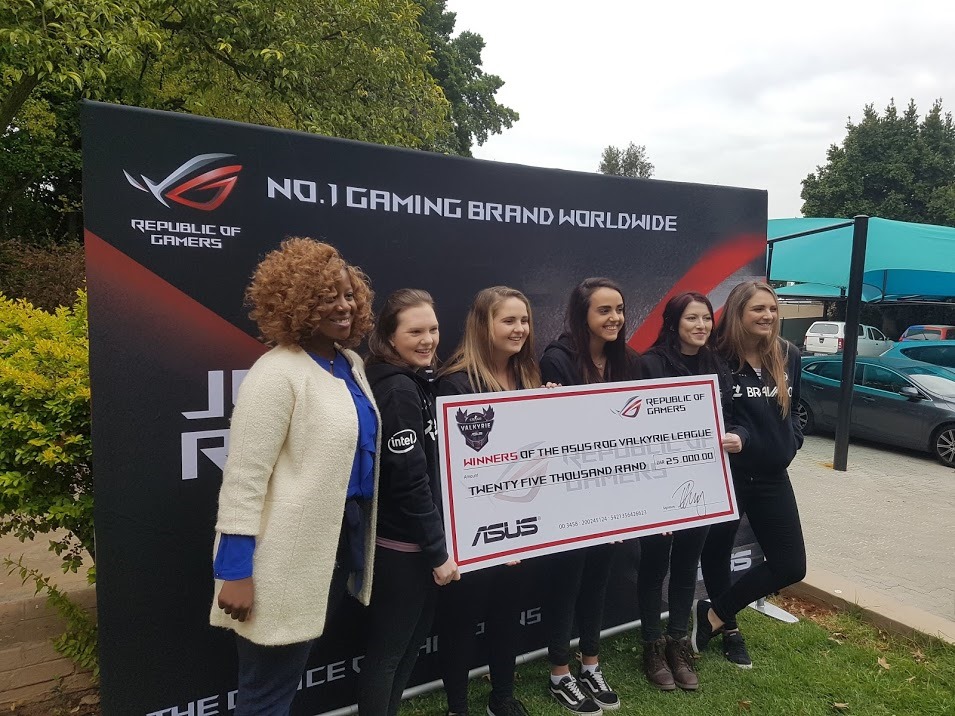 Photographed from left to right: Michelle Gabela of ASUS South Africa, Carmen "Cjay" Mcleod, Christin "2SSB" Meistre, Rachel "rayChil1za" van Dyk, Kayhla "KayC" Calder and Jana "SaltyMonkey" du Toit.
Take me to your leader
I managed to borrow Bravado captain SaltyMonkey for a few minutes after the prizegiving to get her thoughts on Valkyrie.
ax: You were saying earlier that you weren't expecting to win Valkyrie. Why would you say that your team weren't the favourites?
SaltyMonkey: I think Leetpro were favoured to win because of their last win at the WESG Qualifiers. They had been looking really strong. We didn't walk in expecting to win anything. We just wanted to try and do as well as we could.
The return of Sharon "Shazz" Waison is probably going to make a difference for Leetpro. Do you still expect them to be your closest competition going into season two?
Yes. I'm not going to disregard Amaryllis at all, now that they're playing for White Rabbit Gaming. They're going to be getting a lot of the technical help that they're needing. I am expecting to see a lot of growth and improvement from Amaryllis. I also expect to see Aperture Gaming (ex Glacier Purple) stepping up as well. Leetpro would be our closest competition right now, but I'm not excluding anyone. These girls are all working really hard.
It's been good to see how the overall level of play seems to have improved over the course of the competition. In the first weeks there were visible signs of inexperience from some of the newer teams As it's gone on, the teams have improved quite markedly. For season two, do you think the level of play is going to take another step up?
Definitely. I know a lot of the players have got coaches in for their teams and a number of teams have signed with bigger MGOs. They are all stepping up their game because they're taking it very seriously. I am expecting to see a lot of improvement in terms of skill, executes and teamplay in general. It's good for the scene as a whole to prove that female gamers can do this as well. I think we can expect season two to be better and I'm really excited about it.
Who would you say were the most valuable players for their teams in the Valkyrie league during season one?
There were so many names! From our team, Christin "2SSB" Meistre for all of her clutch plays throughout the tournament. I'm not going to just mention my own team, but KayC has probably got the best BMT (big match temperament) in the team. She's really helped hold things together and I've seen her improve as a player and become a real force to be reckoned with. I also have to mention TrueFire for single-handedly wrecking teams with a FAMAS. I don't know how she did it! Also, Scorpz has been hitting some amazing shots all season.
Esports insight, opinion, news and more at Esports Central
Like esports?
Check out esports central
Last Updated: June 22, 2018