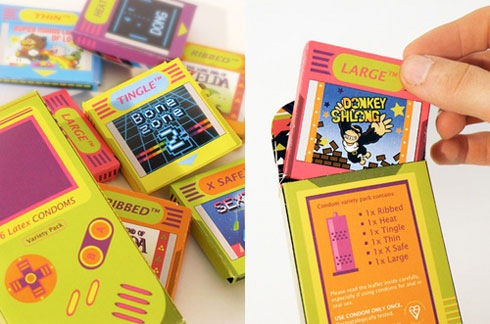 Ben Marsh has created – as a bit of an art project – a series of videogame themed prophylactics. The  whole package looks like a cardboard Gameboy, with each individually boxed condom spoofing a popular game.
He created them to "create a desire to purchase the product for aesthetic reasons, rather than the necessity of condoms," because it's not like gamers are ever getting laid, right?
Here's what's inside the box :
Ribbed – The Long End of Zelda
Heat – Dong
Tingle – Bone Zone 2
Thin – Super Mario Land of Love
X Safe – Sextris
Large – Donkey Shlong
You know what won't be inside any box, should you whip these bad boys out? Yeah, you're gonna be relegated to playing single player, I'm afraid. I guess in that way, they function as contraceptives, just as intended! Oh, just FYI, there're instructions (NSFW).
Source : Kotaku
Last Updated: July 2, 2010