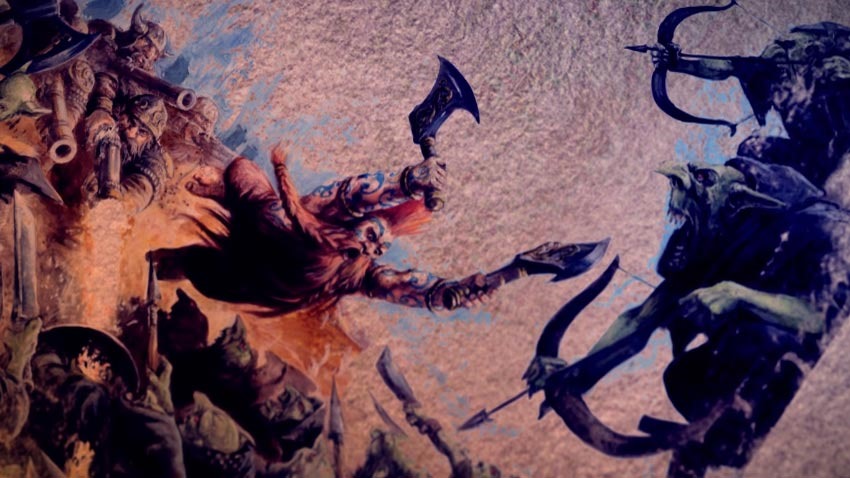 If you're looking to produce an RPG, you've got to have certain classes thrown into the mix. Without a mage, you've got a game that's the equivalent of Street Fighter without Ryu. No combat-heavy soldier or Barbarian? Why don't you strip Master Chief from Halo while you're at it? Wait, that game actually does exist, and is called Halo 5: Guardians. HEYOH!
Anyway, before I get crucified by Halo fans who'll barge in here and be all like "ACTUALLY MASTER CHIEF IS PLAYABLE FOR MOST OF THE CAMPAIGN AND YOUR HAIR LOOKS LIKE WET POOPIE", here's another traditional character to add to the RPG list above: A Dwarf. While you won't find them in every fantasy game, they're popular enough to be a mainstay in the genre.
Warhammer: Chaosbane has their own take on the character, who wields an axe under the character class moniker of "Dwarf Slayer". I'd just like to be clear, that this is a dwarf who slays, not a character who hunts dwarves in particular. So every single one of those little people shows on the TLC channel can breath a sigh of relief.
Bragi Axebiter is his name, and getting incredibly dizzy while spinning his axe into goblin faces is his game. Here's some footage of the slayer in action. Plus, is that an actual axe in his beard? METAL!
Looks like a fun character! Warhammer: Chaosbane is shaping up nicely, and already includes its own take on a Jack of all Trades Human brawler and a High Elf who wields the deadliest of magic. It'll be out on June 4, for PC, PS4 and Xbox One, with two betas arriving in March and April.
Last Updated: February 26, 2019