Okay here's a quick job for you, think ahead quickly for the next 12 months and what games are you planning on buying?
First up for me is Super Mario Galaxy 2, Red Dead Redemption, Halo Reach and the next Gears of War.
GamePlan has posted it's latest tracking charts and apparently I am not entirely out of touch with the mass market just yet.
The top 6 titles are all console exclusives with the first non exclusive being the very American Madden 11.
Some other interesting stats show us that no matter how poor we are we are still going to buy Super Mario Galaxy 2 and Halo: Reach while GT5 is actually quite susceptible to a recession, being highly rated on the purchase intent index and lowly rated on the recession proof index.
Surprisingly Red Dead Redemption is not charting at all at the moment… this will hopefully change soon enough to reflect the expected quality of the title.
Check the full chart here.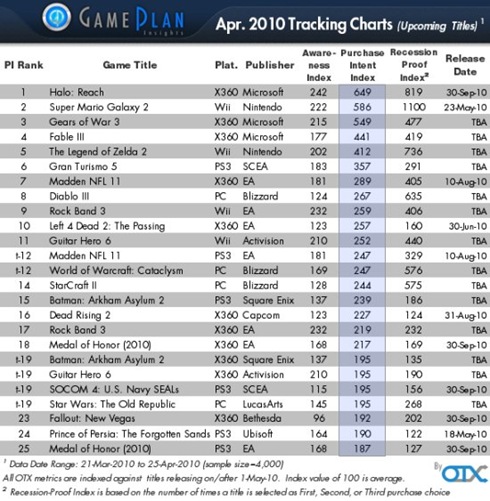 For games which have already been released we see God of War 3 sitting proud on top of the charts with Final Fantasy XIII and Bioshock 2 taking out the next 2 spots.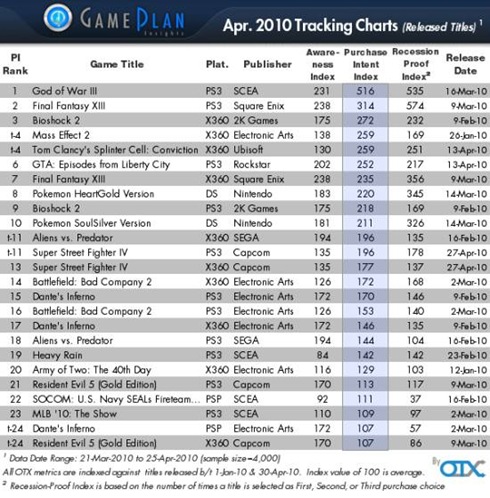 Source: Gamasutra
Last Updated: May 4, 2010