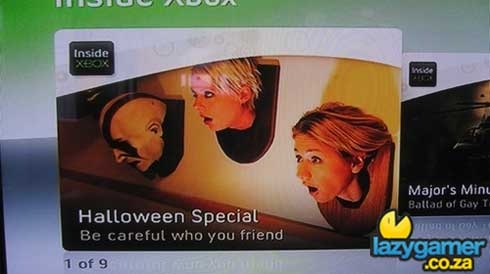 Eagle-eyed users of Xbox live have spotted a familiar, ass-kicking Greek on Xbox Live – None other than God of War's blade-wielding Kratos. In the Halloween episode of Inside Xbox a wall mounted trophy is visible, featuring the severed head of one of Sony's most popular characters.
This is surely a friendly Halloween taunt from MS to Sony – at the end of the video Xbox Live's Major Nelson is even seen playing a PS3. Either that or some sort of confusion arose when somebody said "Put a character from GOW on there"
Unfortunately for Xbox fans this is probably the closest you'll get to seeing God Of War, a Sony-owned franchise, on your 360.
Source : Kotaku
Last Updated: October 30, 2009