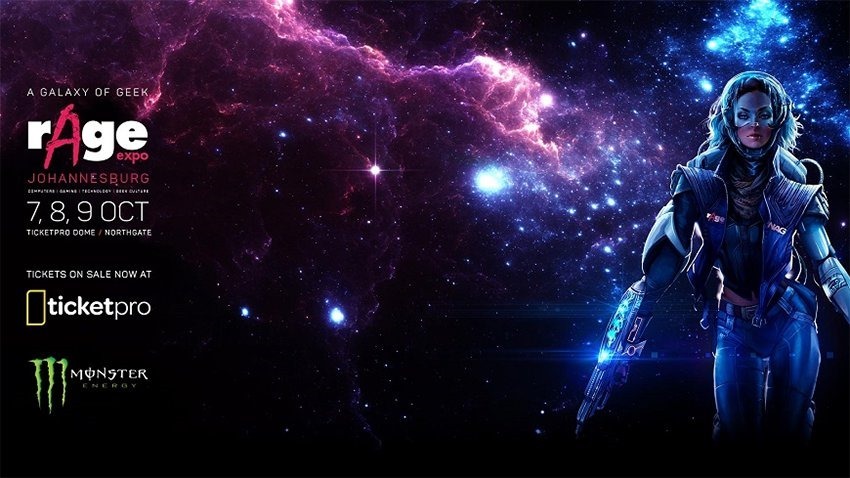 It's nearly time for South Africa's premier gaming and geek related gumph expo again! Early this October, you'll be able to get your hands on some of the latest games, eyeball some incredible cosplay and stare lovingly at gaming hardware you can't actually afford to buy.
This year, rAge is celebrating 15 years as South Africa's annual video gaming, computer, technology and geek culture exhibition. In addition to cosplay, gadgets, tabletop games and enough merch to bankrupt you several times over, the main attraction is, of course, the games. LANs, esports, hardware, playable demos, overclocking and probably much, much more.
Here are all the important details:
Location:
Ticketpro Dome, Northgate
Pricing:
R120 day pass (valid for one day only)
R300 weekend pass (valid for all three days)
Event Times:
Friday 6 October: 10am-6pm
Saturday 7 October: 9am-6pm
Sunday 8 October: 9am-4pm
For the influencers among you, the official hashtags are:
#rAgeExpo2017
#escapetoplanetrage
#agalaxyofgeek
#15yearsofawesome
We've got five sets of double tickets to give away to South Africa's premiere video game and geeky goodness expo. All you need to do is fill in the form you'll find here:
Enter
Competition is only open to people from South Africa. Competition closes on Tuesday 27 September. Competition winners will be emailed.
Last Updated: September 21, 2017