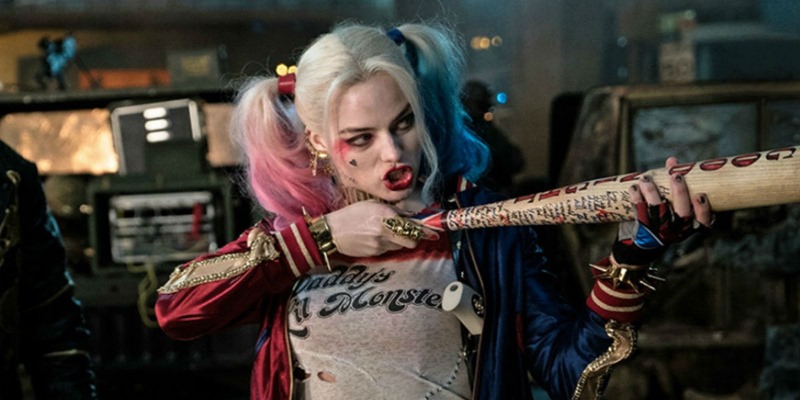 There's something undeniably lovable about a character like Harley Quinn, something her fandom would gleefully agree to presumably while pummelling my face in with a giant novelty hammer. Beyond the personality that shines, is a character with a distinctive look that is actually quite easy to accurately cosplay as. Whether it be her classic look, her current roller derby inspired outfit in comics or her various outfits from her video game appearances, Harley Quinn is a character that anyone can be.
Her latest look in next week's release of Suicide Squad however, may just be her wildest yet. It's got pizzazz, personality and a whole lot of elements to figure out. Fortunately, when a cosplayer is in need, the internet will provide. Especially if said cosplayer is looking for the perfect jacket to complete the outfit that she has been working day or nights on. Scroll on down to the jacket section to see what I'm talking about.
Shirt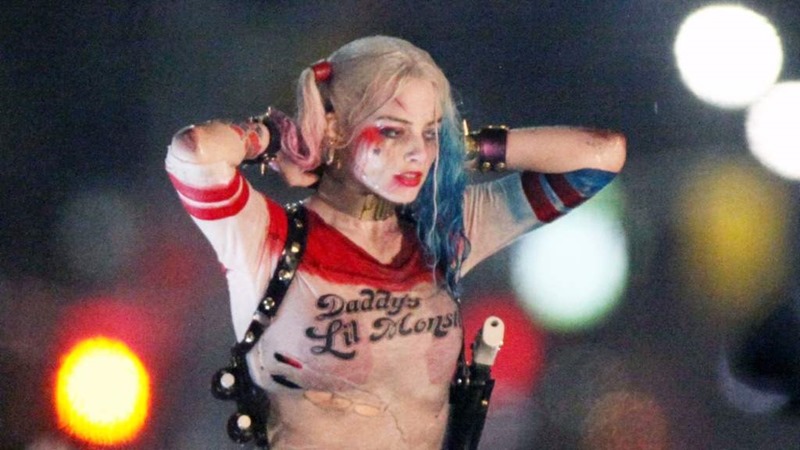 Pretty simple, isn't it? Thanks to the fans, a Harley Quinn shirt isn't that hard to find with eBay having plenty of custom-made options up for sale at decent prices. Alternatively, I've seen cosplayers take a normal white shirt, have the "Daddy's Little Monster" logo printed onto it and then sewn the top of a red shirt onto that. Or even painted the relevant sections the right colour with some fabric paint which appears to be more screen accurate.
Hot pants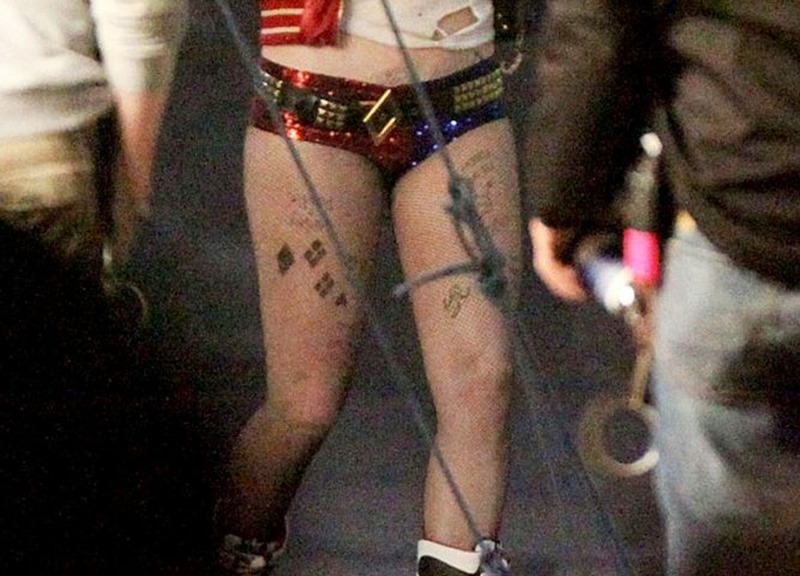 This doesn't leave much to the imagination, but at least you won;t have to worry about sweating buckets with these hot pants on. Hell, I might even wear a pair myself, because I know just how quickly the Coca Cola dome reaches a boiling point in October. The booty shorts aren't exactly complex, sporting a two-tone metallic colour scheme. A stretch-sequin mesh with spandex lining seems to be the preferred way to go, with eBay also offering plenty of options.
Finish that off with some stockings that have some wear and tear, a heavy black leather belt and you're good to go.
Cuffs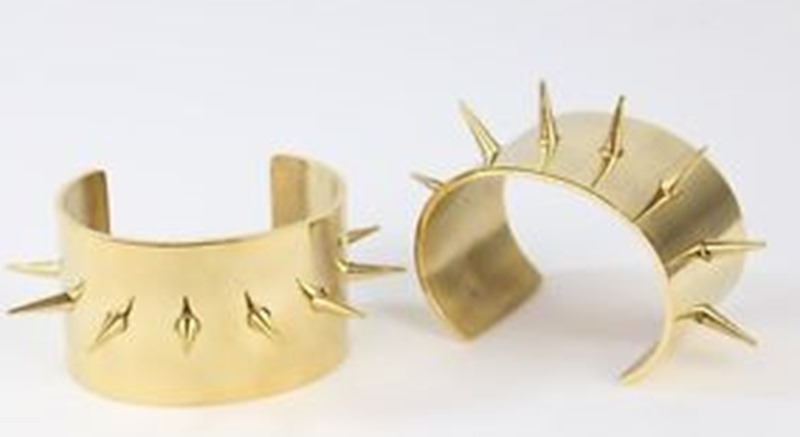 Harley has spiked gold cuffs as her wrist weapon of choice. You can find a pair of them here if you have the bucks, or you can go for something a little bit less accurate that won't break the bank.
Shoes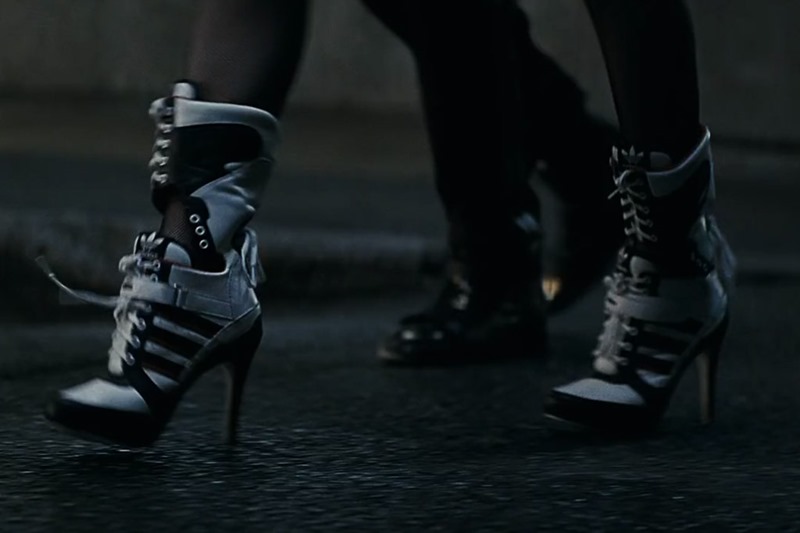 Harley wear a distinctive pair of shoes in Suicide Squad, specifically Adidas x Jeremy Scoot high-heeled sneakers with a white and black colour setup from the Fall 2014 collection. Good luck getting your hands on them as they're pretty much sold out everywhere and command a premium price. Your best bet may be to hack up a beloved pair of shoes and apply them to some high heels, or go for an alternative knock-offs, such as this pair from Ali Express.
Baseball bat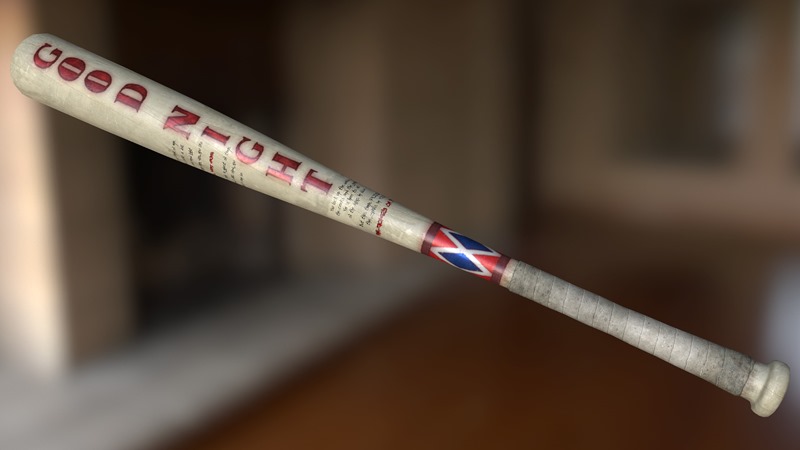 And now for some fun! Besides her trademark revolver, Harley happens to be one hell of a slugger. You can pick up a baseball bat in just about any sporting shop, but the real fun is in customising it. There's a lot of flavour text on this bat, with Smoothrat over on TheRPF detailing what all you need to stencil in:
You lock up the weirdos, the crooks and the geeks! Yer a hero to all of the boys in blue – But this time, PUDDIN, the joke's on YOU!
Hush, little baby, don't say a word Momma's gonna kill for you the whole damn world.
Aw, c'mon Puddin – don'tcha wanna rev up ya Harley?VROOOM VROOM!
Jingle bells Bratgirl smells, Birdboy laid an egg! The batmobile lost a wheel and Puddin got away!
I'm rubber, you're glue, whatever you say bounces off me and makes a six-inch-diameter exit wound in you.
I know what you think of me. You think I'm just a doll. A doll that's pink and light. A doll you can arrange any way you like. You're wrong. Very wrong. What you think of me is only a ghost of time. I am dangerous. And I will show you just how dark I can be.
Over on Reddit, Yogenysa created this detailed 3D mock-up to help you decorate it just riiiiiiiiight.
Jacket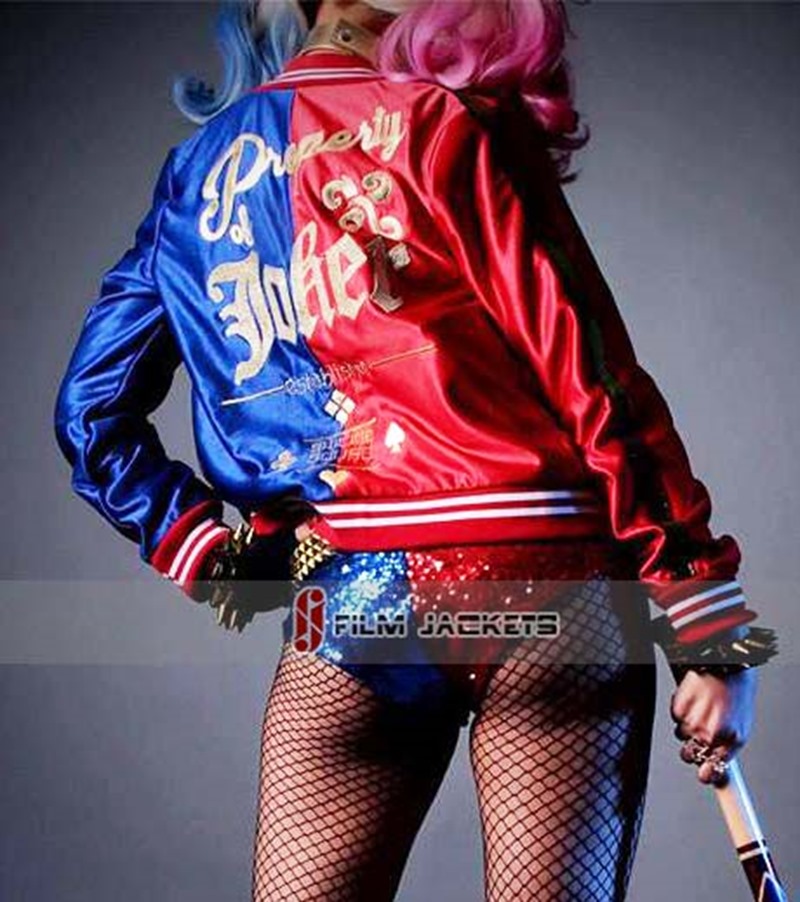 Now here's the hard part. Harley has a very unique jacket, one that you won't see in the shops anytime soon. Actress Margot Robbie is wearing something very much custom-made, and building one of these isn't exactly easy. It looks like a satin creation, with gold trimming on the cuffs, bottom and with gold zippers to accent the look. Now again, you can find these on eBay or Etsy. OR, and here's where it gets fun, you can grab one for free via Film Jackets.
Yup, Film Jackets wants to give one Harley Quinn fan a jacket that Mistah J would die for from their collection, and it looks properly screen accurate. It's got the right material, all the right text on the back and it actually looks comfy to wear in any climate. All you have to do, is fill in this form and we'll draw a winner next week to celebrate the launch of Suicide Squad. Contest is open to anyone residing in either South Africa or the United States of America. You're allowed one entry per absolute unique e-mail address. Winners will be randomly drawn – and notified by mail, and announced on site. Competition closes August 7, 2016.
[contact-form-7 404 "Not Found"]
Bet you didn't see this coming, did ya?
And that's a quick guide on how to dress like Harley Quinn next week! Remember, if you want that spiffy and totally accurate jacket from Film Jackets, click here to fill this form in and we'll announce a winner next week. Otherwise, give the rest of their catalogue a good browse, as they've got some quality goods at decent prices. I'm particularly keen on their Captain Deadpool gear. Purely for protective purposes of course.
Last Updated: July 27, 2016