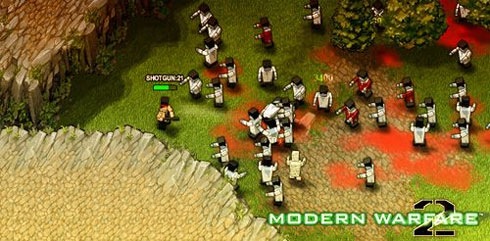 Call of Duty : Modern Warfare 2 dispensed with the fan-favourite Zombie-killing component. Thankfully our good friends over at OneLargePrawn are able to remedy that situation, by uniting Zombies and Call of Duty again…however tenuous the link may be.
The connection is this : Play Boxhead: Zombie Wars, and you could win yourself a copy of Modern Warfare 2 for your platform of choice, along with a Modern Warfare 2 branded wallet. It's really quite simple : Play the "Close combat" mode of the game, kill a bunch of zombies and post your score, prefixing your username with "1lp_". You have from now until midnight November 22 to rack up those kills and post your score, so get killin'!
Thanks to OneLargePrawn for the competition, and for getting me horribly addicted to yet another flash game.
Find out more over at OneLargePrawn
Last Updated: November 16, 2009