This giveaway is the Droid you're looking for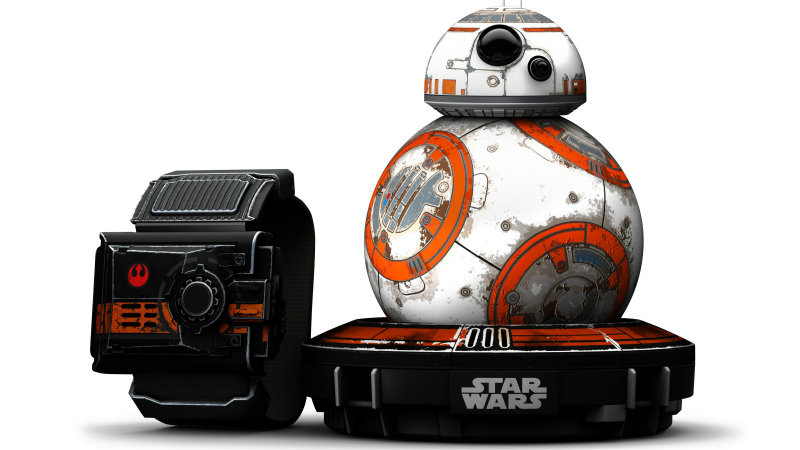 I like that Star Wars has returned. It's not a film series for everyone, but it offers an excellent universe for the hero myth, and includes some quirky and strong characters across genders, races and species. As always, a fan favorite character isn't even human or alien, but droid. This generation's R2D2 is BB-8, and he's adorable! Sphero already made a cool version of it that Alessandro has on his desk and makes me so jealous. But now, there's a new one that's even more awesome.
Here is the PR that I'm copying and pasting because surely some PR person was paid good money to craft these sentences:
The Force™ is strong with you. Channel it with the Star Wars™ Force Band™ by Sphero. Like a Jedi Knight, you can control your BB-8™ App-Enabled Droid™ with just a wave of your hand and expand your abilities with Force Training. Use the band by itself to complete Combat Training for Blasters, Lightsabers, and the Force itself, or collect digital holocrons in your environment through Force Awareness. Fulfill your destiny and become strong in the ways of the Force.

Pair your Force Band with Special Edition Battle-Worn BB-8, straight from the sands of Jakku. This Astromech Droid reflects the wear and tear of trekking across the galaxy on Resistance missions. Watch your Droid explore autonomously, guide BB-8 yourself, or create and view holographic recordings. The Force Band is also compatible with the original BB-8 App-Enabled Droid by Sphero and Sphero robots powered by Bluetooth SMART.
But if you want to see how cool it is in action, here's a video:
A battle worn force band and BB-8? So. Much. Need. Now if only I could use the force to have this brought to my house from the iStore, the good people who are giving us this giveaway. Yes, we're giving one of these beautiful things, worth R3999, away.
The force isn't that strong with me, though, but it might be with you. Simply fill in this form and the force might choose you as a winner. You know, because Random.org is obviously controlled by the force… or is it the Dark Side? Either way, fill in this easy form and enter to win. Then you want to wrap the present nicely and send it to me… Why is my force suggestion not working?
[contact-form-7 404 "Not Found"]
Entries close 9 December, so enter now. Prizes can only be sent to those with an address in South Africa, and you will get one entry per unique email address. That means Gmail aliases get binned.
Last Updated: November 30, 2016