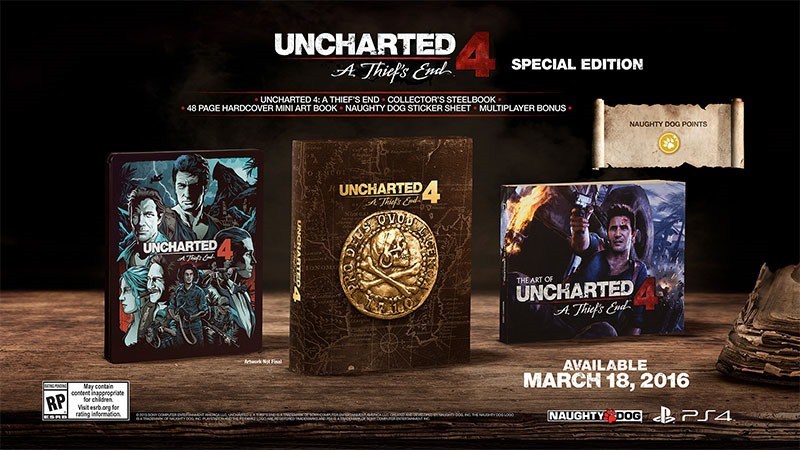 Geoff keeps raving about how good Uncharted 4 is. I've been trying not to listen to him, because I still have so many games to play and so little time for gaming lately. I'm trying not to spend more money on games until I've gotten value out of the ones I've already bought, although I'm sure I will be unsuccessful. If you're trying to do the same, but you're also desperate to play Uncharted 4, maybe you can do so without spending a cent thanks to this awesome giveaway we're running with the cool people of Ster Kinekor Entertainment.
We already told you about it, but I know sometimes these things fall through the cracks. So, here's a gentle reminder – we've got a Special Edition of Uncharted 4 to give away to one lucky reader. But wait, there's more! We're also giving away an Uncharted 4 hoodie that you are welcome to gift to me, and a T-Shirt. So not only will your gaming needs be met, we're also going to help you stay warm this winter.
In case you're not familiar with the Special Edition of the game, here's what's inside:
UNCHARTED 4: A Thief's End (obviously)
Collectible Steelbook Case
48-Page Hardcover Art Book by Dark Horse
Naughty Dog & Pirate Sigil Sticker Sheet
Uncharted Points: in-game currency to unlock various multiplayer content
If you want to win this, it really is quite simple. Just head on to snazzy competition page that Geoff so lovingly crafted, and fill in the form – you only have until Sunday 15 May to do so. You're allowed one entry per wholly unique e-mail address, and you can even sign up to receive our awesome daily newsletter while you're there. There are the usual terms and conditions, mostly related to being in South Africa and not currently being involved in a love affair with KFC (sorry Darryn).
Last Updated: May 9, 2016