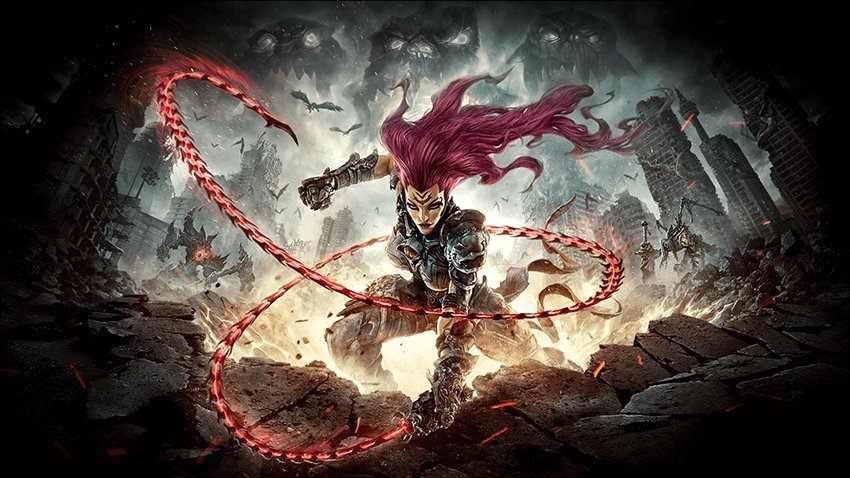 As derivative as the original games were, I have a soft spot for THQ's Darksiders games. The first one, featuring War, was effectively a charmless Legend of Zelda clone with a unique art-style. That's not a slight against the game, because it used the template well. The second added too many RPG elements (losing a bit of its soul in the process), but was still fun to mow enemies down as Death himself. When THQ dissolved in early 2013, and its properties were sold off, the entire franchise was in limbo; upsetting, given that we still had two more horsemen to play as.
Still, there was hope. In the great THQ property firesale, Nordic Games picked up the Darksiders IP and has since brought THQ itself back. In May last year, a retail listing for the as-yet-unannounced Darksiders 3 popped up, prompting THQ Nordic to announce the game officially. Now, a Microsoft store listing has revealed that it could be out this year – On November 27. It's developed by Gunfire games, which is primarily made up of former Vigil staff, who worked on the original games.
Here's what the description for the game says:
Return to an apocalyptic Earth in Darksiders III, a hack-n-slash Action Adventure where players assume the role of FURY in her quest to hunt down and dispose of the Seven Deadly Sins. The most unpredictable and enigmatic of the Four Horsemen, FURY must succeed where many have failed – to bring balance to the forces that now ravage Earth. Darksiders III is the long-anticipated, third chapter in the critically-acclaimed Darksiders franchise.
Play as FURY – a mage who must rely on her whip and magic to restore the balance between good and evil on Earth!
Harness FURY's magic to unleash her various forms – each granting her access to new weapons, moves and traversal abilities.
Explore an open-ended, living, free-form game world in which FURY moves back and forth between environments to uncover secrets while advancing the story.
Defeat the Seven Deadly Sins and their servants who range from mystical creatures to degenerated beings.
Sit in awe of Darksiders signature art style – expansive post-apocalyptic environments that take the player from the heights of heaven to the depths of hell, dilapidated by war and decay and overrun by nature.
Last Updated: July 9, 2018