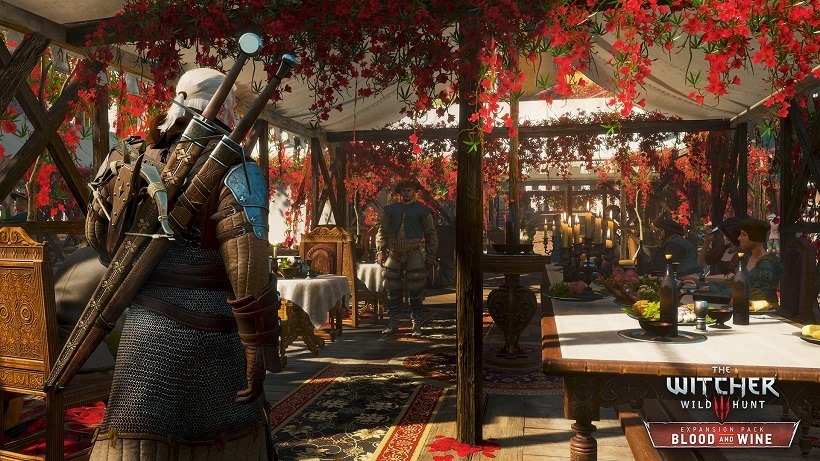 If you've been seeing a lot of stuff around Blood and Wine – the second and final expansion for the excellent Witcher 3 – you should've noticed something rather different about it. The Witcher 3 is vibrant and colourful amongst all its gloomy political drama, but the land of Touissant is somewhat more of that. It's bright and striking, and it's inhabitants match the new decor rather beautifully. Blood and Wine, in a sense, is the fairy tale the Witcher never explored.
That the sense you get from a new developer diary around the latest expansion, which details some of the influences that helped bring this new region to life. Geralt is still going to be brushing shoulders with monsters and criminals, but you'll also get the chance to meet and greet some of the most famed vineyards in all of the land. The families of Touissant cherish wine, and it's through their dedication that many of the potions and drinks you consume during the game came to be.
The entire region is overlooked by the largest mountain in the land, Mount Gorgon, but it's not clear if you'll be able to scale the entire thing. And if you can't, it's not too terrible – considering the new cities and haunted areas you'll be able to explore more than make up for that. There's a gorgeous Elven citify to get lost in, or a lonely fishing hut inhabited by a monster that seems to like spoons. Strange.
Blood and Wine is the last addition to the Witcher 3 before the whole of CD Projekt Red move onto Cyberpunk 2077. Their new RPG will not be out before next year, and probably won't even be properly shown off until then. CD Projekt Red like taking all the time they need on games, but when you're pushing out quality like The Witcher 3 I don't think that's a bad thing.
Blood and Wine is out on May 31, and should keep you entertained for a while.
Last Updated: May 13, 2016