[Update] This article incorrectly stated that the Witcher 3 has sold 20 million copies. The total is for the franchise as a whole.
How many copies of a game does a AAA studio need to sell for aid game to be considered a success? In previous generations, 1 million copies was a good measure – but in recent generations we've come to understand that it takes about 5 million copies sold for a great big, blockbuster game to break even.
Rising costs mean games have greater budgets – but are still being sold at the $60 mark as they have been for years. By that measure though, the Witcher 3 is more than just a success; it's become a juggernaut.
In its financial year end report (via neoGAF), CD Projekt RED has said that The Witcher franchise has sold over 20 million copies.
With regards to The Witcher 3, because developers get a bigger slice of the pie when the retailer isn't the middleman, as much as 50.2% of the game's revenue is through digital distribution, even though that channel accounts for just 31,6% of its sales.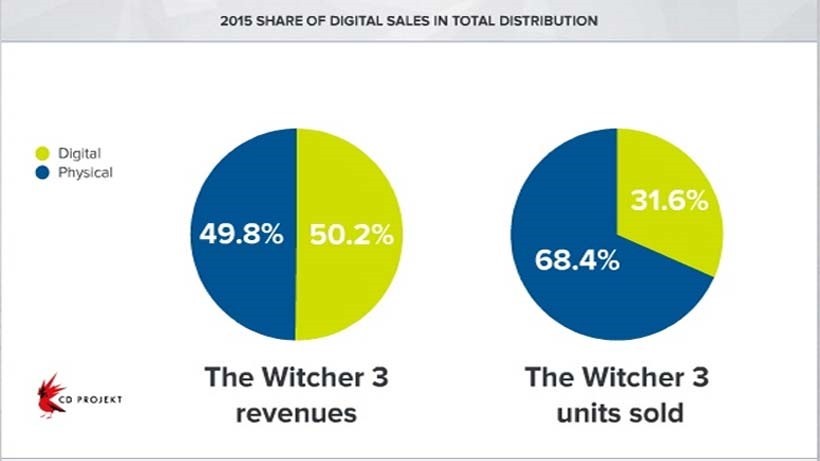 In the same call, CDPR has said that this year, it'll be working on "A new type of video game format previously unexplored by the Studio."
They've done sprawling RPGS, and mobile mobas – so what's next for CDPR? A standalone Gwent game? Either way, the studio is looking to grow in the coming year, expanding outside of its current base of operations in Poland – which I hope won't lead to the studio losing its soul.
That aside, CD Projekt RED's successes are well deserved; The Witcher 3 has, in many ways, ruined some other games for me.
Last Updated: March 10, 2016