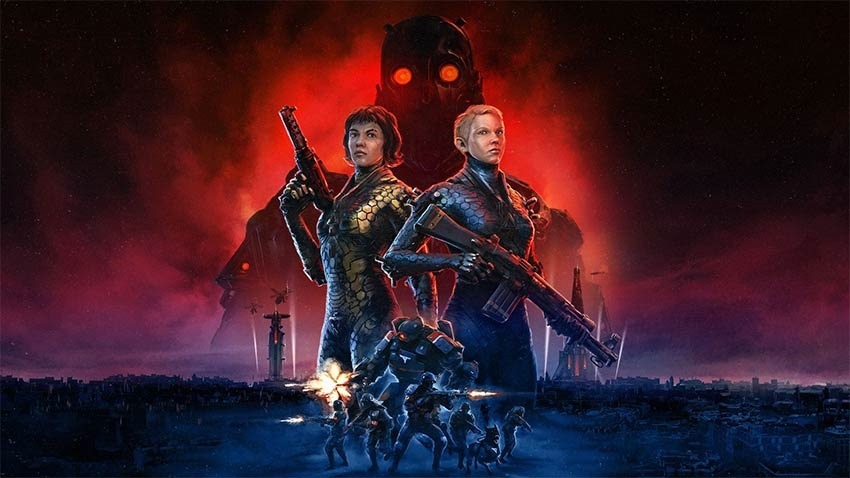 Machinegames' Wolfenstein alternate history reboots have given us some of this generations finest straight-up shooters. Both The New Order and The New Colossus were exemplary FPs games, using new technology couple with old-school design to make killing Nazis as cathartic as it could possibly be.
In July's Wolfenstein: Youngblood, BJ Blazkowicz passes the torch to his twin daughters, delivering a 1980's co-op shooter experience that's a change of pace for the series.
"Wolfenstein: Youngblood drops you into 80s Nazi-occupied Paris, and for the first time in the series, you'll be able to explore the world of Wolfenstein and wreck Nazis with a partner. Get your first look at the cooperative gameplay in this new trailer and get ready for revolution when Wolfenstein: Youngblood launches on PlayStation 4, Xbox One, Nintendo Switch and PC on July 26, 2019."
If the time period and change of protagonist weren't enough for you, it seems like the general design is getting an overhaul too. Speaking in a feature in this month's Official PlayStation Magazine, Wolfenstein: Youngblood executive producer Jerk Gustafsson has said that this Wolfenstein game will be more "open-ended" and that players will be able to complete missions in a variety of ways. If there's any studio under publisher Bethesda's umbrella that excels at this sort of thing, it's Dishonored developer Arkane – and they've been pegged to help out with Youngblood's open-ended structure.
"I think players will see a lot of similarities to level design in the Dishonored games, so in that sense it can be a little bit different as an experience but it can be for the benefit of the game, especially when it comes to finding different ways of approaching a combat scenario or a mission in general," Gustafsson said (via WCCFTech)
The open-endedness does, of course, mean that the game is less linear, which in turn, means it's not quite as story driven.
"The open-ended structure and co-op aspect has made it a little more difficult when it comes to the narrative. We do think we have a strong story, but it's quite different from what we have done before; it's a little bit lighter, not only in tone but also when it comes to the amount of content, and I think that's the big change when it comes to previous titles: the campaign is a bit shorter but the amount of gameplay time is greater.

"Players will be able to stay in the game for a long time," he added. "We'll add additional side-missions and new challenges once the campaign is completed. There's a lot more activities and side-missions that you can do in Wolfenstein: Youngblood than in previous Wolfenstein games."
Immersive sims like Dishonored and Prey are one of my favourite sorts of games, so my interest in this latest Wolfenstein has just increased exponentially.
Last Updated: May 13, 2019