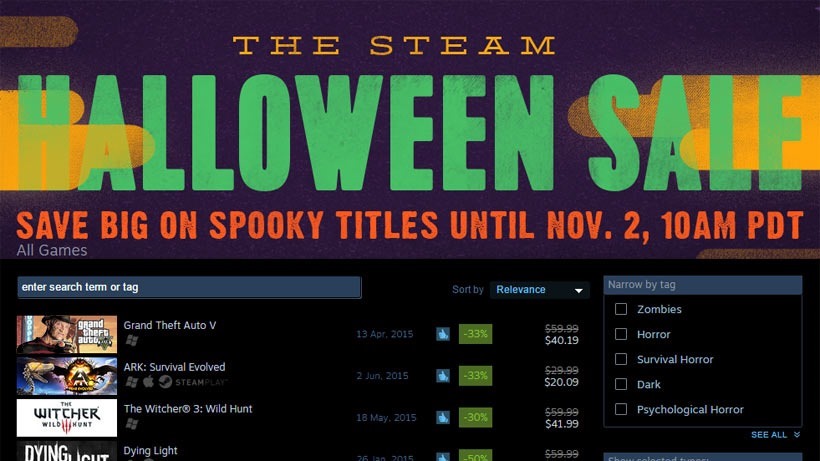 It's the most horrible time of the year. And I'm not ready for it. Soon, the streets will be full of…children, all looking for some candy and knocking on my door at night, completely ruining my regular bedtime of 7PM. Damn kids! Gerroff my lawn! Hey, maybe I should cosplay as Gran Torino Clint Eastwood tomorrow night. Let's see how high I can pull these pants up.
Anyway, Halloween is more than just a time-honoured American tradition that has been expropriated by other nations over the last couple of years. It's also a great excuse for capitalism baby! So dig into your wallet, and exorcise your way into the spirit of things I guess, because Steam is having a sale on spooky titles.
There's 75 pages full of sales on the Steam site, and if you think I'm going to type down the entire list right here, then you've clearly been snorting expired candy again. But here's a list of some of the games on offer:
Bloodrayne
Bloodrayne 2
Vampire: The Masquerade Bloodlines
Dead Space
Dead Space 2
Penumbra
The Path
Penumbra
Dead Rising 2
Lucius
Outlast
Gorky 17
The Typing of the Dead
Outlast
Harvester
Dreadout
The Evil Within
Alien Isolation
Santarium
Dying Light
Into the Gloom
Monstrum
Kholat
SOMA
The Coma
1001 Spikes
A Walk in the Dark
ARK: Survival Evolved
Abyss: The Wraiths of Eden
Alan Wake Collector's Edition
Aliens Collection
Amnesia Collection
Blackwell Epiphany
Killing Floor Franchise
Prototype
Resident Evil 4
Zombie Army Trilogy
Zombie Driver HD
You've got until November 1 to take advantages of the price-slashings on Elm Street.
Last Updated: October 30, 2015