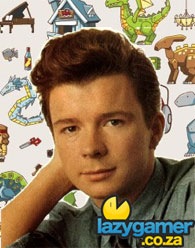 Regular readers would know that 5th Cell's Scribblenauts is on of my most anticipated games. With over 10,000 in-game summonable objects, its sheer scope is astounding. with so many variables, many people wonder what lengths you can go to while playing. Could one, for instance, Summon godzilla?
Chris from the UK's Official Nintendo Magazine has a preview copy of the game, and has created a list of words that work, and a list of words that don't – and some of them have me grinning like a Cheshire cat. Most notable? Write "rickroll" and you'll have conjured up a tiny digital recreation of Rick Astley. If that alone doesn't make you want the game, you have no soul.
hit the jump for Chris's list – but also note this is a list of just 100 or so working words out of TEN THOUSAND.
Words that ARE NOT in the game:
PERPETUALITY (not an object)
INTERNET
SANDBOARD
DELTOID
SHOVELWARE (on Nintendo? Are you mad? lol)
ANTIMACASSAR
MISANTHROPE
PLUMBOB (not in dictionary)
GLITCH
ANTIDISESTABLISHMENTARIANISM (not an object)
COULROPHOBE
BOOBS (not an object)
JEDI (trademarked)
ONM (not in dictionary)
MEANING OF LIFE (not an object)
DS (trademarked)
HAMMER OF THOR (not in dictionary)
DANCING BANANA (not in dictionary)
USB STICK
RAPTOR JESUS (not in dictionary, potentially blasphemous)
SHOOP DA WOOP (not in dictionary)
JOYSTIQ
ANNUAL
LEG WOUND
RUPEE
RUDOLPH
Words that ARE in the game:
SIBERIAN HUSKY
WALLPAPER
ACTOR
DESERT
GOGGLES
BANDANA
FINGERLESS GLOVES
SKI LIFT
FLANNEL
VACUUM
PEPPER (both the condiment and the vegetable)
COUCH
BANDICOOT
FLAG
HOSE
NAPPY (you can put it on him)
WATCH
TATTOO (makes a sheet of stick-on tattoos)
MUSHROOM
BOMBARD (makes a cannon)
SEISMOMETER
LOBSTER
MAGIC EGG (same as a normal egg)
EMO
DEATH
LIMBS
STARITE (but it's a fake one)
MAGIC
EVERYTHING
UNIVERSE
C4 (input CFOUR)
MELON
JUDGE
JEWEL CASE (but makes a Jewellery Box)
SD CARD (but makes a playing card)
CANVAS
SOLAR SYSTEM (but makes a star)
GALAXY
PISTOL
LED
RICKROLL (makes Rick Astley appear)
PEANUT
CHEERLEADER
LASER SWORD (but makes a normal sword)
GUITAR
GLASSES
AISLE
TREBUCHET
I CAN HAZ CHEEZBURGER (makes a cheeseburger)
PENGUIN
KETCHUP
STAPLER
DICTIONARY
SCRIBBLENAUTS (makes the orginal character design)
5TH CELL (makes the developer's logo)
LOLWUT (makes his head huge)
MORON (makes a dunce)
CHIMPANZEE
PENCIL
PAINT
BERET
SHOTGUN
CHAINSAW
TENNIS RACQUET
COMPUTER
GAS
SYNTHESIZER
CHEESE
REMOTE
CREDIT CARD –
SCISSORS
TWEEZERS
LAWNMOWER
FISHING ROD
INLINE SKATES
WASHING MACHINE
CARAMEL
STARFRUIT
PENNY FARTHING
TOAD
TSUNAMI
ABYSS
SPY (makes a Ninja)
LOLLIPOP
MONEY
TOAST
CAMERA
BABOON
ZOETROPE
Source : WiiNintendo.net
Last Updated: July 14, 2009