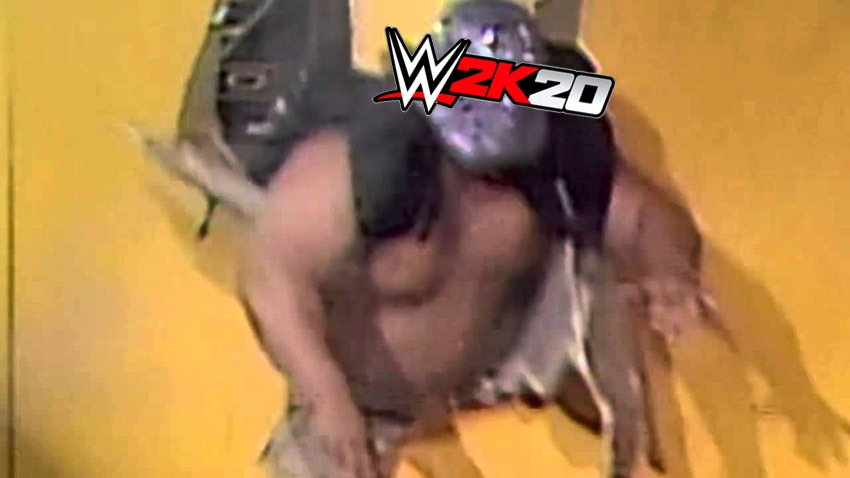 Another year, another WWE game and a general feeling that whatever 2K puts out will be passable enough to justify a hefty purchase for a visual simulation of Vinny Mac's House of Smacks…right? With nary a review to its name ahead of launch day (Which was yesterday!), there were already worrying signs that WWE 2K20 would be a jobber of a game this year instead of the heavyweight contender that fans were expecting.
Some baffling early footage and the departure of long-time collaborator Yukes didn't help ease those fears over, and with the game finally out in the wild the reception so far has been…well I'll let the rampant glitches speak for themselves:
YIKES! This is just the tip of the iceberg so far, as glitches, complaints about gameplay shake-ups and character models resembling possessed dolls more than the actual wrestlers they're based on, earning the ire of many a fan. Said disappointment is so real, that fans have started keeping a scorecard of bugs which reads like a nightmare list of things to fix in a game that at this point should still be considered a rough alpha version.
This game is an absolute mess. If you've been following along on r/SquaredCircle or r/WWEGames you might already be aware of what the hell is happening. I'll try and link clips of some of these in action – Volume and Language warning from the various clips! Here is just a list of some of the problems with the game in no particular order:
Every online game begins with maybe a minute of lag and the game is almost a slideshow of like 5 frames a second
In Online tag matches, you get matched with one of your opponents as your partner instead of whoever was shown on your team in the online lobby – Teams in the lobby are decided by the order you joined (P1 and P2 vs P3 and P4), but in the actual match its P1 and P3 vs P2 and P4
There's now a countdown once the multiplayer lobby is filled and you only have a limited time to pick your character. It isn't very long so you have to basically decide before joining who you want to play, especially if you're trying to coordinate teams
There are claims the game's Day One patch isn't out yet, despite the game being released for around 6 hours as of writing
They've removed the following features from Online: Entrances (it skips right to the match), MyCareer Arenas, User Created Arenas, the ability to edit Match Rules, Using Custom Matches that you've saved
It seems various match modes aren't in the game anymore
Other features have been removed like you can no longer control tag partners in single player tag matches
The game can crash if you try and import custom attires on other wrestlers
Entrance Music can play for the entire match – in the first link the music just kept playing the entire time
The prompt to get tagged in a tag match can appear when you're next to your opponent in their corner
Music incorrectly labelled – here Jeff Hardy's music is listed as Evolution
You can upload images for stuff like custom logos, but you can't actually download them in game
If you taunt the referee whilst its supposed to be counting a pin, the ref freezes and stops counting
Any changes you make to existing wrestlers don't get shown in game (changing a wrestler's hair colour, for example)
Button prompts not appearing properly eg. the counter button just doesn't show when you're about to get hit
Sometimes you get multiple versions of the wrestlers showing up
The game doesn't think you own the DLC characters when you try and download community creations for that character
Graphics aren't as impressive with some wrestler's looking much worse than their previous years versions and also not resembling the actual wrestler that well (Last year's John Cena on top)
Here is one particular egregious example of the difference in quality for entrances, character models and hair physics – old game on the left
Seriously the graphics are really bad in some parts
There's stories of people being stuck in the same match with no way to progress – the worst I've heard is one person being stuck in there for 4 and a half hours
If you add a logo on a MyPlayer character for the MyCareer mode, the game won't load
I've heard reports of weapons using the wrong audio effects when they're swung and hit
Targeting issues from the series haven't been resolved and continue to make any multi-person match frustrating to play
Create-a-belt isn't in the game at launch, but will be patched in later
The new-ish 24/7 title isn't in the game, and instead the game has the Hardcore Title (the old version of the title)
You can't load trophies on the PS4
Ref not counting pins and also wrestlers flipping from prone to vertical instantly
Winning a match without grabbing the objective
Multiplayer still has desyncing issues, the three characters in this clip are desynced from the other person and it results in weird situations like this – for the player's perspective the match is actually over already but it keeps going due to the desync
Character creation can create some absolute monsters with various glitches like stripping people of their faces
More cosmic horror creation examples
Characters contorting in sorts of crazy ways
Gravity no longer exists
Gravity no longer exists 2
Animations can get real wacky
I don't even know what to call this, the rolling people are stuck in rolling animation I think
Don't try this at home
Again, not sure what to call this – collision seems a bit jank
More examples of glitched animations
Interesting behaviour from the wacky inflatable tube men
Strange camera work
Getting stuck in all sorts of stuff
Thanks to the camera tools you can get up close to the glitches
I've played a few matches myself so far, and while I've yet to encounter any bugs of this magnitude, I can't help but notice just how janky and unpolished this year's Yukes-less version of WWE 2K20 is. It's stiffer than the Mean Street Posse and even if it had a ton of patches added to it (which will no doubt happen in the months to come), the fact that the game was released in this state is shocking.
On the plus side, WWE 2K20 has done the impossible: It has made WWE 2K18 on Nintendo Switch look like a masterpiece in comparison.
Last Updated: October 23, 2019