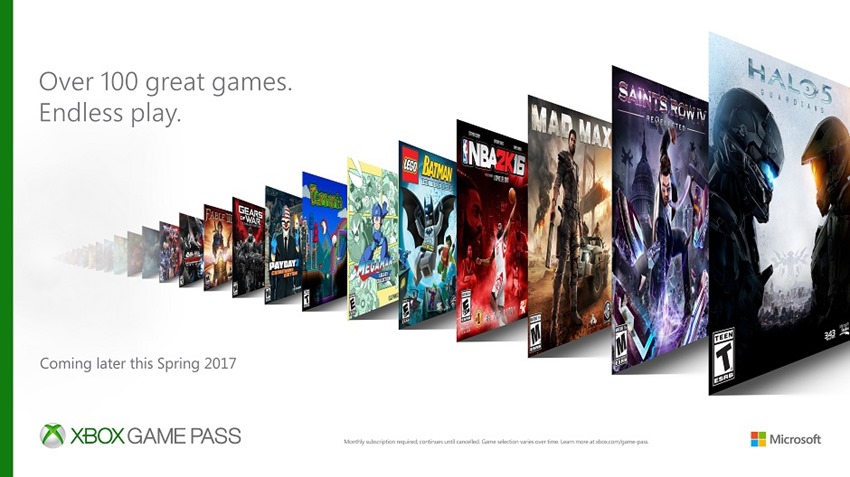 It's not exactly cheap to enjoy games these days. At a cost that usually demands the prettiest of pennies from your pocket, your choices are limited to either waiting for a sale to arrive months later or learning how to season a plate of cardboard until payday. But Microsoft may have found a perfect middle-ground, that comes off as all you can play version of Netflix.
Called Xbox Game Pass, the new monthly subscription service will run consumers a bill of $9.99 every month. What do they get? Access to 100 Xbox One and Xbox 360 backwards compatible titles that can be downloaded and played whenever you want so long as you're subscribed to the service. And they've got some pretty decent games lined up already from the likes of Bandai Namco, Capcom and Codemasters.
Here's the relevant bits from the press release, copied and pasted below:
Today, we're continuing our commitment to give you more options to diversify and expand your library of games with Xbox Game Pass, a new gaming subscription service coming later this spring. Xbox Game Pass gives you unlimited access to over 100 Xbox One and backward compatible Xbox 360 games – all for $9.99 per month.

With great games from top industry publishers such as 2K, 505 Games, BANDAI NAMCO Entertainment, Capcom, Codemasters, Deep Silver, Focus Home Interactive, SEGA, SNK CORPORATION, THQ Nordic GmbH, Warner Bros. Interactive Entertainment and Microsoft Studios, there's something for everyone to enjoy and you will always find something exciting to play across a variety of genres. Some of the fan-favorite titles coming to Xbox Game Pass when it launches to the broader Xbox community later this spring include Halo 5: Guardians, Payday 2, NBA 2K16 and SoulCalibur II.

One of the best things about Xbox Game Pass is that you can discover and download the full titles directly on your Xbox One. That means continuous, full-fidelity gameplay without having to worry about streaming, bandwidth or connectivity issues. In addition, all Xbox One games in the catalog – and related add-ons – will be available to purchase at an exclusive discount for Xbox Game Pass members, so you can make the games you love part of your permanent library to play whenever you want.

Every month new games will cycle into the subscription with some cycling out, giving you a constantly-updating library of games. Xbox Game Pass is your ticket to endless play.

The titles that are available in Preview are just a small glimpse at the expansive catalog of games that will be available when Xbox Game Pass launches this spring. Xbox Live Gold members will also be receiving exclusive access to Xbox Game Pass prior to the program launching to the broader community. We'll have more details on timing closer to launch.
That's a hell of a service and even if tastes may vary, paying around R140 a month for some games is still more palatable than paying that for one game at a time.
Last Updated: February 28, 2017