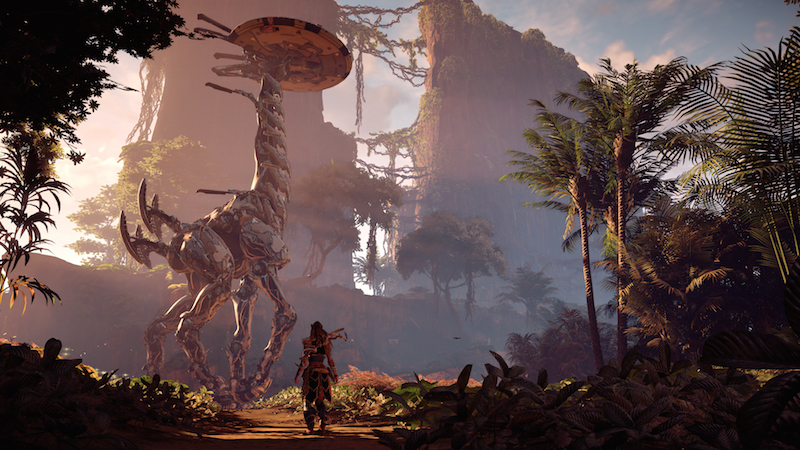 Remember that first trailer and gameplay we ever saw for Horizon Zero Dawn? It instantly became a must-play game for me, ticking all my intrigue boxes – open world, post-post-apocalyptic setting, strong female protagonist with mysterious robot dinosaurs? I could have put in my pre-order right then and there and become part of the problem with the gaming industry. Of course, I had tons of questions about the world and gameplay, first of which was "can I climb that weird giraffe robot dino? Well we have an answer now, and it's yes.
Thanks to the PS4 event last night, we actually got to see more than just PlayStation sizzle reel. Some games actually brought gameplay footage. We already looked at Mass Effect, and now we can see some cool stuff from Horizon Zero Dawn:
I have no idea what she was actually doing once she climbed to the top, but it looked pretty cool. I love the idea of climbing these massive creatures, and then belaying down. It adds to that whole "everything you can see, you can climb/reach" thing that makes modern games so magical. And in case you weren't convinced that Horizon Zero Dawn looks incredible, here're a bunch of screens for your viewing pleasure.
I know, recent gameplay we saw wasn't exactly mind-blowing, but this new tidbit is restoring my faith in the game. It really looks like a unique experience, one I will need to dive deep into for myself. I actually can't wait.
Also, what is it with demos and trailers and not showing protagonists picking up obvious loot? I mean, I know they don't want the showcase to drag on, but it always seems so unrealistic to me when characters rush on without picking up things that any normal player would.
Last Updated: September 8, 2016