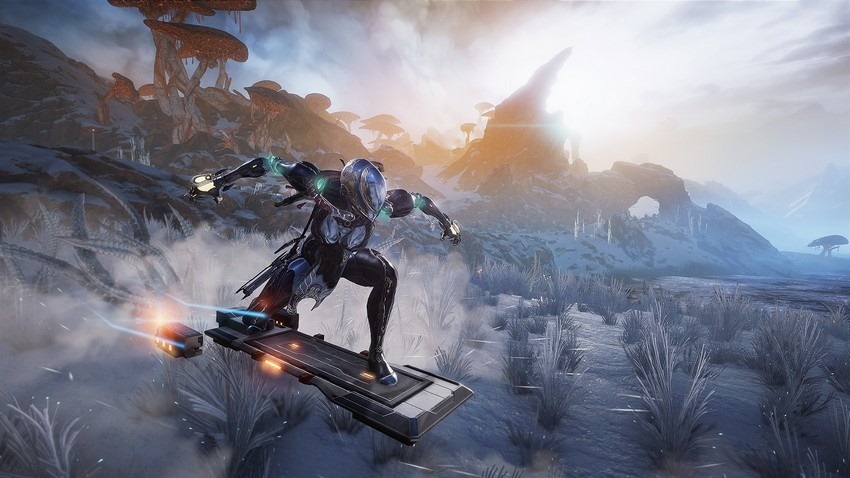 Look, I hate to break it to you guys, but Skate 4 is not happening. Despite some sketchy-as-hell rumours leading some to believe that a new skateboarding game would get revealed at last month's E3, no such game announcement kick-flipped its way into reality. If you, like Darryn, ended up a blubbering mess at this disappointment, then I have an alternative for you. One in which you can even shred as a badass space ninja instead of being a baggy jeans-wearing The Offspring album cover model. It's called Warframe.
Yes, as revealed over the weekend at Tennocon, Warframe's ambitious-as-hell upcoming Fortuna update will see players getting to explore a brand new open-world area set on Venus which is orders of magnitude larger than the current Plains of Eidolon. As such, developer Digital Extremes took the latter part of their name to heart and introduced new hoverboards as a means of getting around the frozen landscape. Officially called Bondi K-Drive hoverboards, these are rocket-powered sleds allow you to zip around and over the landscape at high-speeds complete with crouched backwards arms downhill racer poses. And you can do tricks on them!
In the Fortuna gameplay demo (skip to the 12:00 mark in the video above to start seeing the hoverboard action), Community Director Rebecca Ford can be seen doing 360-degree spins while zipping around, but according to PC Gamer, that's just part of it. The publication was at Tennocon and spoke to Warframe Creative Director Steve Sinclair who informed them that "there will be plenty more stunts, like backflips, that players can perform as they jet through the gorgeous frozen mountains of Venus". Unfortunately, because it's a hoverboard which, you know, hovers, there will be no rail grinding happening here, but you can use the K-Drives as weapons themselves by jumping on enemy heads.
Not content to just give the Corpus enemies the ol' Mario Bros treatment? Well, you may be in luck as Sinclair also went on to explain that there's currently a "heated debate" going on internally at DE about whether players will be allowed to fire their weapons while using the K-Drives. Currently, when switching to Archwing mode – Warframe's jet-pack mode that players can use in outer space or underwater missions – on the Plains of Eidolon, it allows players to still rain down destruction as the Archwings come with their own built-in weapons. K-Drives don't though, and it doesn't sound like they ever will. What they do have though is customization, as Sinclair confirmed that "there would be different models along with cosmetic upgrades that you can earn in various ways including cool graphics for the underside to show off how gnarly you are." Eat your Earthbound heart out, Skate 4.
Warframe's Fortuna update will be dropping sometime before the end of the year.
Last Updated: July 9, 2018