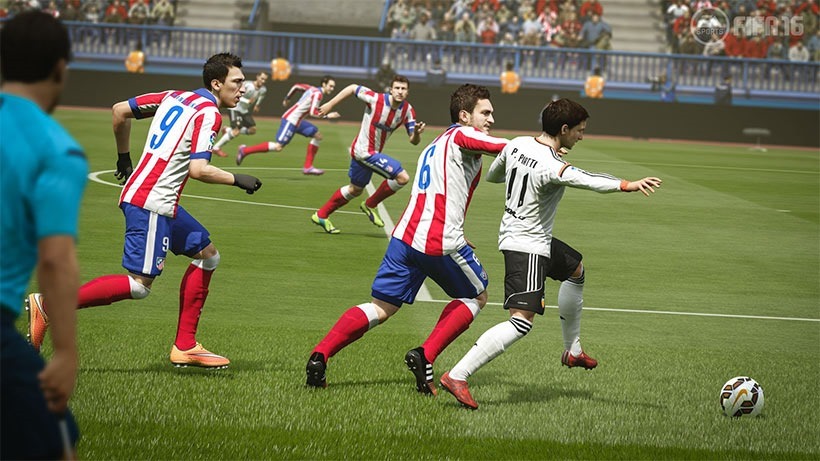 Pro Evolution Soccer 15 is here! It's out today, and should be in your hands provided you didn't order it from a national online retailer that may or may not rhyme with Maker Bot. It's one of the best games of the year, and arguably the best football sim to be released in many a year, if reviews are anything to go by.
Naturally, because it runs of the magical, fairy-powered Fox Engine, just like with Metal Gear Solid V, the best place to play it would be on the mighty PC, right? Well no. We've always known that the PC version of the game would be different from the flagship, current-gen console versions.
In June this year, Pro Evolution Soccer's community Manager Adam Bhatti said as much.
"It's not the same as PS4 or Xbox One, not the same PS4 and 360. It's its own thing," he told twitter, following up with "PC version will have its own sort of entity there. It's going to have a lot more of the features of PS4."
So the PC version is a bit of a hybrid, falling somewhere between the old gen versions and the newer ones. Only it's not really. According to reports, the game has essentially been ported from the Xbox 360 and PS3 versions of the game – which is almost fine if that was made clear from the start. Obviously, the PC platform shouldn't be on the receiving end of a cruddy port, given that the general gamers PC can easily handle it, and that scalability is one of the reasons PC gaming is appealing.
So in the end, PC gamers end up with a shoddy port, filled with sub-par lighting, flat textures and last-gen graphics and features.
What makes this so egregious is the obvious, heinous bait-and-switch tactics that Konami has employed in its marketing of the PC version. Even the game's Steam page (which seems to have been removed for some) made extensive use of assets and screenshots of the PlayStation 4 version of the game.
That's just not cricket.
Take a look:
Last Updated: September 18, 2015