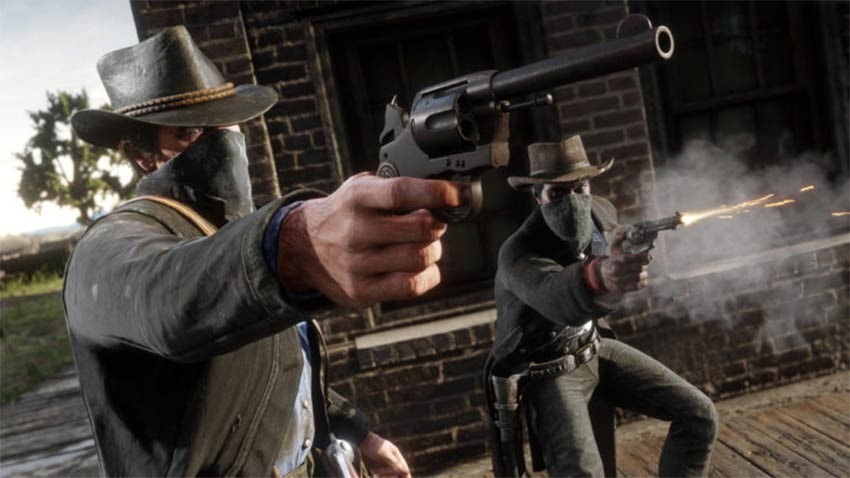 Activision and Infinity Ward revealed the PC specs for Call of Duty: Modern Warfare, and – the size of the install notwithstanding – they're not terrible. Rockstar has likewise revealed the sort of PC you'll need for their rooting-tooting-goddamned-chore-of-a-game-with-a-bit-shooting cowboy simulator Red Dead Redemption 2, and…well, the specs for the game are surprisingly moderate.
While the game might be one of the most dull games I've ever played, it's also one of the most beautiful, and intricately detailed. It's probably why Rockstar forces you to look at every minute detail as you plod about on your horse for hours on end, or do chores around your campsite for no good reason other than that you have to. I'm actually looking forward to the PC version, because I have no doubt that enterprising modders will make the game better, by removing the mundane busywork, which will no doubt make for a better game.
Anyway, it's specs aren't too bad: Here's what you'll need:
Minimum specifications:
OS: Windows 7 – Service Pack 1 (6.1.7601)
Processor: Intel Core i5-2500K / AMD FX-6300
Memory: 8GB
Graphics Card: Nvidia GeForce GTX 770 2GB / AMD Radeon R9 280 3GB HDD
Space: 150GB
Sound Card: DirectX compatible
Recommended specifications:
OS: Windows 10 – April 2018 Update (v1803)
Processor: Intel Core i7-4770K / AMD Ryzen 5 1500X
Memory: 12GB
Graphics Card: Nvidia GeForce GTX 1060 6GB / AMD Radeon RX 480 4GB HDD Space: 150GB
Sound Card: DirectX compatible
The only troubling thing there is the HDD space you'll need, especially if you want the game on an SSD and you don't have a particularly large drive; there might be some juggling in your future.
Beyond that, not too bad. And that comes with graphical enhancements over the console original too. If you have the requisite hardware, here's what you can expect:
Increased draw distance
"Higher quality" global illumination and ambient occlusion
"Improved" snow trails
"Improved" reflections and higher resolution shadows
Tessellated tree textures
"Improved" grass and fur textures
HDR support
Unlocked resolution (4K and higher)
Ultrawide aspect ratio and multi-monitor support
Unlocked framerate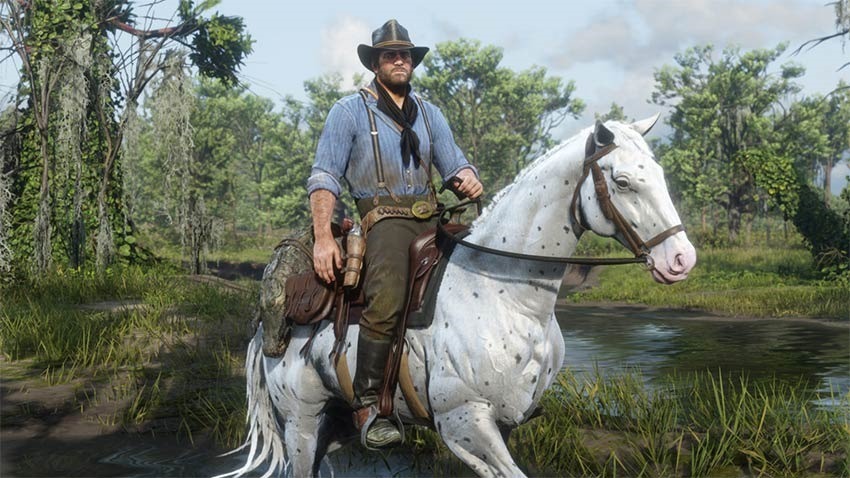 If you've already played the game on console (and didn't hate it), there's possibly even reason to double dip. There's quite a bit of extra content coming to the PC version, possibly making the wait worth it. Basicallym they've added a bunch of Red Dead Online stuff to the single player.
3 new Bounty Hunter Missions
Herman Zizendorf has been stealing tools from tradesmen—track him down in Blackwater.
Ex-Confederate Cavalry Officer Camille de Millemont is wanted dead or alive out by Catfish Jacksons, but his loyal men are never far behind.
Bart Cavanaugh and his men are camping out in Big Valley. Take Bart dead or alive without alerting the others if you want to avoid a whole mess of trouble.
2 new Gang Hideouts
Take on the deadly Del Lobos gang in new hideouts at Gaptooth Breach and Solomon's Folly.
2 new Treasure Maps
Search for treasures across the new Landmarks of Riches and The Elemental Trail maps for gold bars and other rewards.
New Story Mode weapons
M1899 Pistol: All-new Semi-automatic handgun with clip loaded ammunition
Evans Repeater: High capacity repeater (previously available in Red Dead Online only)
High Roller Revolver: Ornate double-action revolver (previously available in Red Dead Online only)
Le Mat Revolver: Powerful revolver with the ability to shoot shotgun shells (previously available in Red Dead Online only)
New Story Mode horses
Warped Brindle Arabian: A fast and agile mount.
Few Spot Appaloosa: Beautiful and hardy, ideal for cross-country journeys.
Perlino Andalusian: A healthy, sturdy animal, ideal for hunting (previously available in Red Dead Online only).
Red Chestnut Arabian: A fleet-footed beast with a distinctive coat (previously available in Red Dead Online only).
Plus 3 new wild horse variations: Keep an eye out for wild herds featuring the Buttermilk Buckskin Kentucky Saddler, Liver Chestnut Morgan and Gold Palomino Tennessee Walker.
New Mission 'To The Ends of The Earth'
Collect requested herbs for a range of rewards.
5 new trinkets
Hawk Talon: Permanently decreases Stamina bar drain speed by 30% when drawing a bow
Cat Eye: Permanently increases the length of Fortifying tonic effects by 20%
Shark Tooth: Permanently increases horse bonding experience bonus by 10%
Turtle Shell: Permanently increases health bar refill speed by 10%
Crow Beak: Permanently increases looted ammo by 10%
It's out on PC on November 5.
Last Updated: October 10, 2019