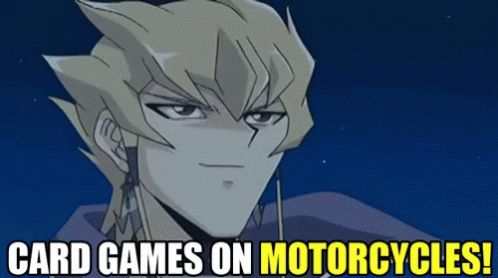 I used to be a big fan of the Yu-Gi-Oh! card game. Used to be, because right now all the recent updates, new duelling mechanics and updated monsters have left me heckin' bamboozled. The last time I was properly into the game, was during the 5Ds era (CARD GAMES ON MOTORCYCLES) era which introduced Synchro summoning.
To me, that was the peak of Yu-Gi-Oh!. Here was a mechanic that worked wonders, could turn the tables in an instant and saw the release of some of the best cards in the game. Stardust Dragon is still one of my favourite cards of all time. And then…and then things began to get a little bit more complex. Pendulum Summons. XyZ Summons. Link Summons.
Look, I may be old-fashioned but cards that have more text on them than the entire King James Bible does not make for a fluid and exciting card game. I'm just…I'm just so confused as to why it takes an entire episode to explain how a card effect works. WHAT HAPPENED TO THE HEART OF THE CARDS? Anyway, the last time I even played Yu-Gi-Oh! in video game form, was Yu-Gi-Oh! Zexal World No Screw This Stop Making Up Words Japan.
It was awful, Konami played a Buyer's Remorse trap card that I couldn't escape and I still glare at it every day as a reminder to never be that stupid ever again. There's a new game on the horizon now, this time for the Nintendo Switch and featuring an entire arsenal of anime protagonists whose ridiculously spiky hair earns the Crocodile Dundee seal of approval for being "loike a real knoife". Here's the trailer for Yu-Gi-Oh! Legacy of the Duelist: Link Evolution:
Beyond the bevy of boys with silly hair, Yu-Gi-Oh! Legacy of the Duelist: Link Evolution is aiming to be a massive celebration of Duel Monsters across the twenty years of the existence of the franchise. Which means over 9000 cards, that Duelists can build their decks from. It's…it's going to be a confusing game of catch-up for me, isn't it?
The celebration kicks off later this month in Japan, with a localised release in the west arriving later this year.
Last Updated: April 16, 2019