We have a bit of a running gag in the office. It all started when Darryn talked about making us his fantastic Mexican wraps, and he mentioned including baked beans in the recipe. Since then, we have concluded that Darryn has absolutely zero taste in food, while Geoff and I fall somewhere closer to the "food snob" end of the spectrum. It's not to say that we don't appreciate certain low-brow foods, but it still has to be considered food. Which is where the Chizza enters.
Announced by KFC, the Chizza is a pizza made with a fried chicken base. And the promo images for it are pretty glorious: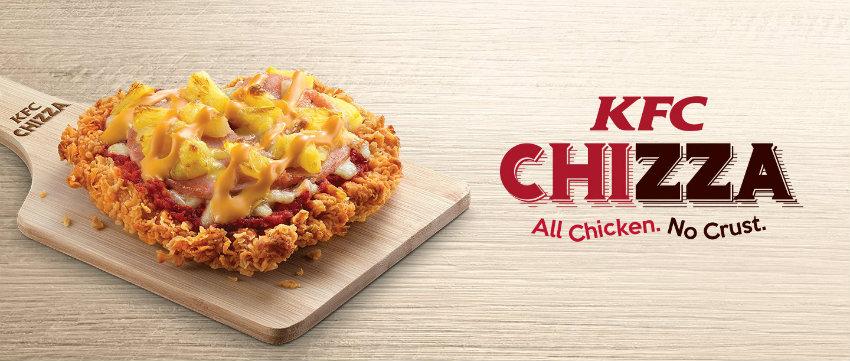 It's actually not that far off from what already exists in the culinary world. It's much like a chicken parmigiana (or parmesan) – breaded chicken breast topped with tomato sauce and mozzarella, parmesan or provolone cheese. This just goes the extra step of adding pineapple or pepperoni to make it into even more of a "pizza". You could even imagine it as something of a Chicken Schnitzel pizza. So really, how bad could it be?
Well, apparently really really bad. Images started pouring into social media, and they are terrifying:
Instead, we thought we would try to fix the Chizza. If we used some high quality ingredients, surely we could replicate the experience at home. Of course the pineapple might cause issues for some, but we thought we'd press on and make something worth eating, and show you how you can make it, too. So, here's what we did:
That honestly doesn't look bad to me. Like I said, it's sort of like a chicken parm, only with some extra fake cheese, that weird chicken ham and some pineapple. If we did a pepperoni one instead and dropped the fake cheese, I'd probably eat that. In fact, I'm sure I would eat that. Of course, Darryn would happily eat the Chizza as is, but he's already addicted to KFC's dunked wings, so that really isn't saying much.
What other fast food creations have terrified you while being strangely mesmerizing? We will do our utmost to recreate them. Or, don't tell us what you want to see and we will continue to give the guys awful ideas and fear for what they create.
Last Updated: March 10, 2017