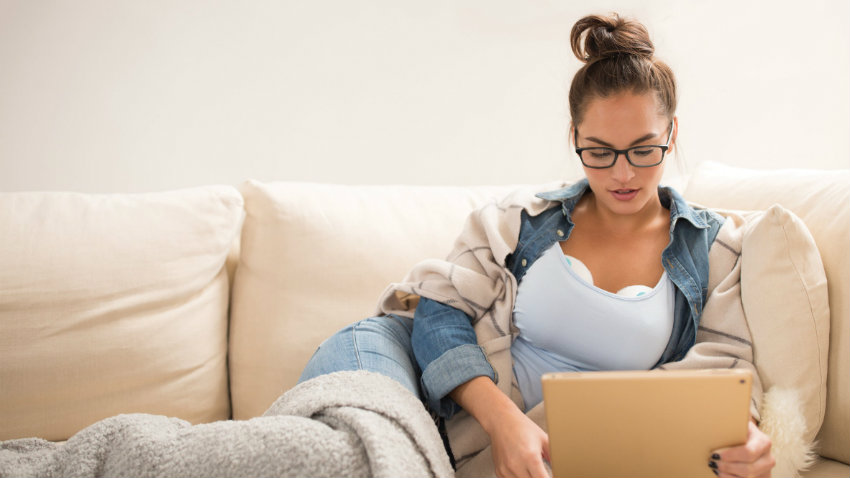 In case you've been living under a rock, this past weekend was CES. Mostly, it's an opportunity for major tech brands to show off bigger or flatter TVs, bizarre laptops and the rest of the hall to be filled with weird new iPhone cases. However, there is sometimes some form of breakout technology, and this year the hands-down winner in that department was Willow. For a look at other recommended breast pumps, The Babble Out has a comprehensive guide for your perusal. 
I can't even tell you how ubiquitous Willow has been on my social media feeds. It's a smart, discrete breast pump – worn under the clothes it allows moms to pump hands free in whatever situation they need or desire, and it's even practically silent. It connects to an app as well, so moms can see how much they've pumped on each side and all sounds rather fantastic. Here is a quick video that shows it off:
First of all, allow me to explain why this is so very wonderful, why so many women are sharing this on social media. The World Health Organization, as well as just about every pediatric body on the planet, recommends exclusive breast feeding for the first six months of life. By now it has been drilled into so many parents that "breast is best", but it's best for a lot longer than many people originally thought. Infants should only be introduced to solids from six months (or later), which means that a nursing mom could be expected to be the sole source of sustenance for her child for at least half a year.
That's already a lot of pressure, but it gets worse when you factor in working – most companies are generous if they offer four to six months of maternity leave, which usually includes at least one month at the end of the pregnancy. That means that working moms are expected to return to work while their babies still need the precious milk inside them. This can be very stressful for moms; it's hard enough to deal with the stress of leaving such a tiny baby in someone else's care in order to return to work, but it's even worse if you're worried about providing milk, too. Not all companies are supportive of women who need to pump at work, and not all moms are comfortable with it anyway, which means that many moms end up weaning their babies early or switching over to formula.
Willow changes all of that. Women can pop the device in their bra in the morning and pump whenever works for them – while driving to work, during a conference call or even while eating dinner. It makes a tedious and time consuming activity more manageable, and is exactly what technology is all about. It's a wearable that makes life easier, that makes parenting easier, and is uniquely built for women. It is hard to express just how fantastic and life changing this device could be.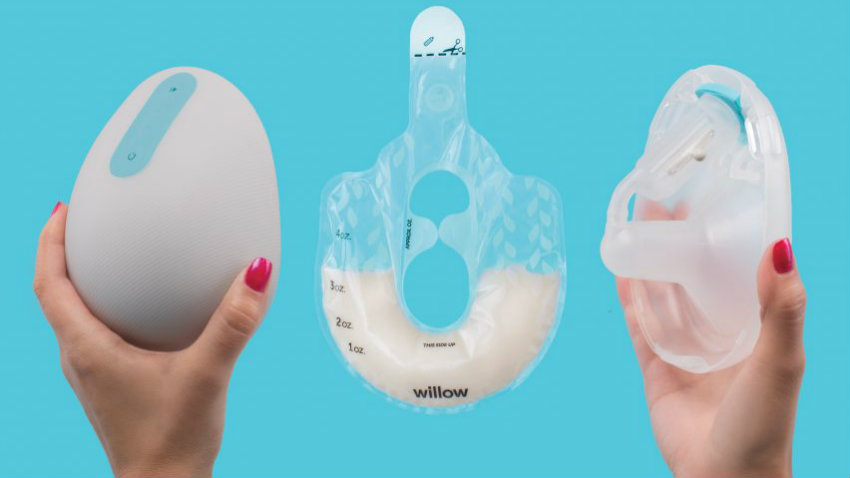 I did get a bit worried, though, when I heard about pricing. Of course the pump itself would be expensive. It's set to cost $430. However, if you think about how much formula and other baby foods cost, plus the peace of mind it will bring to the mom, that bit is worthwhile. No, the part I was worried about were the bags.
Inside the cup is the pump (obviously) as well as a bag with a one-way valve so that it can't leak. Bags are one-time-use products (that are fridge and freezer safe) that need to be cut open to transfer the liquid gold into a bottle. I was really worried as the device comes with 24 4-oz (118ml) bags. Depending on how often your little one drinks, and how much, that could only be enough for a couple weeks. This was where I feared that the company was going to gouge women, charging insane amounts for the refill bags. However, it appears that they will only cost $0.50 per bag. That's way cheaper than most of the freezer safe breast milk containers sold by other brands and sounds rather affordable.
To often, wearable technology seems targeted at solving problems that don't exist. It feels gimmicky and a waste. Willow, on the other hand, is not only practical and smart, it is built for a problem that only affects women. Well done to its creators for making such an important breakthrough product. This is what we need more of, this is what technology that understands families (not just women) can look like.
The views and opinions expressed in this article are those of the author(s) and do not necessarily reflect the official policy or position of Critical Hit as an organisation.
Last Updated: September 18, 2017