Much was made of Amazon and Lionsgate's A Big Sick when it released last year to a lot of critical and award buzz. The Big Sick was heralded as a refreshing change of pace in a genre that is often so formulaic you can guess the plot just from looking at the movie poster. Does the film live up to the hype or is it yet another romantic comedy that offers more of the same?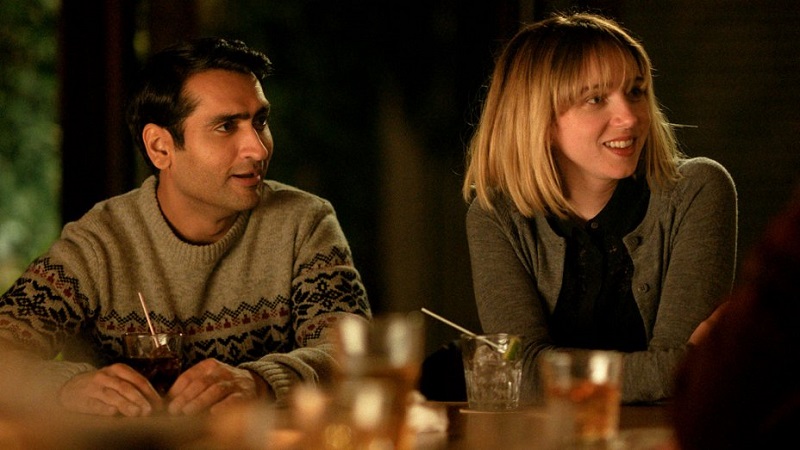 Well the answer a little more complicated than that, as, at its very essence, The Big Sick is an incredibly endearing and highly loveable romantic comedy that is able to stand up from the rest of the genre just on the strength of its characters and honesty of its story. An honestly that shouldn't surprise considering it is based on the real-life love story of its writers Kumail Nanjiani and Emily Gordon, a couple who certainly put their entire hearts on the line here in creating this movie. It's a bold step to put a story like this, that reveals so much on the line about their characters and life and you have to commend them for doing it.
The film sets itself apart in not trying to be glamorous and over-romanticised and rather focus on the difficulties that having an inter-racial and cross-cultural relationship can bring to both parties. That a lot of this love story exists through a life-threatening disease that sees Gordon (played by Zoe Kazan in the movie) hosptialised and in a coma for several weeks while Nanjiani (playing himself) develops a relationship with her parents (Ray Ramona and Holly Hunter) while also having to confront his parents (Anupam Kher and Zenobia Shroff) about his relationship with a non-Pakistani and non-Muslim woman.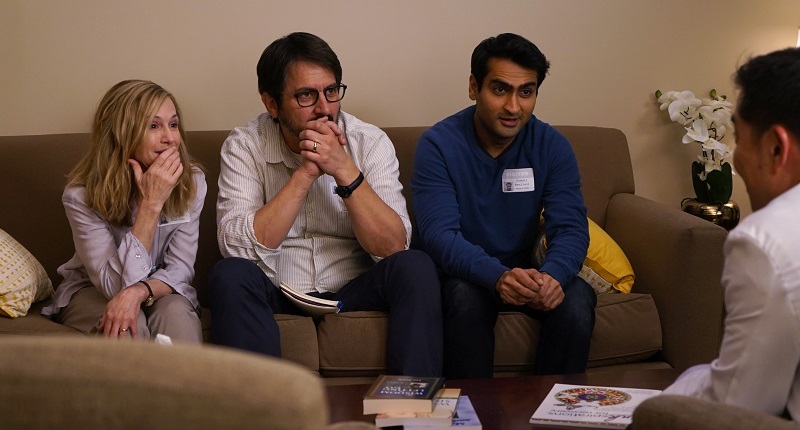 And to be honest, comedy is perhaps a bit of a stretch for this movie, because although the film bills itself as such and stars the comedic talents of Nanjiani and Romano, its many attempts at humour fall flat. This is not through lack of effort though as the movie contains many lines of dialogue and stand-up routines that are clearly set-up to create a laugh, but mostly fail to deliver. The film also takes a long time to get going as it sets up its premise and the best parts of the movie involves Gordon's parents who are only introduced more than 30 minutes into the film.
Additionally, as a movie which is trying hard to be different from the rest of its genre, it's amazing how it falls victim to so many of the same cliché's we see in the genre. In a prime example of how life and fiction can so easily mix, we get a lot of moments which we have seen before in other movies. The traditional Asian family which believes in arranged marriages that is desperate for their son to marry in their culture and faith, but he is destined to fall in love with someone on his own – well that's the plot for most Bollywood movies right there. An on-off relationship that takes a moment of tragedy to unveil their true feelings for each other. Again, done many times before. Even the way the film builds up to its will they fall in love? climax is riddled with clichés and considering you already know the outcome given the relationship status of its writers, means that you have lost most of the anticipation in the movie.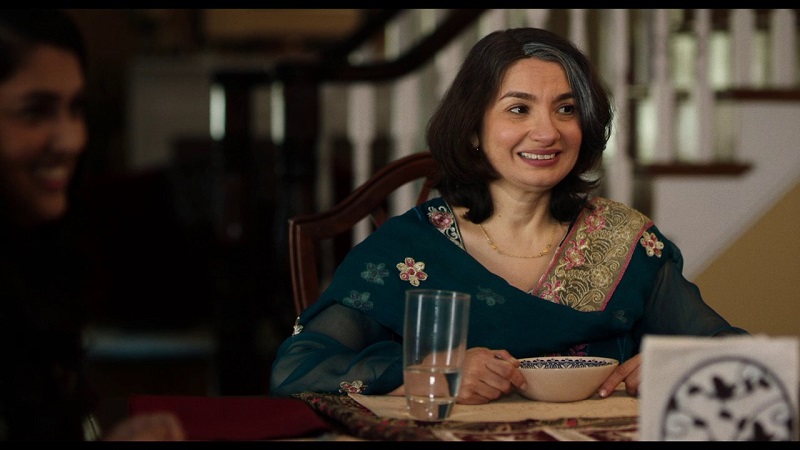 Does this make The Big Sick a bad move though? Not at all. The acting is pretty solid (though if you can call Nanjiani's performance as himself acting is probably not quite fair) and despite some of the comedic fumbles, the story is still really well-written and towards the end, you learn to really appreciate the relationship between Nanjiani and Gordon, for all of its clichés. Director Michael Showalter doesn't try to do too much in this movie and largely allows the movie to play out as intended, through its characters. The film could've done with some better pacing at the start and better humour, but by the end of the movie you definitely don't regret watching it.
I will make a brief mention of the films cinematography by Brian Burgoyne, if only because some of the film's scenes which take place in dark rooms are a little too dark and unless you're prepared to immerse yourself in darkness while watching the DVD, are unlikely to show up well on your TV screen (no, it's not my TV, I did a test and its definitely the movie that is too dark). Not sure why Burgoyne darkened these scenes as much as he did and it doesn't detract from the movie too much, just surprising to say the least in a film with otherwise high-quality production values.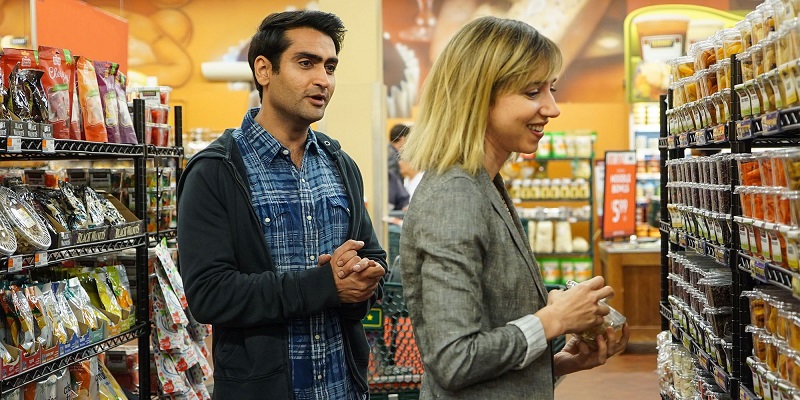 The Big Sick is not a reinvention of the genre that it was heralded to be, but despite all its faults and problems, remains an endearing and enjoyable experience if you can get through its slow start and invest in its characters.
Last Updated: February 14, 2018
The Big Sick (DVD)

The Big Sick is not a reinvention of the genre that it was heralded to be, but despite its many flaws, remains an endearing and enjoyable experience that is certainly worthy of your time