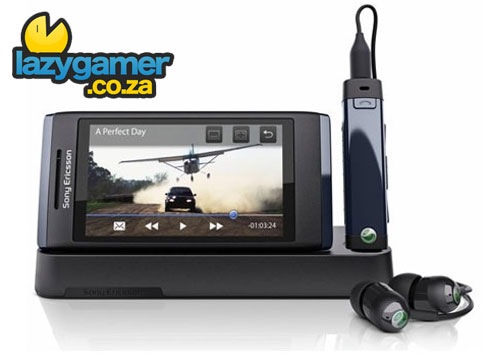 Today sees Lazygamer's very first cellphone review. As an obviously gaming focused site, this is not something we regularly dabble with. The Aino though, which we've told you about before, has a little ace up its sleeve – in that it's the first phone to feature PS3 remote play capability.
Indeed, like the PSP, the Aino allows you to directly play back content stored on your PS3. This is no PSP phone though; but it is a feature-rich mid-range phone that packs a wealth of capability in to its small shell Before delving in to its PS3 connectivity, the crux of this review, let's see how the phone fares in general.
The first thing you'd notice, when taking the sleek and sexy device in hand is its incredible weight. This is a reassuringly heavy phone, a weight that's psychosomatically compounded by the incredibly dark hue of the device, dubbed "Obsidian Black." It's a slider phone that features an instantly familiar keypad layout under the screen. Also familiar is the interface – which is essentially the same one Sony Ericsson phones have been sporting for the past decade.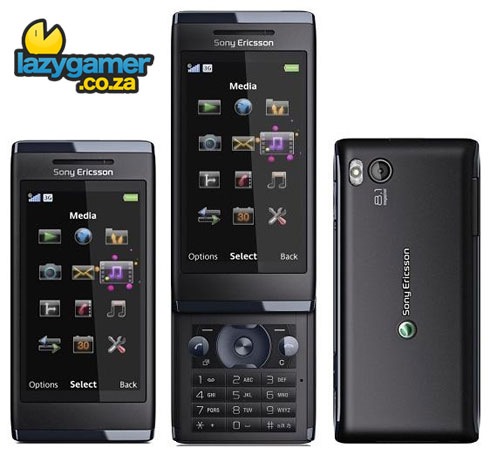 Quite bizarrely, despite featuring a fairly responsive capacitive touch-screen, you can't use it to navigate the menus. This strikes me as a particularly silly decision on the part of Sony Ericsson. It's mean! It's like taking Timmy the fat kid to the Bakershop, showing him the strawberry jam donuts and then buying him a celery stick. With which you poke him in the face. Repeatedly.
The touch screen does work in media mode, which is where the device redeems itself. Slide the phone closed and it's magically transformed into a rather excellent personal media player. The included 8Gb micro SD card, a nice pack in for such a media centric phone, will certainly be put to good use in that regard. Transferring your media to the phone is pretty simple; Forgoing the traditional installation CD, all necessary files are included on the phone – simply plug it in to your Windows PC using the supplied cable and the software is automatically installed.
You'll be using Sony's Media Go! software, the very same application that's intended for use with the PSP Go!, to shift your media from your desktop to the palm of your hand – and it works as expected. The aforementioned – and much lauded – remote play, which allows you to connect the device and share media with a Playstation 3 console works. That's about as much praise as i can give it. Results over Wi-Fi were consistent, with the Aino showing – and allowing me to control -  my PS3's XMB. I could browse and play my media, but the image on screen was quite blocky and grainy. My experiences with remote play over 3G were somewhat less fruitful. While I could connect to the PS3 using my PSN login information, all I got in return was a black screen, and at one point after trying to connect the phone crashed, requiring a restart.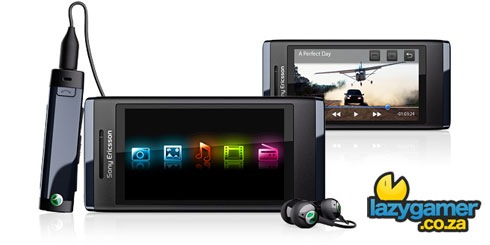 Unfortunately the phone still features Sony's proprietary ports, which considering the media-centric nature of this phone is quite a shame. They have tried to make up for it by including a wireless bluetooth adapter which does feature a 3.5mm audio jack, allowing you to plug in a set of speakers, the included buds or your headphones of choice. The bluetooth adapter also doubles as a hands-free device.
Enclosed in the box is a charging dock for the phone and bluetooth unit that functions quite nicely as a nightstand clock, as well as allows you to watch video without having to hold the phone.
The Aino features a 8.1 megapixel camera with a flash that takes pretty good pictures for a phone, and includes a couple of more progressive features like geo-tagging thanks to the included GPS. The GPS seems to work quite well too. Google Maps pinpointed my location to within a few metres, but I was unable to test the rest of the GPS-based applications as they were tailored to the UK. Locally available retail units should be tailored with a little more local flavour though.
Facts and Figures
Size: 104 x 50×15.5 mm Weight: 134 grams
Colours: Obsidian Black, Luminous White
Main screen: 16,777,216 True Colour TFT
Resolution: 240 x 432 pixels
Size: 3 inches
Phone memory: Up to 55MB
Memory card support: SanDisk microSDâ"¢
Talk time GSM: Up to 13 hrs
Standby time GSM: Up to 380 hrs
Video talk time: Up to 1 hour 40 mins
Music listening time: Up to 31 hours
GSM/GPRS/EDGE 850/900/1800/1900 and UMTS/HSPA 850/1900/2100.
Overall Rating:

In short, the Aino is a decent, but not spectacular phone. If you're in the market for a viable alternative to an iPhone, or any other feature-rich smartphone then this is probably not for you. Where it shines though is as a personal media player, so it's certainly a handset to consider if that's what you're looking for. The touted PS3 connectivity is nothing more than a gimmick at the moment, unfortunately.
Last Updated: November 4, 2009