I like arcade racers. And I mean arcade racers that were not saddled by the shortcomings of the contemporary racing game experience. The open world formula that has been embraced by developers in recent times has only succeeded to a point. Scaling the North American continent in The Crew is at most times a lonely road trip. Modern Need for Speed has yet to perfect a gameplay formula that works for them. They're always hampered by creative and technical decisions that bring their titles down. Putting aside the simulators that are a completely different animal, the only ongoing title that's really worth the drive is Forza Horizon. And boy, did they set those standards impossibly high!
Maybe the trick is to get back to basics.
Xenon Racer is the work of Italian developer 3DClouds with publishing handled by Soedesco. At first glance, this game is a down-to-world throwback to the arcade racers of old. Think along the lines of the big machines that Sega was putting out in the 1990s. Stuff like Daytona USA. In early development, 3DClouds cited F-Zero and Wipeout as sources of comparison and inspiration. A high-speed racing game where the central focus remains on going fast and beating the competition. I can appreciate that.
Entering Xenon Racer, you are presented with the synopsis:. The year is 2030. Flying cars are all the rage and are on the verge of serving as our primary means of transport. As a kind of last hurrah for our wheeled chariots, you must win a Xenon Racing Championship. Enter the World XRC Hybrid Prototype Tournament to achieve glory and honour, racing the fastest cars that fly across the land. The plot does not add much, but it is a silly addition.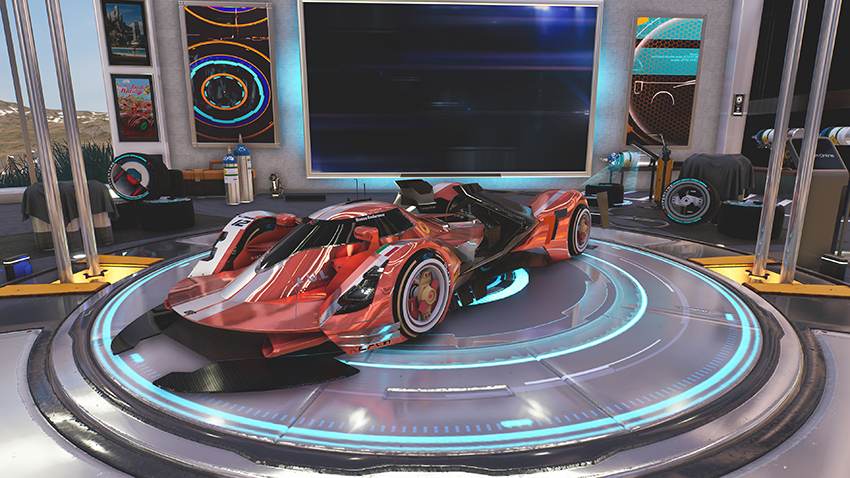 But back to those cars. The cars are gorgeous. These creations are the work of real-life car designer Marcello Raeli, who has previously worked with Ferrari and Subaru and is now holed up in Sweden with Koenigsegg. Though there are only less then two dozen to choose from, each vehicle bears a unique aesthetic and design structure. Everything from the monsters that we see at Le Mans these days, to a box. There is a racer shaped like it's still in it's packaging box, and it's awesome. And when you're looking at the main menu, where they are the central focus of Tony Stark's living room (and Wheatley's awkward presence in the corner), this looks like a visually stunning game.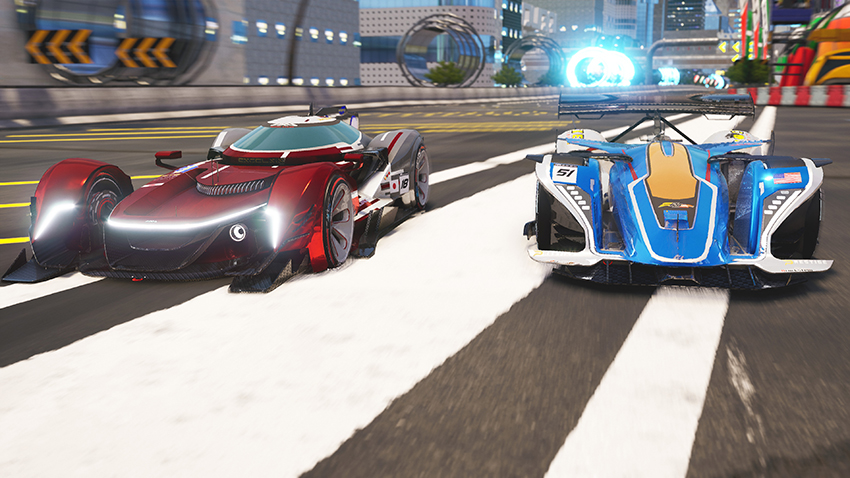 The excellence continues to the level of vehicle customization at your fingertips. Accessing the garage, players have a multitude of options when it comes to the visual components of their ride. Paint colours, paint types, liveries, rims, and even the fitted bumpers. The design of these especially can have a profound impact on the vehicle's overall appearance, on top of it already being very good to look at it. I had a good laugh when I noticed that the cockpit is concealed by what is simply a solid slab of color meant to be windows and a windshield, but it's a forgivable contrivance. Players also use this space to make mechanical modifications, including the manner of "Boost" that they prefer when it comes to the racing later.
Selecting your weapon, you are propelled into a pretty straightforward setup. Xenon Racer includes single player campaign, quick races, split-screen, Edge Mode (for those looking for an extra challenge), and multiplayer. The lobbies are still quite empty at the moment but give it some time and they should fill up.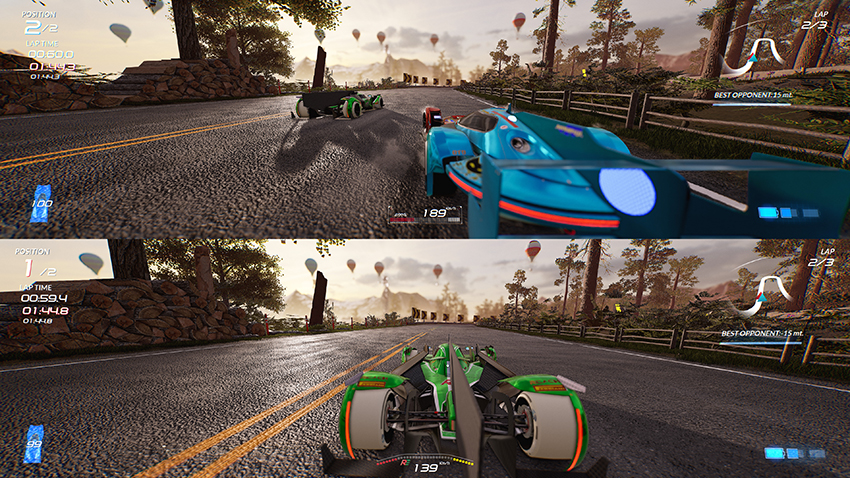 Loading into your first race and you are presented to what is Xenon Racer's gameplay, and it's problematic. Travelling at these high speeds in a track that encompasses both sharp and blunt corners means that the response times from both the vehicle and player cannot be anything but precise. Take something like Codemaster's F1, for instance. Travelling in a straight line is no problem for these cars and thanks to either drifting or passing over checkpoints, players can achieve and edge and sail past competitors via the boost feature. But when it comes to the corners, the car takes it's time to change course. Because of that, it is difficult to measure your timing, and it can result in utter defeat. The boost helps and thanks to the modifications you can tune it according to the track you're on, but that takes coordinated pre-race planning.
On top of this, Xenon Racer packs no punches in its difficulty. The AI can be unforgiving and time trials demand a perfect lap to be overcome. You may need to deploy those simulator skills to get anywhere, and that could be a major turnoff for the more casual of us racers. It can get boring and tedious quickly. The gameplay is fluid and hence may be of better quality on PC than on consoles (a marketing controversy that this game has sadly suffered), I have to recommend a controller over a keyboard. The haptic feedback alone can make a significant difference.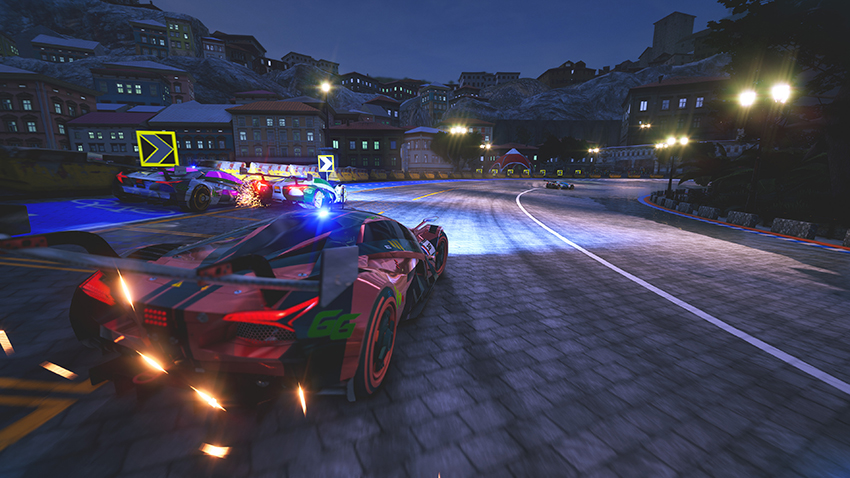 Meanwhile, these beautiful cars are racing through cities and countryside that look too much like the old-school arcades that inspired it. Contrasting the evident amount of design work that went into the vehicles, the scenery is basic and dull. This may be the near future and while all signs point to the world looking the way it does now (only, you know, worse), the game makes no attempt to continue the striking visuals into its locations.
Guys, just because you slap a statue of a Megazord in the middle of Tokyo doesn't make your city not look like any other city. And you are in these locations a lot. There are only so many of them. This would not be much of a problem if the experience of racing was so good that the overall perspective is not that appealing. But because of those aforementioned problems, it's noticeable. Though there is one point of realism that 3DClouds achieved, as seen in this screenshot: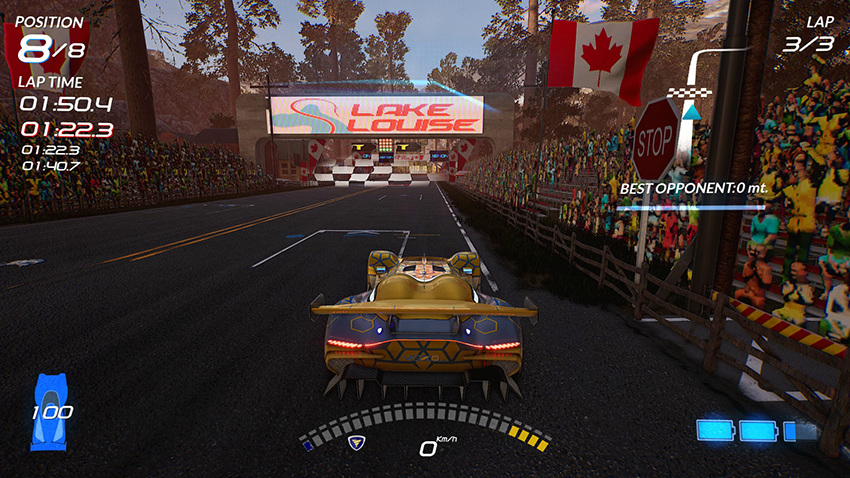 This is probably the highest level of excitement that Canadians can express.
Xenon Racer certainly feels like a throwback to a simpler time, and I can appreciate it for that. It gives some fantastic-looking cars to drive in a series of races that is solid in structure. I must also give a big shout-out to EDM record label Monstercat for providing the music (same folks who do the music for Rocket League). It's fitting accompaniment and it feeds into the futuristic aesthetic. But the visuals surrounding those cars don't live up to promises kept, and the racing itself is saddled with hesitant decisions and disproportionate levels of difficulty. If you want to get back to basics, make sure you at least get those basics right.
Last Updated: April 4, 2019
Xenon Racer

Xenon Racer harks back to the simpler days of arcade racing. It includes all one might need and expect from a game of its genre. Buts it starts to choke thanks to a compromised handling of the vehicle. The races are unappealing, despite you being in a drop-dead set of wheels.

Xenon Racer was reviewed on PC