This article was sponsored. The editorial and content is entirely created in-house, unless otherwise specified.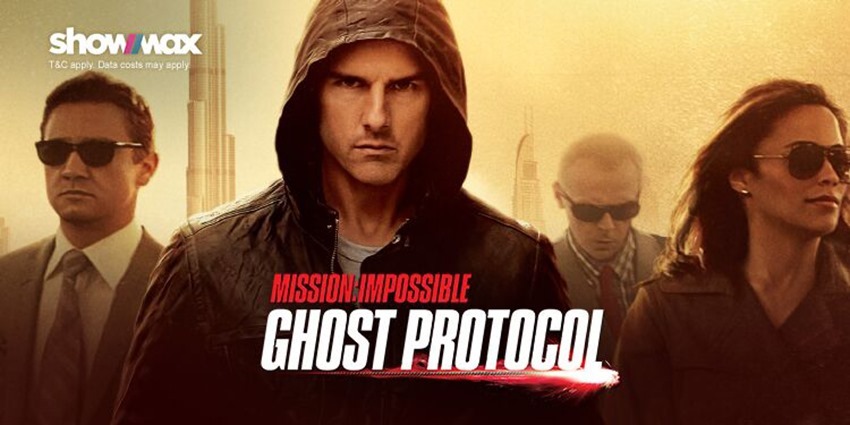 There's a part of me that feels like this article may one day turn out to be a eulogy for Tom Cruise. As has been widely documented, the 56-year old superstar is bonkers. Luckily for us, it's the good kind of bonkers that drives him to provide audiences with jaw-dropping action entertainment that is the very definition of death-defying as he continuously puts his life on the life in increasingly extreme stunts. Out of his entire filmography, it's the Mission: Impossible series that stands as the best (or is that worst?) example of this and in a week's time we'll get to see arguably the most insane work Cruise has ever performed in the critically acclaimed latest franchise entry Mission: Impossible – Fallout.
With that new film on the horizon, what better time to go back and revisit most of the hair-raising shenanigans Cruise's superspy Ethan Hunt and the rest of this intrepid crew have got up to over the years? And thanks to Showmax, we can do exactly that with their Mission: Impossible collection which includes the first four films. Unfortunately, Mission: Impossible – Rogue Nation isn't available on the streaming service at the moment, but there's still more than enough great action to keep you glued to your seat.
MISSION: IMPOSSIBLE
Your mission, if you choose to accept it, will start Brian De Palma's 1996 nailbiter which reinvented the classically cheesy 1960s original US television series into a slick and serpentine techno-thriller. Here we're introduced to a young Ethan Hunt, a hot-headed member of the Impossible Mission Force, a group of secret government agents who specialize in the most dangerous assignments and who are disavowed if discovered. When Hunt's entire team – including Jon Voigt's Jim Phelps, the original lead from the old show – is killed during a botched mission in Prague, the young agent is set up for the crimes. Forced to recruit a new team while on the run, Hunt will go to crazy lengths to prove his innocence and uncover a twisting conspiracy.
Oh and he'll also dangle from the ceiling like a Cirque du Soleil acrobat in one of the most iconic – and tense! – scenes in modern cinema history. De Palma would change the face of spy thrillers at the time, not just through its oft-copied action set pieces, but by laying the gritty groundwork for things like Matt Damon's Jason Bourne and Daniel Craig's rebooted James Bond. It would also set the pace for the franchise's crazy stuntwork from the aforementioned ceiling dangle to a foot chase (although they're barely on their feet) on top of the TGV high-speed train, and is a bona fide action classic.
MISSION: IMPOSSIBLE II
If the first film set the precedent for borderline clinically insane stuntwork, Mission: Impossible 2 would blow it all to smithereens. Right from the get-go the movie lets you know you're in for a wild ride as it opens with Cruise himself free-climbing up a mountain face in Utah – a scene which caused all kinds of production issues as insurers were concerned about Cruise's life. The actor fought to keep the stunt in, doing it all himself with no safety net and just a tiny harness. So yes, that is really Cruise leaping from rock to rock (and wrenching out his shoulder in the process) and dangling by his fingertips like the nutter he is.
Outside of the stunts, Mission: Impossible 2 was a very different film to its predecessor though as De Palma didn't return but instead tagged in Hong Kong action directing legend John Woo. Gone was the grounded techno-thriller feel as Woo filled scenes with his signature violent ballet flair. This is a movie where nobody walks into a room unless they can do it super cool in slow motion, doves dramatically taking flight behind them. Whereas M:I1 was more a thinking man's blockbuster, Woo's effort – which established the franchise's Macguffin premise as Hunt and co tried to track down the cure for a deadly virus – was all about flash and style, which wasn't quite to everybody's liking but still offered some damn good thrills and exceptional action choreography (who can ever forget that knifepoint millimetres away from Cruise's retina).
(Side note: Mission: Impossible 2 would also change cinema history as Dougray Scott, who plays the film's baddie, was set to play Wolverine in Bryan Singer's X-Men next. However, filming on M:I2 ran late due to a string of production issues, including an unfinished script, causing Scott to have to pass on the role which then ended up going to some Aussie soap star Russell Crowe had once told Singer about. I guarantee you've heard of him but have you heard of Dougray Scott again?)
MISSION: IMPOSSIBLE III
So after the slow-motion detour of M:I2, Paramount clearly wanted to get things back to the trappings of De Palma's original, a twisty hi-tech spy thriller in which you didn't know who to trust. So who better to hire for the job than a guy who had just made his name with a twisty hi-tech spy thriller in which you didn't know who to trust?
Stepping over from TV's Alias, a young JJ Abrams – still far removed from blockbusters like Star Trek and Star Wars: The Force Awakens – would make his feature film directing debut here. Abrams hewed closer to the cloak and dagger feel of De Palma's film but added some modern action sensibilities to affairs, including one hell of a shootout on a bridge that will have you wincing with Cruise's every explosive tumble and a vintage Cruise foot chase (he runs so fast because he karate chops the air out of his way!). Then there's also the expansion of the IMF team with Maggie Q and soon to be franchise stalwart Simon Pegg, as well as finally showing us how they get their hands on those super-realistic masks the team also use for disguises. Oh and Phillip Seymour Hoffman.
The late acclaimed Oscar-winner adds some serious dramatic weight to affairs as Owen Davian, a sadistic arms dealer who finds himself on the target list of Hunt and his team. The subsequent confrontation also leads us to explore the secret agent's personal life for the first time though as Hunt's wife Julia (Michelle Monaghan) gets caught in the crossfire, adding a previously unseen personal edge to affairs in this vastly underrated threequel.
MISSION: IMPOSSIBLE – GHOST PROTOCOL
While the previous M:I movies were all big in their own rights, director Brad "The Incredibles" Bird's Ghost Protocol just feels bigger in every regard. Bigger cast with the inclusion of Jeremy Renner's mysterious "aide" William Brandt and Paula Patton's ass-kicking Jane Carter. Bigger stakes as Hunt and crew find themselves on the wrong side of the law after they are implicated in a massive bombing that destroys most of the Kremlin. Bigger scope as the story leapfrogs across the globe from Istanbul to Russia to Dubai as Michael Nyqvist's baddie Kurt Hendriks triest to incite international nuclear war. Bigger stunts including a car chase in a blinding sandstorm and, of course, Cruise's hair-raising Spider-Man impersonation as he scaled the outside of the Burj Khalifa, the world's tallest building, for real!
And damn did it all pay off!
The best-reviewed entry in the franchise to that point, Ghost Protocol is also the highest-grossing film worldwide for the entire series and the highest-grossing entry in Cruise's entire filmography. Bird's talent for mixing ludicrously scoped action beats with moments of intimate character work marked a turning point in the franchise and audiences worldwide could not get enough. If there's one criticism that could be levelled at M:I3 it would be that it didn't shake things up as much as the original, but Ghost Protocol definitely changed the game for the franchise as well as the type of madcap antics that has since become the norm for Cruise.
So there's your mission, if you choose to accept it: Checking out how Cruise's Ethan Hunt went from a not-so-mild-mannered secret agent to a borderline certifiable, globe-trotting madman action legend. And you can do it all on Showmax!
Last Updated: July 20, 2018