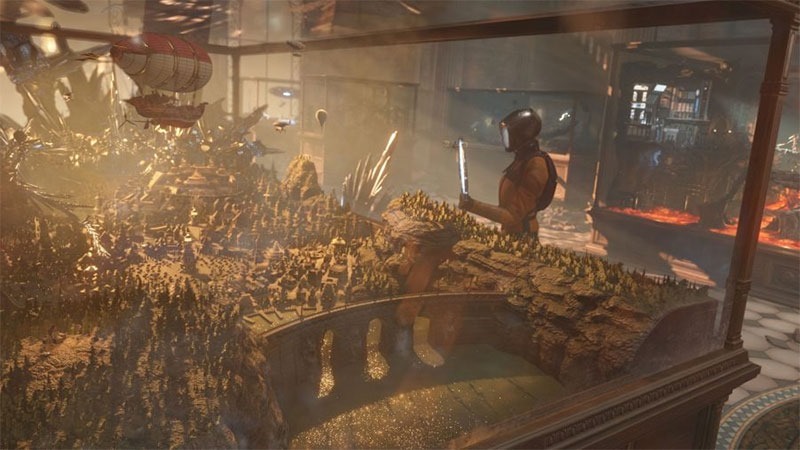 Right now, there aren't very many games that support DirectX 12, Microsoft's new low-level API. But they are coming, and when they do, you'll want to be able to run benchmarks that prove that your choice in GPU was the right one. If there's one thing that will never change about Pc gaming, it's the digital penis waggling. And that's one area where 3DMark has the market covered. Its suite of 3D benchmarking tools has the market covered. And it's being updated to include DX12.
The new test, called Time Spy uses asynchronous compute to deliver some pretty damned stunning real-time graphics.
Says the press release:
"Since 1998 gamers have turned to 3DMark benchmarks to see the latest advances in real-time graphics made possible with each new version of DirectX. That's why today I am excited to share the first official trailer and screenshots from 3DMark Time Spy, our new DirectX 12 benchmark test.

Time Spy is a new DirectX 12 benchmark test, coming soon to all Windows editions of 3DMark. With its pure DirectX 12 engine, built from the ground up to support new features like asynchronous compute, explicit multi-adapter, and multi-threading, Time Spy is the ideal benchmark for testing the DirectX 12 performance of the latest graphics cards.

Developed with input from AMD, Intel, Microsoft, NVIDIA, and the other members of the Futuremark Benchmark Development Program, Time Spy shows the exciting potential of low-level, low-overhead APIs like DirectX 12."
Now take a look.
If you've ever run 3DMark, you'll spot many of the companies past benchmarks running within this one, and it's quite something to see running.
Speaking to Videocardz, FutureMark's James Gallagher says this of the benchmark:
"Time Spy uses asynchronous compute to overlap rendering passes. GPUs supporting async compute can process work from multiple queues in parallel. There are three types of queue: graphics, compute, and copy. A graphics queue executes rendering commands and can also handle other work types. A compute queue only accepts compute work, and a copy queue only accepts copy operations. The queues all race for the same resources so the overall benefit depends very much on the workload. We'll be talking more about the technical side of Time Spy in the coming weeks."
I honestly can't wait. Mostly because I'm really, really bored of watching Firestrike.
Last Updated: June 24, 2016