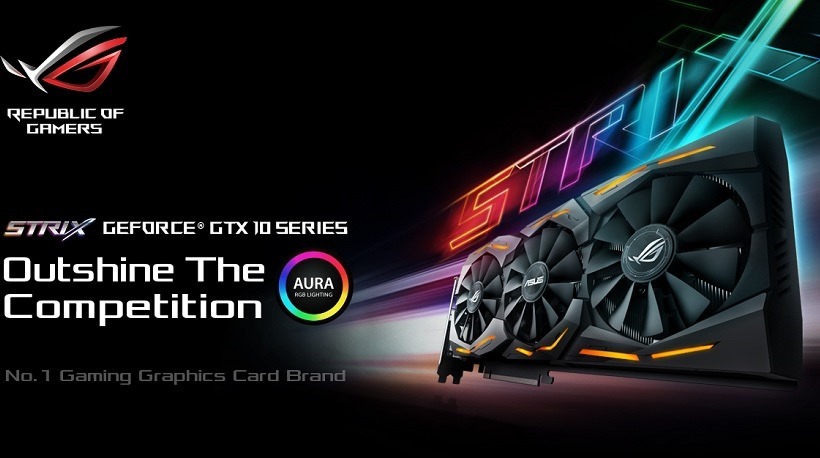 Update: Seems retailers locally already have release dates and pricing up, with RebelTech listing the card for a whopping R14 499.00. It should be out on June 8th here.
Earlier today we reported on some leaked GTX 1080 variants which would supposedly be formally revealed at Computex next week. That might be the case for some, but ASUS isn't resting on their hands any longer. They've officially announced the ASUS ROG Strix GTX 1080, which isn't the most surprising news of the entire reveal. It's the fact that the card is out right now that really turned my head.
It might not be available locally, but in major markets the Strix GTX 1080 is out on shelves the same day that Nvidia is launching the Founder's Edition, which is deliciously exciting. Not only does it mean that the pricing wars start early, it means that many other cards might not be as far behind as initially expected. It would've been accurate to assume that these cards wouldn't hit market until later in June, but that might not be the case at all.
As far as specifications go, the leaks were dead on as usual. The Strix branding is kept here to retain familiarity, with ASUS going with a new DirectCU III cooling solution. That includes fantastic heat routing piping, as well as a three fan design that retains the 0dB mode Strix made famous with Maxwell. It also includes ASUS' Aura Lighting, which will let you change the two LED strips on the front of the card to the colour of your choosing.
The card will also come in two different variants – Stock and Overclocked. The latter comes with slight bumps on both the Core and Boost clocks, with an additional 289 MHz and 203MHz respectively. There's no reason you can't do that yourself on the stock card (and reach even higher with the additional cooling), but if you're not one to dabble with sliders and voltages, it's the better option.
There's no pricing yet (or word on when we can expect them locally), but for now it's an attractive offering from ASUS. And judging by their reliability in the past, it's not a bad choice to be considering.
Last Updated: May 27, 2016