It's difficult to not find a laptop that caters to your specific requirements. With GPUs shrinking to smaller and smaller sizes, laptop chassis getting thinner and processors that remain blazing fast without the need for fans, it's easier than ever to find the right combination of the right parts in the right chassis that suits your needs. And yet Asus' ZenBook UX533F manages to carve out a strange niche for itself. It occupies the same space as an ultrabook, yet features a 15-inch display. It's quiet, fast and power efficient, yet offers a rather powerful mid-range GPU offering. The ZenBook is strange and wonderful, and it's one of the more exciting laptops I've used in some time.
The gunmetal blue metal exterior of the UX533F screams premium from the moment you take it out the box. Despite attracting fingerprints like they're going out of style, the brushed finish remains rigid under stress and hardly flexes, with only a little bit of play near the middle underside and the fan cut outs. The UX533F lives within a petite frame, weighing only 1.85kg, and I initially didn't realise it was a 15-inch laptop at all. Given that it's only marginally wider than my 2015 HP Spectre X360 (and, miraculously, less tall) it's no wonder Asus is touting it as the world's smallest 15-inch.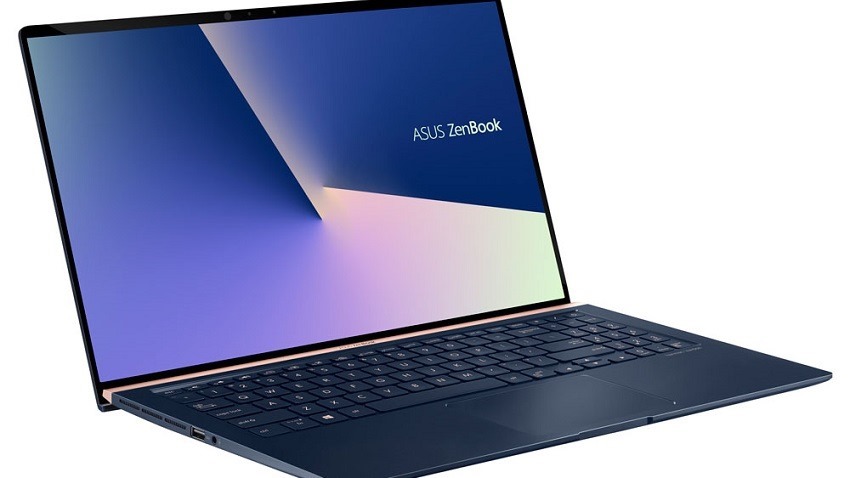 The UX533F manages to squeeze in a full 15.6-inch display into its 14-inch body, made possible by the extremely thin bezels across all four sides of the screen. The hinge is strong but also easy enough to open with one hand, while also propping up the body ever so slightly when opened to allow for a more comfortable typing angle and presumably better cooling at the back. The display design falls in line with the design philosophy that Dell kickstarted with the first XPS, but Asus improves on it in the single way possible: the webcam. Instead of being relegated to the bottom of the display for the most unflattering angle possible, the tiny lens sits in the top bezel and performs about as well as you'd like for a camera that size. No terrible looks up your nose, good clarity and a decent enough resolution to justify its size, and a display that will be easy on your eyes no matter what angle you catch it at.
The display is bright and colourful, and the near borderless presentation makes it look as if it's floating in midair. It would be easy to overlook this if all laptop manufacturers were achieving the same effect this well, but it's really only Dell that has come as close in recent times. It's disappointing that the only resolution offered is 1080p, given that the larger 15-inch size does benefit from a more pixel dense 4K. It's also irksome that the aspect ratio is still 16:9, where other notebooks like Microsoft's Surface Laptop and Huawei's MateBook X Pro make strong cases for the more productivity-focused 3:2 aspect ratio. But it's hard to knock the display otherwise, as its matte coating fights off glare under direct sunlight but doesn't tarnish the overall clarity of its deep colours and bright whites.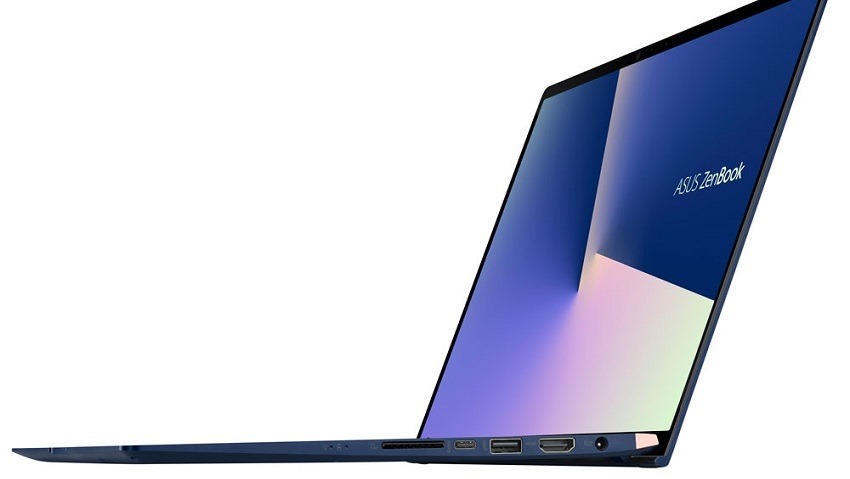 Typing on the new ZenBook is equally pleasant, if not a little more temperamental. The actual keys have a great amount of travel, giving you the right amount of feedback with each keystroke and not presenting any worries that shallower keys might. The problem stems from the need to have a NumPad though. A NumPad is standard on a 15-inch laptop, but the reduced real estate that the UX533F has to work with makes its inclusion troublesome. Not only is the NumPad itself comically small, but it also forces the rest of the keyboard to shift over to the left, leaving it with less space than it really needs. Not only are you not typing at the centre of your screen, but getting used to the feel of the keyboard takes longer than it should. And even after hours of writing, I'm still making more typos than usual, despite the actual feel being euphoric.
The trackpad is far more disappointing in many ways, which should come as a surprise given its technology underneath. Unlike HP, Asus has retained supported for Windows Precision Drivers, which should make for a seamless tracking experience. The opposite is true though, and I often found the mouse to hang up or pick up unintended gestures for zooming and scrolling often enough to be an annoyance. The trackpad surface itself is smooth and delightful to use, but its temperamental performance had me reaching for an external mouse very quickly.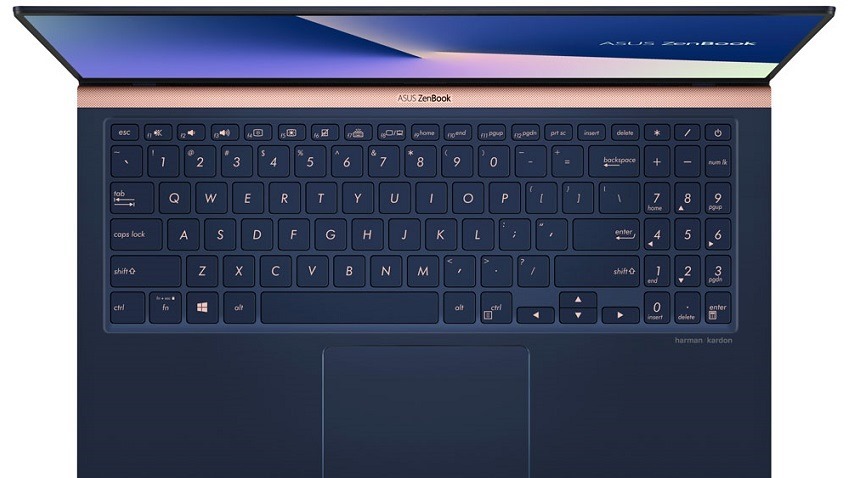 You'll be spoilt for choice in terms of I/O thankfully, with Asus giving you options to use peripherals both old and new. Despite the slim, 18mm profile, there are still two USB-A ports, which sit alongside a full HDMI output, SD Card Reader, Aux Port and a single USB-C port (which, disappointingly, doesn't support Thunderbolt 3). It's not as thin as an ultraportable like the Spectre 13 or XPS, but the slightly chunkier base rewards you with enough options to leave the dongles at home.
It should be clear by now that the UX533F compromises on features that don't seriously impact its vision for being the lightest, thinnest and easiest 15-inch laptop to carry around. Performance backs that up in the strongest way too. Underneath the hood the UX533F sports the latest 8th-generation Intel chips, with a quad-core Core i7-8565 running at up to 4.6 GHz. This specific model (and seemingly the only one you can get locally) sports 8GB of DDR4 RAM with that, soldered onto the main board with 256GB of SSD storage. Getting light productive tasks done with this ZenBook is a breeze. It handled multiple Chrome windows, Spotify, YouTube and writing tools all at the same time without breaking a sweat, hardly heating up and getting the fans to a nearly inaudible level.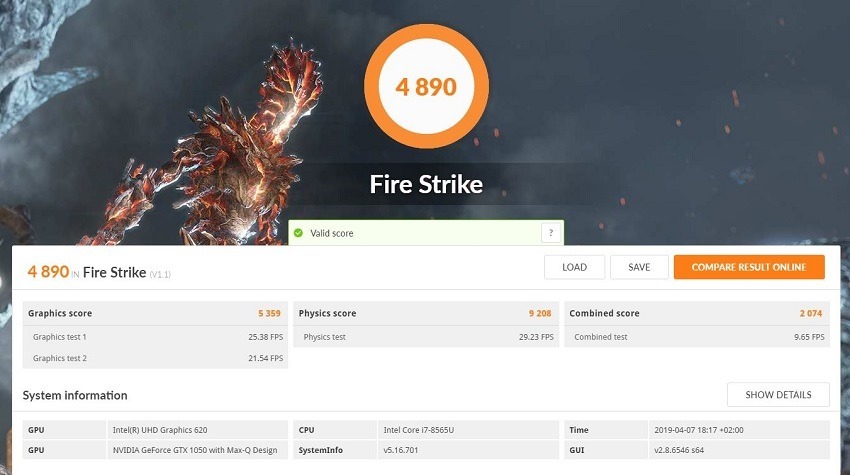 But it's not common for a 15-inch laptop to just be designed for that. That's why the UX533F also comes equipped with a GTX 1050 Max-Q chip – a large step above Intel's integrated graphics and a smaller one over Nvidia's own mobile MX150 chips. Given that this is the Max-Q version of the already lower-end 1050, concessions are made to get it working in the small frame. It only features 2GB of VRAM, which makes it pretty difficult to get modern games running well if at all. But its power does open up possibilities for video and photo editing, in a body that competes against other laptops that couldn't hope to do the same.
A quick test in 3DMark's FireStrike proves that, with a score that hardly registers high enough to bother other gaming-focused laptops that sport the same screen size. This is where the UX533F feels like it's targeting its own strange market. It's got the guts of the best ultrabooks out there, with slightly better graphical processing to back it up. It's almost as light, almost as thin, but also not as easy to carry around when it really comes down to it. So do you choose the additional power, or the ease of access? The UX533F makes that decision a little harder to make.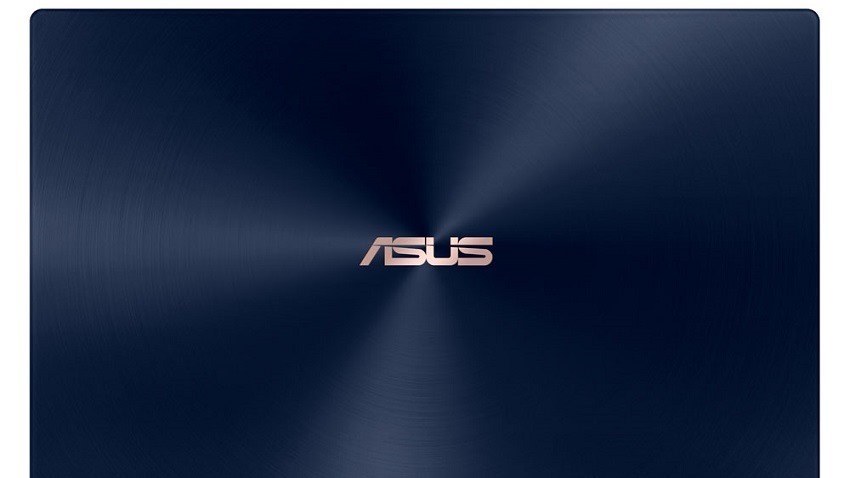 Battery life sways this in more positive favour, as the UX533F features an outstanding lifespan that usually kept me going through most of a working day. It's not the most exhaustive test out there, but it's surprisingly difficult still to find a laptop that can handle all the mundane tasks of a day full of work without needing to have the AC adaptor close by. This figure doesn't hold up as well when you force the ZenBook to use its dedicated graphics chip primarily, and you can expect around 2-3 hours of actual (compromised) gaming on battery. But if you're just looking for something with a little more kick in it without sacrificing portability, the UX533F delivers in spades.
It would be a lie to say I didn't enjoy my time with the UX533F. Its remarkable display, comfortable keyboard and extremely snappy performance make it almost impossible to believe it fits within the form factor that it does – one that I could easily replace as my daily driver and pop into my backpack without a care. But ringing in at R24,000, it also features one too many compromises to make an outright recommendation. The inclusion of the NumPad does more harm than good, while the mysteriously bad performance of the trackpad makes the use of an external mouse almost mandatory. It also sits in an odd space that doesn't outright cater to content creators but also makes it slightly bulkier than an ultrabook as a result of having more processing power to accommodate for.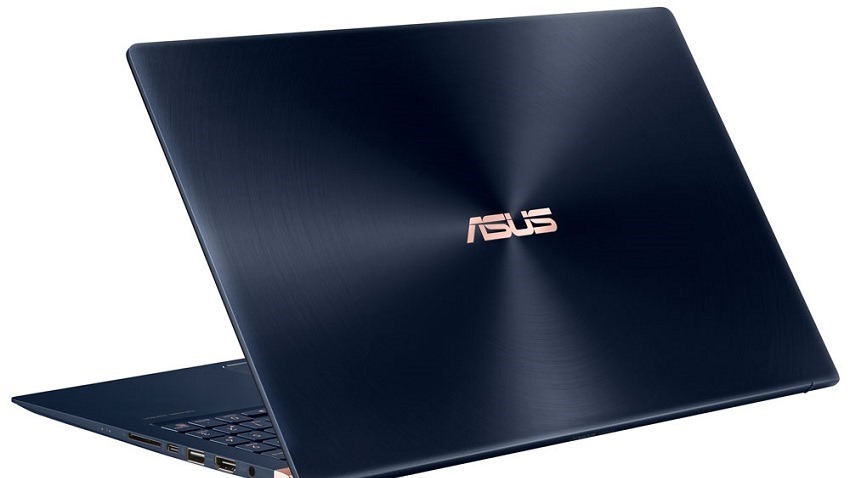 It's stuck between two markets that it doesn't need to be, but still manages to carve out a space for you if you're looking for a light laptop that is more capable that the most premium ultrabooks out there. Considering it's cheaper than most of those direct competitors too, its slightly cut corners might just not factor enough when weighing up all of its gleaming positives.
Last Updated: April 9, 2019
Asus ZenBook UX533F

The UX533F is a treat to use, and certainly capable enough to make a compelling argument for space in your life.