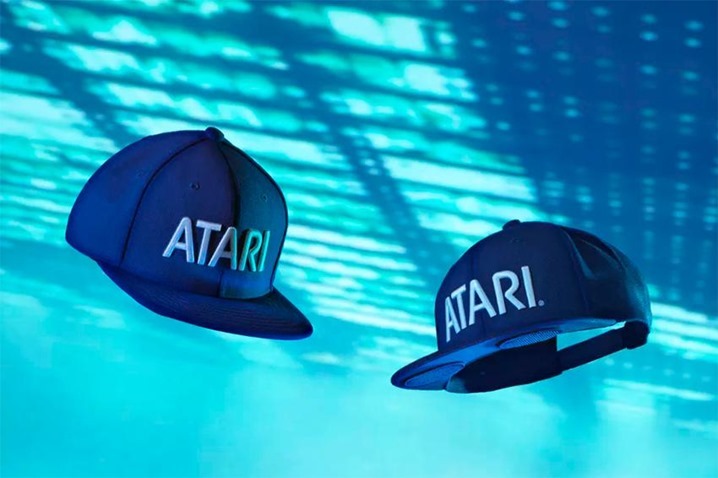 Atari's back in the hardware business, and will be releasing a new console at some point in the near future. Judging by the released mockups, it's going to be a sexy beast – though we have no real idea of what sort of innards the retro panelling will house.
That said, it's not the only bits of hardware that the once eminent console maker is dabbling with. They're also introducing a range of accessories that tie in to a "connected life," and the first such item is something Atari calls a speakerhat. As its name implies, it is a speaker, built right in to a peak cap.
The Atari Speakerhat is a baseball-style cap with high-fidelity stereo speakers and microphone that can connect instantly to any Bluetooth-enabled device.

Connect to any smartphone, tablet, personal computer to play any music or other media content, initiate or accept phone calls, receive voice commands, etc.

The Atari Speakerhat feels natural and normal to wear for long periods of time, and achieves a balance of weight vs. sound quality and functionality. The intent is to continuously improve on design and engineering, until the technology is completely invisible.
It's technology that lets users be as loud an obnoxious as possible. I have a pet peeve against people who force their music choices on others, and this sort of nonsense just makes it effortless.
According to Atari, they're stuffing as much tech iintothe hat as possible, while keeping it light and easy to wear.
"The Atari Speakerhat is designed to be ultra-thin and lightweight. The technology inside consists of proprietary high-fidelity stereo speakers and microphone, V 4.1 CSR/Qualcomm® cVc™ audio technology, 5-band EQ, Advanced Audio Distribution Profile (A2DP), Audio/Video Remote Control Profile (AVRCP v1.4) and Headset Profile (HSP v1.2), rechargeable lithium Ion battery, universal control button, and LED indicator light."
Atari also says you'll be able to sync hats together to listen to the same audio stream, and let people be obnoxious in groups. Hooray for the future.
Last Updated: July 24, 2017