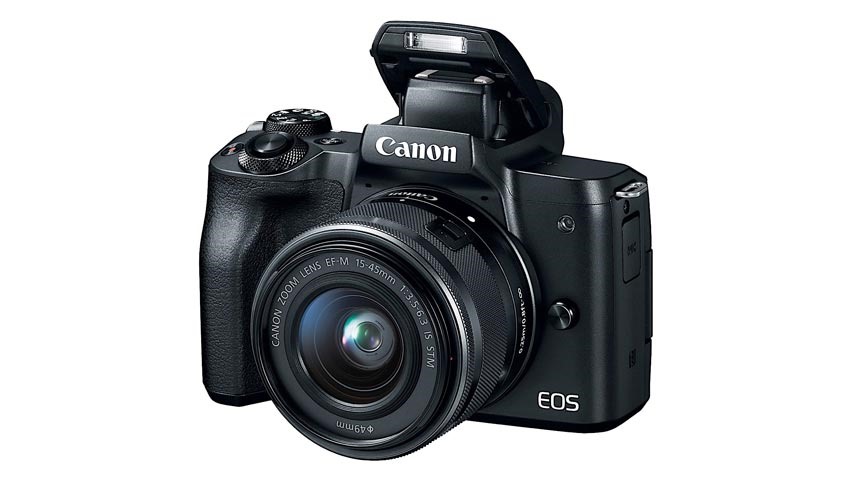 When smartphones started to raise the bar on their camera technology, it looked like the end times were coming for dedicated cameras. After all, why carry a bulky DSLR around when the black monolith of social media doom in your pocket is perfectly capable of snapping a great picture? Still, DSLR cameras managed to evolve with the times, with Canon drawing the line in the sand with their 550D camera so many years ago thanks to its ability to deliver incredible 1080p video back then.
With a shotgun microphone plugged in and a decent wide-angle lens shoved into the shoe mount topside, it was the perfect device for shooting professional video on the go, whatever your skillset was. Hell, we should know: We have and still do use Canon cameras for events and interviews. Canon is looking to evolve that defining moment in their hardware even further with their next mirrorless lens device. Say hello, to the Canon M50.
Here's a quick breakdown on the talking points of the camera, via The Verge:
Yes, it'll shoot at 4K resolution, at 24fps for a nice cinematic look
The M50 will also shoot 1080p video up to 60fps, 720p up to 120fps
A new DIGIC 8 sensor is inside the M50, with Canon claiming that this new image processor chip will function better in low light scenarios
The M50 is also a fast shooter: 10 frames per secon for RAW and JPEG with one-shot focus enabled, 7.4 frames per second when using continuous autofocus
The screen can now swivel out to the side and achieve a 180 degree flip, so take that Canon M5
The M50 packs a 24.1-megapixel APS-C sensor into its body, for pictures
Silent shooting mode included
Touch-and-drag returns to the screen, so that autofocus points can be moved around quickly and easily
The M50 has 143 autofocus points, although some lenses will see that number reduced to 99
RAW images shot on the M50 will feature a new fie extension, .CR3
M-RAW and S-RAW options have been excluded
Canon will instead offer C-RAW format, which apparently takes up 40% of the space on the camera while retaining the same resolution as a regular RAW file
The M50 can quickly send compressed files to your phone, via a mobile app that is entirely wireless.
Sexy. Canon's attempts at getting into the mirrorless lens market have so far been what scientists refer to as "half-arsed", but the M50 appears to finally be the result of the company seriously examining that market and making a concentrated effort to provide something to fans who still value that brand. The M50 is going to have some serious competition on its hands though, as the Fujifilm X-H1 is also looking to make an impact with videographers using a dedicated combination of high-resolution video and seriously high-tech image stabilisation.
Last Updated: February 26, 2018