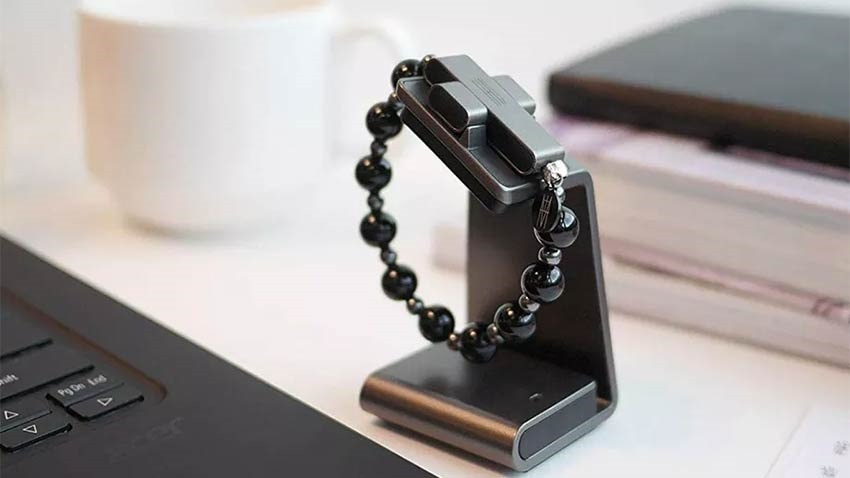 Just about everything is connected to the internet in some way these days, as appliances and gadgets become "smart." Here's something I never expected to go high-tech though: Rosary beads.
Used by Catholics as yet another way to torment themselves, rosary beads are a string of beads with a cross that are used to count through prayers and for meditative purposes. Now, there's a fancy digital version that hooks up to a smartphone, allowing worshippers to track their prayers on their phones. Called the Click To Pray eRosary, it gets activated through gestures, by making the sign of the cross. Of course it does.
Says the press release:
"The Click To Pray eRosary is an interactive, smart and app-driven device that serves as a tool for learning how to pray the rosary. It can be worn as a bracelet and is activated by making the sign of the cross. It is synchronized with a free app of the same name, which allows to access to an audio guide, exclusive images and personalized content about the praying of the Rosary. As such, this spiritual proposal is within the reach of everyone."

"When activated, the user has the possibility to choose either to pray the standard rosary, a contemplative Rosary and different kinds of thematic rosaries that will be updated every year. Once the prayer begins, the smart rosary shows the user's progression throughout the different mysteries and keeps track of each rosary completed."
It's essentially a fitness tracker adapted for religion. Here's are its specs:
Six-axis inertial sensing
Bluetooth 5.0
IP67 water and dust resistance
Wireless charging
a 15mAh lithium-ion battery
10 black agate beads and 11 hematite beads
It was designed by Acer subsidiary GadgeTek and was released by the The Apostleship of Prayer – which is the Pope's Worldwide Prayer Network and suggest that it's endorsed by the Catholic Church. It's available from Amazon Italy. I think my favourite thing about it is that it comes in a faux book that's meant to look like a religious tome.
Last Updated: October 18, 2019