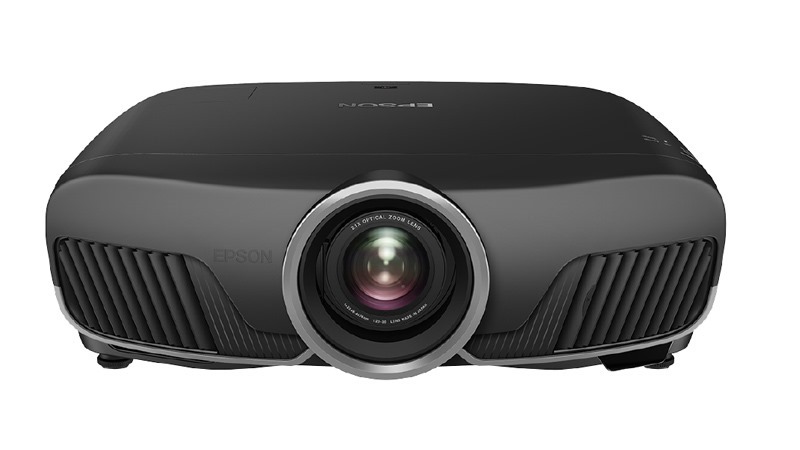 Buying the right sort of UHD TV is tricky, because there's so much to consider. Screen size is just the beginning – because there are all sorts of acronyms and other technical jargon that need your consideration. The big one, of course, is HDR. High Dynamic Range isn't as important to games as it should be right now, but that is changing – and future games built to use it are going to look spectacular on the right hardware. There are all sorts of other considerations like response time, input lag, brightness so much more that making the right decision on a screen seems to require a PHD.
I've been eyeing the Samsung KS8000 – a frightfully expensive, but really feature-packed 4K TV. I can't afford it, mind you, I've just been eyeing it. Yesterday, I saw something that made me reconsider that decision: a 4K projector. Last night, I got to go eyeballs on with one of Epson's 4K projectors – and I left a little impressed. It was hooked up to an Xbox One S, showcasing a 4K Blu-Ray and it's something I could definitely get used to. Up to a certain screen size, I think LCD/OLED is still your best bet, but if you're looking to scale up to larger – up to 300 inches – then a projector becomes more viable.
Importantly, the model in question (The EH-TW9300) not only supports HDR (though Epson did have trouble getting it to play nice with the Xbox One S), it supports 10 bit colour processing, utilising the full Rec 2020 colour space. With HDCP 2.2 compliance, you shouldn't have any DRM issues either. The projector has a contrast ratio of 1 000 000:1, its blacks are pitch black – and it's colours crisp and vibrant.
It also has an interesting way of upscaling standard 1080p content. Epson calls it 4K-Enhancement Technology, and what it does is show two images per frame, shifting the image by half a pixel diagonally between the two. It effectively doubles the resolution, emulating 4K with the sort of clarity digital upscalers in TV's could only dream of. It uses similar techniques to do frame interpolation, making for smoother flowing images – perfect for film or sport. You can tweak the effect, to avoid the horrible soap opera effect that motion smoother tends to produce.
As far as bulb life goes, you'll get about 5000 hours usage. Epson says you'll be able to watch a movie every day for 7 years before needing to switch out the bulb, which is impressive for a projector – but probably too little for people who consume more media than they really should. I've never really been fond of projectors as I've always found the colours to be a little washed out, but Epson may slowly, slowly be changing my mind.
"As the first global brand to introduce a range of 3LCD projectors that support 4K-enhanced technology and High Dynamic Range (HDR) playback, Epson continues to position itself as a world-leader in projection technology and innovation," says Timothy Wilson, VI Product Manager at Epson South Africa.

"Epson's 4K-enhanced projectors are designed to create incredible big-screen experiences in homes of virtually any size, making home-cinema experiences accessible to all users, which is a remarkable achievement for us and for the projector industry. We believe this will significantly impact how consumers think about their home viewing experiences."
If I had the space and importantly, the money (The 9300 costs R52,725 – excluding the cost of having somebody come in to install and calibrate the thing for you) I'd certainly consider it over a regular TV – but for now, this is way beyond my reach.
Last Updated: November 30, 2016