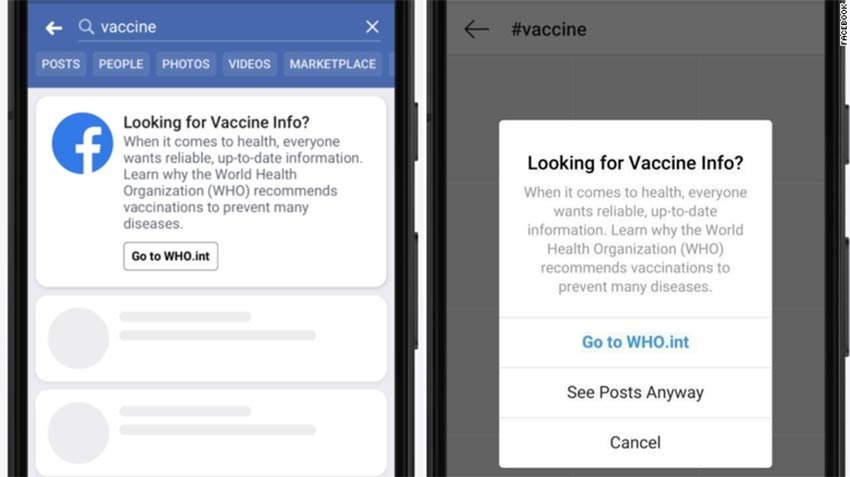 If there's one thing (well, one of many things if we're honest) that really ticks me off, it's medical misinformation. Sure, the allopathic medical profession as a whole may not be home to the most trustworthy bunch, especially in a world of kickbacks from pharmaceutical companies – but they didn't spend years studying to deliberately peddle misinformation. Of course, the biggest and most harmful bit of medical misinformation right now relates to vaccines. An increasing number of people believe that vaccines cause autism, despite there being absolutely zero peer-reviewed evidence stating that.
Still, because Becky shared a post on Facebook about it, Karen now refuses to vaccinate her children, resulting in mostly eradicated diseases like measles making a triumphant return to the modern world. Good job, antivaxxers! And also good job Facebook, who I believe to be complicit in the spread of this nonsense. In a case of "too little, too late" Facebook will now pop up with a warning about anti-vax nonsense, directing readers to the World Health Organisation for information that's backed by science – and not Fear, Uncertainty and Doubt.
Speaking to CNN, US' spokesperson for the Centre for Disease Contro, Kristen Nordlund, l praised Facebook's decision to implement this change.
"We know that parents often turn to social media to access health information and connect with other parents, and it can be difficult to determine what is accurate and who the credible sources of information are."
It's a great movie, even if it's many tears too late.
"The World Health Organization and Facebook have been in discussions for several months to ensure people will be able to access authoritative information on vaccines and reduce the spread of inaccuracies," WHO Director-General Tedros Adhanom Ghebreyesus said in a statement.

"Vaccine misinformation is a major threat to global health that could reverse decades of progress made in tackling preventable diseases. Many debilitating and deadly diseases can be effectively prevented by vaccines," he said. "Major digital organizations have a responsibility to their users — to ensure that they can access facts about vaccines and health. It would be great to see social and search platforms come together to leverage their combined reach."
Last Updated: September 6, 2019