When you're so late to the peripheral game, what's a manufacturer to do to get noticed in a sea of competing, well established, products? Well, you take a shotgun and blast your product with every technological buzzword you can get. G.Skill seem to have done exactly that, as the ambidextrous RipJaws MX 780 RGB comes with a mouth watering checklist of features like weight customisation, height adjustable palm rest and different grip sides. Catering to both left and right handers also can't hurt, especially when there are not too many high end ambidextrous mice. All this at a competitive price of $69.99 at the time of writing makes the MX 780 make you take notice, especially when you compare it to the likes of Logitech G502 or Razer Orobouros.
Ambidextrous Delight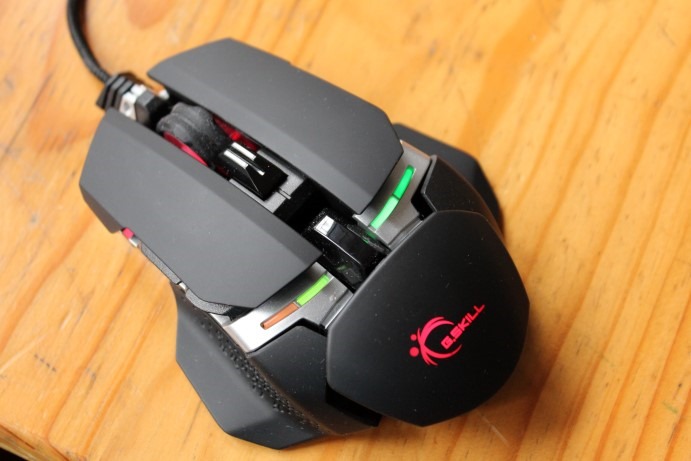 The features one gets with this mouse are impressive. For starters it has 8 full customisable buttons; three primary buttons, two side "thumb" buttons on either side of the mouse, as well as a DPI switch above the scroll wheel. As a modern day high end gaming mouse, it uses Omron switches, a polling rate of up to 1000Hz, 512KB of on-board storage while toting an 8200DPI laser sensor. Unsurprising, yet impressive "checklist" at the high end of the rodent roster. Where the MX780 starts to really shine is not on paper, but in looks, feel, and unique features that separate it from the rat-pack.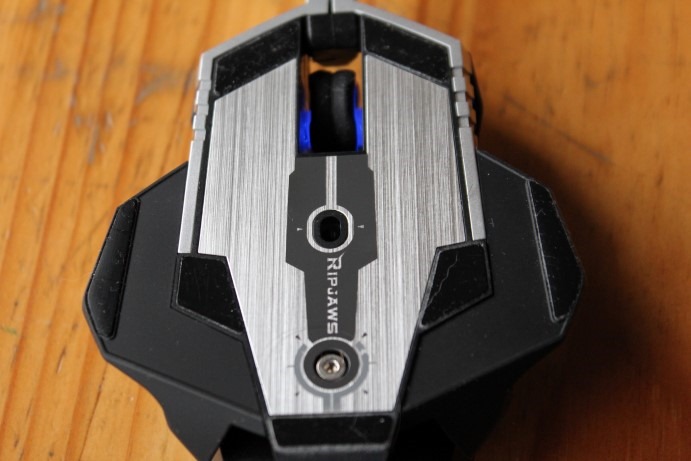 I hope the people who designed and saw to the build quality got a beer, or at least a pat on the back by their overlords. G.Skill's continuing love affair with aluminium has them using an aluminium frame structure, which is both stunning to look as well as durable. This durability makes its way to the excellent soft-touch coating on the mouse—after using the mouse for more than two weeks, it showed very little evidence of the usual "finger oil stains", so props to the coating used.
The "edgy" panels and removable side grips on a pseudo-open looking frame add a unique quality to the mouse: a look that lives up to the eccentric aesthetic of their RipJaws RAM range. There is an unmistakeable premium quality that this mouse embodies as it simply does not look or feel like something a first time peripheral maker would produce. It's good to see G.Skill take its product quality, and customer, seriously from the start.
The Missing Left: True Ambidextrous In Our Lifetime
What makes this ambidextrous mouse special is its catering for both the elite "rightists" as well as the "missing" left-handed gamers. Unlike the ambidextrous and oversized Razer Ouroboros, the MX780 can either be a regular right handed or left handed mouse, thanks to the modular magnetic side grips. It's a design that works well and does not impact on looks.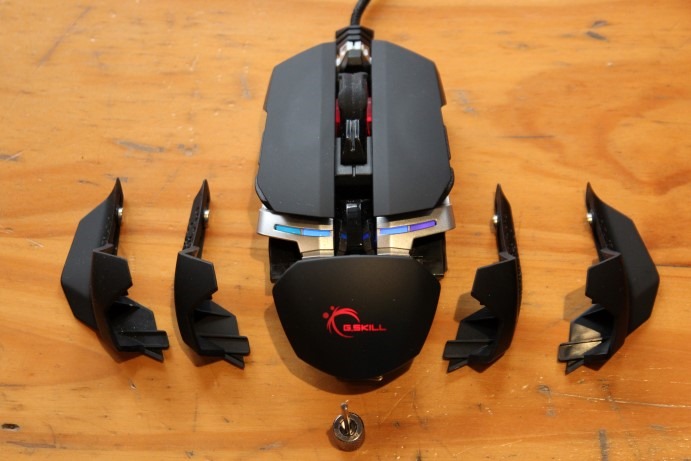 With the side grips easily clipping in, the mouse looks as clean and polished as any other mouse. For those who are worrying about the strength of the magnets, don't; they are magneto levels of strong.  For a new mouse manufacturer, having such a clean aesthetic preserved while offering both modularity multi-hand support is something to be applauded.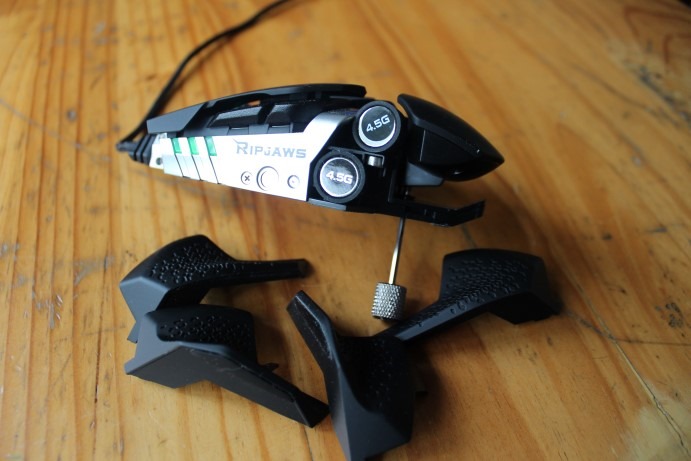 For any high end mouse today, having things adjustable or customisable is a given—G.Skill give us both, with a little extra. The adjustable palm rest can affect the comfort based on your claw/palm grip profile, although since they added some height adjustability, the MX780 could have added horizontal "back-front" adjustability to fine tune the adjustment. To fatten up the mouse, we've got two 4.5g weights that slide into either side. Placing weights on the side of the mouse is a bit unconventional as it may offset the balance, adding weight away from the center. Even so, it is only a total of 9grams, bringing the mouse from slim 111g to 120g, so it's still relatively lightweight.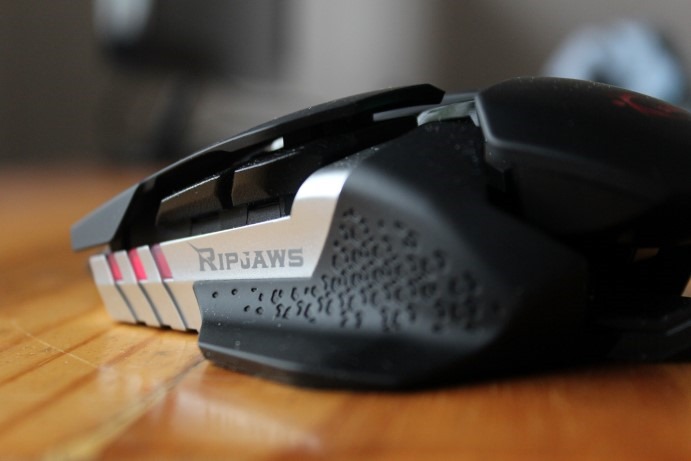 Despite these somewhat minor niggles, the overall comfort of the mouse was relatively pleasant, if not enjoyable once your ring finger adjusts to having buttons underneath it. Height-adjustments, weight customisation and extra side grips offer a level of comfort customisation that not many other mice makers can lay claim to, and even fewer who have done it well. Now, how does it perform?
Mouse Performance: Fire the Laser
The mouse uses the tried and tested Avago 9800 Laser sensor, which is capable of 8200DPI; pretty pointless for most humans. This sensor is also notorious for having a bit of built-in acceleration, which mouse makers usually counter with some tweaking of the MCU and firmware. In this regard G.Skill have done well, and there is not a great deal of acceleration or "enhance pointer precision". The sensor tracking performed well in my "squiggle" tests, showing very little jitter at high DPIs, no angle snapping and nearly perfect results at low DPI–in games the same performance was noted.
There was one minor flaw in design of the mouse that resulted in a bit of traction when moving the mouse a certain way. It's a feeling I've never experienced in a mouse before, and after a bit of time I figured out that it's due to the way G.Skill have made their side grips. At the edge of the side grip, there is a little "lip and dip" that causes the mouse to "grab" the mouse mat if you move the mouse slightly raised and drooped to the right(or left of left-handed). It's not so bad once you realise what's causing it, but it can be a concern for gamers who simultaneously lift and move their mouse.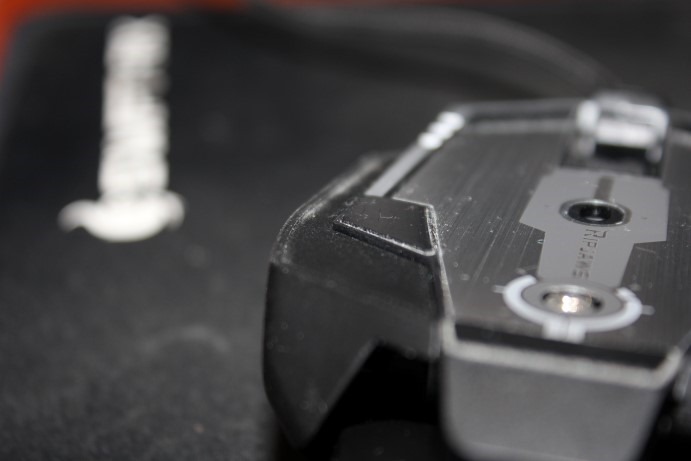 The ambidextrous modularity did make grip suffer ever so slightly. As a right handed gamer, I found that the pinky side's ambidextrous buttons interfered with my ring finger, often resulting in wayward clicking, rendering them more or less unusable at first. They are disabled by default, but it's distracting nonetheless. Using a palm grip, the pinky side grip area results in a small, almost non-existent, groove on which to cradle your ring and pinky finger. Together with trying to keep my ring finger off the side buttons, it meant I often pushed my pinky finger down along the mouse mat.
Things are better on thumb side as your thumb can sit nice and snug, although the grip slightly suffers due to the plastic RipJaws logo gap that half your thumb sits in. If you're moving your mouse and pressing the side buttons, smooth plastic is not the most graspable material.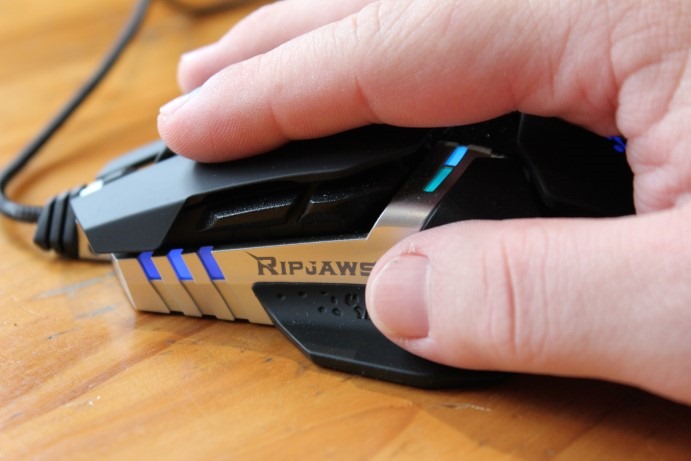 Even though the mouse uses Omron switches all round the side buttons were to be a bit too loud and very wobbly—pretty much the only foible I have regarding the build quality of the mouse. The rubber coated scroll wheel scrolls in a well defined manner although it is hard to press which makes it limited in fast paced gaming scenarios. The grooved out wheel is a strange choice for maximising grip, as less surface area to touch meant less grip.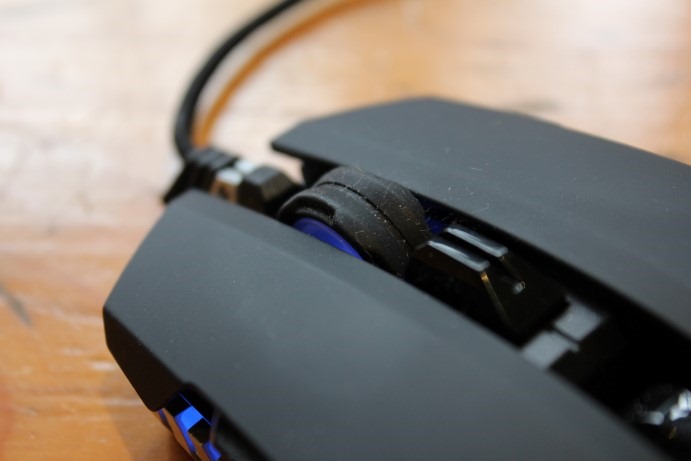 Software: Un-Unified Driver.
Much like the RipJaws KM 780, the Unified Driver software support is very basic, sometimes buggy and mostly bare with nothing of note to help it rise above its peers. It has the same issues of not syncing with your other G.Skill devices, even though there are hints of it dotted around the software.
The software still does what its meant to do, which is provide macro options with some predefined mouse functions, different DPI, sensitivity and LOD settings. There are rare moments where features get me smiling: it has space for 5-on-board profiles as well as mutiple lighting customisation zones to fiddle with. In terms of lighting performance and colour accuracy, the results are a mixed bag—red's seemed far too pink,yellows too green and greens too blue. Colour consistency was also pretty poor along the middle lights.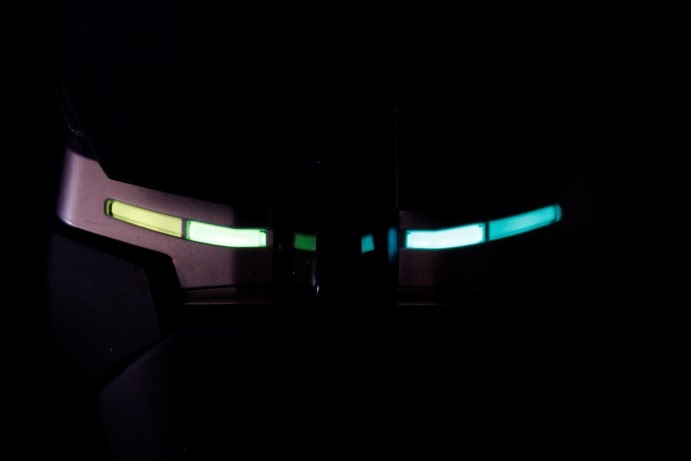 As with the RipJaws MK 780, the MX 780 suffers the exact same problem: to even see if your new Lighting profile looks good or if your profile works, you have to "save and exit" the program instance, which becomes time consuming and a chore.
Conclusion: Ambidextrous Done Mostly Right
The RipJaws MX 780 RGB delivered well in almost all aspects regarding aesthetics, comfort, build quality, customisability and generally good gaming performance, with only software being the weakest feature. It's by no means a perfect amalgamation of features: its weights are positioned awkwardly while some infrequent mouse movements can cause the mouse to "grab" the mouse mat. Its grip and comfort could be better and its side buttons could be quieter and more robust. That being said, its performance and quality feel outweigh its shortcomings.
Last Updated: September 29, 2016
G.Skill RipJaws MX 780 RGB

For the price and promise of a good ambidextrous mouse with good features and good performance, it's an exemplary first effort from G.Skill. The MX 780 RGB does have a few issues that tarnish the performance and software usability somewhat, but its performance and features far out weigh its shortcomings.