There's a tendency in technology to try to shrink things to as small as they can possibly be. The early to mid-2000's saw the zenith of this with regards to personal computing. The Ultra-Mini PC or UMPC was terribly fashionable, as platform holders did their best to squeeze as much computing as they could into as small a space as possible.
They were always hamstrung devices though. If they weren't running watered-down operating systems, they had inefficient hardware and were barely capable of performing day-to-day computing tasks. Their ubiquity has all but vanished, given how powerful our smartphones have become. The phone that you're reading this on, or is possibly in your pocket, or in your bag is a portable computing powerhouse – but imagine if something were not too much bigger than that, that you could do actual computer work on.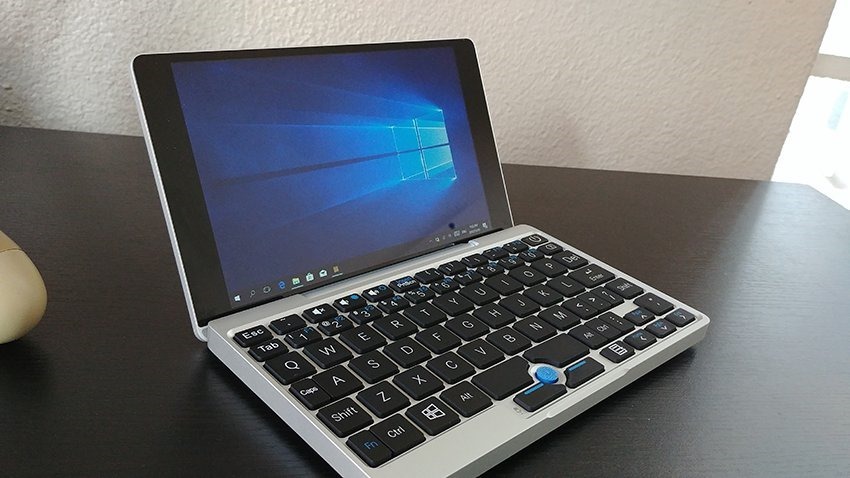 That's where the GPD Pocket comes in. Originally crowdfunded earlier this year, Chinese hardware manufacturer' GPD's Pocket is an attempt to put a high-quality 7" personal computer in…well, your pocket. Barring a few issues, it mostly succeeds. Looking for all the world like a diminutive Macbook, the GPD pocket is immediately impressive – far more than the austere packaging would suggest. As a note, this review unit was sent to us by Gearbest, where the GPD Pocket is available for $479
The all-in-one body is made from a magnesium alloy and sports an incredibly solid hinge that poses no threat of cracking in the immediate future. The right side of the GPD Pocket houses the system's few ports, with a USB-C that's used for peripherals and for charging, a D-type mini HDMI out, a standard high-speed USB A port and a 3.5mm audio out. It's capable of driving an external monitor with resolutions of up to 4K, and with a USB hub, a monitor, mouse and keyboard can easily be turned into a tiny, functional desktop.
It really is exceptionally well-made, and that extends to the screen. Though there's a bit of a bezel that's a little big for my liking, the screen itself is actually impressive. It's a 7 inch IPS screen with ten multi-touch points, running at a resolution of 1920 x 1200. With 323 pixels-per-inch, everything (small as it is!) is crisp and vibrant – making the GPD Pocket great for watching a bit of Netflix or YouTube. Yes, the little screen does mean that the touch targets are a tad small, but using touch for things like scrolling is a pleasure. It's covered with Corning Gorilla Glass 3, so it's hardy, too.
That sense of wonder continues as you boot it up to realise that it's running a fully-functional copy of Windows 10 Home. This isn't some sort of pared down, half-arsed operating system that looks and feels like Windows, but the very same operating system you'd run on a desktop machine.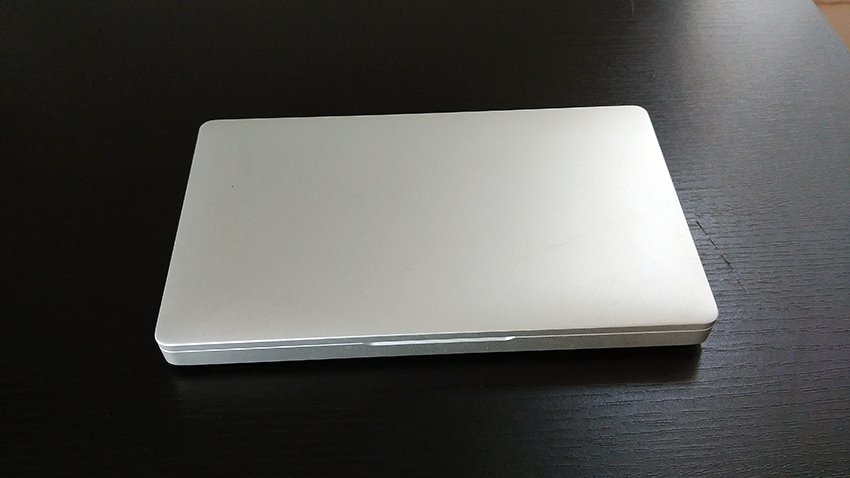 Of course, there are a few concessions, given that the machine is just 180mm across. The first is that It runs on the now largely deprecated Intel Cherry Trail Atom platform, with a quad-core x7-Z8750 running at 1.6 GHz. That means that it sports Intel HD Graphics 405, which is capable enough for less demanding graphical tasks. Thanks to size constraints, the device is also equipped with 128GB of slower eMMC storage instead of an SSD, with 146 MB/s read speeds, and 88 MB/s write speeds.
Impressively, there's a full 8 GB of LPDDR3 RAM, running at 1600 Hz, which makes the GPD Pocket a decent multitasker. Running the machine with Chrome – with a handful of open tabs to boot – presented no issues whatsoever. It works well enough as a portable gaming machine too, and is capable of running quite a few PC games well enough if you sacrifice things like quality and resolution. The Windows 10 version of Minecraft, for example, is more than playable; as are games like Borderlands 2, along with a wealth of indie games on Steam. Yes, it even plays Crysis. Of course, it's even better suited to emulation, running classic systems like the NES and SNES pretty well. Of course you own those games you emulate, right? The device sports Bluetooth 4.1, so pairing a BT controller is easy peasy, though wired ones will obviously work just fine.
Where the GPD pocket does falter a little is its keyboard. Obviously, much of that has to do with GPD trying its best to fit a (mostly!) full-sized keyboard into a diminutive device. The keys have a nice tactile feel to them, and some surprisingly good travel, but they're just bunched too close together to make for a decent typing experience. There are some decidedly odd placements and sizes too, like the tiny Caps Lock that's right by the "A" key, and the Delete key that's bigger than the more practical Backspace. Because of its size, it doesn't have a trackpad, relying instead on one of those little rubber nubs that were so prevalent on early laptops. To be fair, it works pretty well once you've become used to it, though you'll still likely want to plug in a mouse.
There are a few other niggles. Because it's a powerful device for its size and it utilises active cooling, there's a perpetual whine from the fan, that's there even when the device is just charging. There's something odd with the system's out-of-the-box thermal management, and a few tinkerers in the burgeoning GPD Pocket community who've played with the hardware and its software have found a workaround to fix that, while also increasing performance. Replacing thermal compounding and flashing firmware isn't for everybody though.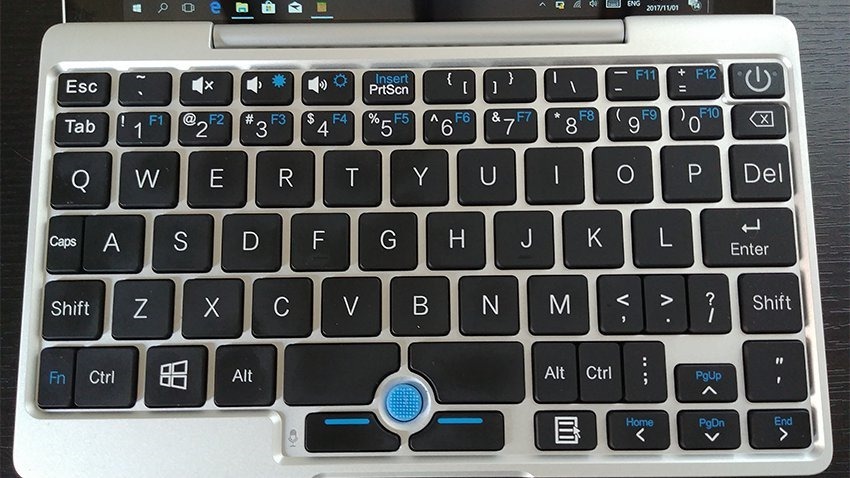 The other important consideration is the one of just who this device is for. GPD positions it as a fashion item; the sort of thing a trendy young woman might haul out to check on her social media accounts. The other bit of their target market is the mobile Linux developer, who might load up Vim on the go (While the version of the GPD pocket we have has Windows 10 on it, there's another one that comes preloaded with Ubuntu Linux). It's very definitely niche, and certainly not for the sort of thing you really want to sit down to do work on. That said, it's something I see myself using it quite a bit. It literally fits into my pocket, and is a godsend for doing coverage from events without the need to carry a laptop around. Its decent battery life helps in that regard.
GPD suggests that you'll get around 12 hours of life out of the thing, but that's a little optimistic in my experience. With general use, I was mostly able to eke out 6 hours of use on a full charge, and about 4 and a half hours of straight video viewing, which isn't at all bad for a device of this size. Sure, it's not the most comfortable device to actually sit down to work on, but it's perfect in a pinch. It's a bit of a pricy pinch unfortunately – coming in at the price of an entry-level laptop. That makes it more of a tech curiosity than a necessity.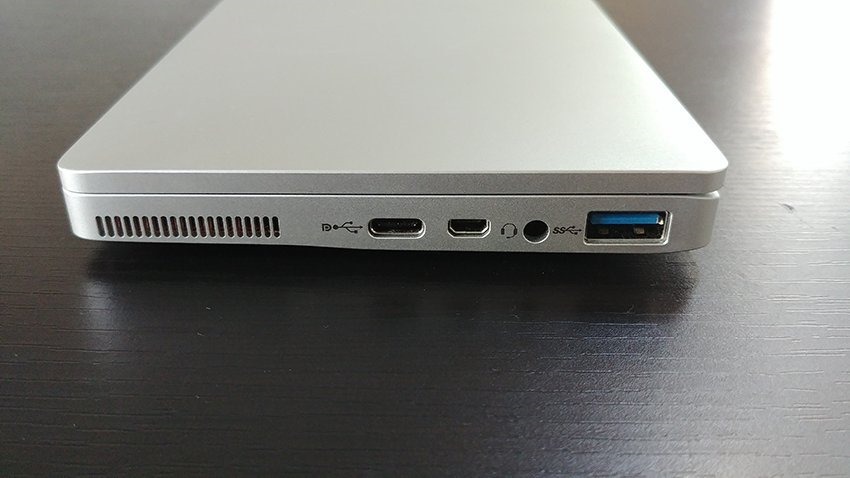 That said, the GPD Pocket is still incredibly impressive. Just about everybody I've shown it to has been gobsmacked. In the right scenario it could be perfect, but a few design issues and its price make it hard to seriously recommend as a suitable replacement for a laptop.
Display
7-inch IPS multi-touch
Corning Gorilla Glass 3
Display resolution
1920 x 1200
323 PPI
16:10 aspect
Software
Windows 10 Home 64-bit
Processor
Intel Atom x7-Z8750 at 1.6 GHz (Turbo 2.56 GHz)
Storage
128 GB eMMC
Memory
8 GB LPDDR3-1600
Graphics
Intel HD Graphics 405
200 MHz base; 600 MHz burst
Speakers
Realtek ALC5645
Stereo speaker
Ports
1x USB Type-C 3.0
1x USB Type-A 3.0
HDMI D Type
3.5mm headset jack
Sensors
Gravity Sensor, Hall Sensor
Network
802.11a/ac/b/g/n, 2.4/5GHz
Bluetooth Wireless 4.1 technology
Battery size
7,000 mAh Li-Po
Battery life
6 Hours
Weight
0.48 kg (1.06 lbs)
Dimensions
180mm x 106mm x 18.5mm
This review sample was sent by gadgets and tech goodies e-tailer Gearbest.com, where GPD Pocket is available for $479.  Yes, they do ship to South Africa.
Last Updated: November 6, 2017
GPD Pocket

The GPD Pocket is a feat of engineering, stuffing a fully-functional Windows 10 machine into a tiny device - but a few design issues make it hard to recommend as a proper laptop replacement.