I quite liked LG's approach to the modular G5. It was a time where every single flagship seemed to be almost identical, differing only by the camera specifications and add-on nonsense in an attempt to stand out. The G5 really did stand out. With its removable bottom, users were able to plug in other modules – like an expanded camera module, a fancy speaker and well…not very much else.
While the G5 was great in theory, in practice, it was anything but – and fumbling around with additional modules proved more of a hassle than it was worth. Thankfully, LG has gone back to being a little more traditional with the G6. They're doing less to stand out with no leather backs or modules, just great specs – and in being more traditional, LG has delivered its best phone in years.
It's sleek and svelte, with a metal unibody enveloped in Gorilla glass. Gorilla glass 3 for the front, and 5 for the back. What that means is that the LG G6 doesn't have a removable battery as its precursors have but it does give the phone IP68 protection which results in it being dust and water-proof, able to be submerged for half an hour without worry. It's got a fingerprint sensor on the back that also doubles as its power button. An odd, but also genius and natural placement inherited from the LG V20.
At the top of the device you'll find a 3.5mm headphone jack, as LG's not courageous enough to buck that trend just yet. At the bottom, a USB-C port for charging and a sim and microSD slot on the right. It's not toying with conventions much in its design, and that's a good thing.
Where the phone does stand out a little is with its display, a gorgeous 5.7-inch LCD display with an 18:9 ratio and a Quad HD resolution. Yes, that's 2560 x 1440 packed into a mobile device – with support for both HDR 10 and Dolby Vision.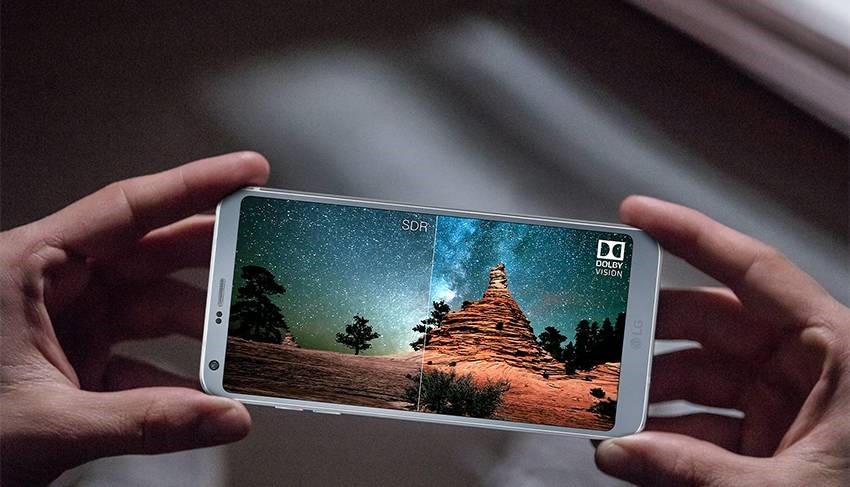 What the odd ratio (two squares, neatly stacked atop each other) does mean is that while apps that are native to this resolution look genuinely amazing, some that stick to the 16:9 convention will produce black bars on the side. LG has a way to force apps to rescale, but it can lead to cut off. But man, that is a gorgeous display.
As for performance, the LG G6 comes equipped with the Snapdragon 821 processor (instead of the newer 835) alongside 4GB of LPDDR4 RAM and an Adreno 530 GPU – which means that it's about as equipped as Google's Pixel XL. It also does mean that it'll be a dream to use –without so much as a hitch in multitasking.
The camera is also nearly flush against the back of the device, which is quite nice. To do that LG has trimmed down the mega pixel count from 16 to 13, which means that both of its twin rear cameras sport the same megapixel count. One camera will give you wide angled shots, while the other is a standard sensor. Here's a quartet of photos snapped with it so far:
Naturally, as new flagship it'll come with Android 7 Nougat right out of the box. As an added bonus there'll also be a 64gb memory card bundled in, an LG bluetooth Tone headset and 100gb Google Drive space valid for two years. Vodacom and MTN will have stock of the LG G6 first, with Cell C and Telkom Mobile receiving the phone later this year.
It'll be out in South Africa from Friday – at a cost of R14 629.
[Update] The local pricing of the phone is now a much more reasonable and measured R12 099. It's available on contract from R599 per month.
LG G6 Specs
Display:
5.7-inch 18:9 QHD+ FullVision IPS LCD display
2880 x 1440 resolution
564ppi
Processor
Quad-core Qualcomm Snapdragon 821
GPU Adreno 530
RAM
Storage
32/64GB
MicroSD Yes, up to 2TB
Cameras
Rear: Dual 13MP wide-angle sensor (f/2.4 aperture / 125°) / 13MP standard sensor (f/1.8 aperture / 71°), OIS 2.0
Front: 5MP wide-angle sensor (f/2.2 aperture / 100°), 1.12µm pixel size
Battery
3,300mAh
Non-removable
Quick Charge 3.0
Qi and PMA wireless charging
Connectivity
LTE-A 3 Band CA
Wi-Fi 802.11 a, b, g, n, ac
Bluetooth 4.2 BLE
USB Type-C, NFC
Software
Android 7.0 Nougat
LG UX 6.0
Colors
Ice Platinum, Mystic White, Astro Black
Dimensions and weight
148.9 x 71.9 x 7.9mm
163g
Last Updated: April 10, 2017