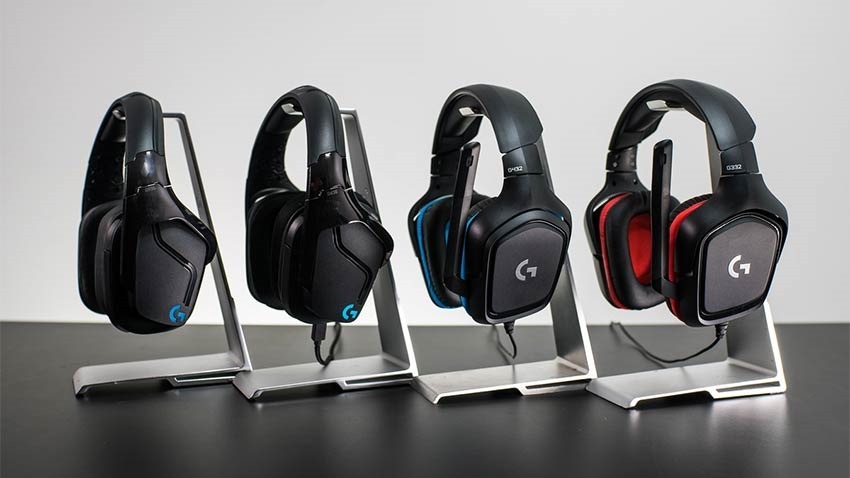 Logitech's headsets are…pretty good! The company has always delivered quality PC gaming headsets, and pushed into the console space with its acquisition of the Astro brand in 2017. Logitech makes some of the finest peripherals your coin will get you, and they've just revealed four brand new ones, to suit any budget. If you're in the market for a new headset, then there's probably something in the new G-series line-up to tickle your fancy.
The quartet includes the Logitech G935 7.1 LIGHTSYNC Wireless, the G635 7.1 LIGHTSYNC, the G432 7.1 Surround, and the G332 Stereo. You can actually tell their core features just from their names, without having to cross-reference with some marketing pamphlet.
The G935 7.1 LIGHTSYNC Wireless, as its name suggests, will offer both wireless connectivity and Logitech's RGB Lightsync tech. It uses the company's Pro-G 50mm driver, and offers a 6mm microphone, on ear controls and a decent 12 hours of battery life. The G635 7.1 LIGHTSYNC is the same thing, only with wires and, as a result, a lower price. While we have no indication of local pricing yet, the sets come in at $170 and $140 respectively.
If that's a little too rich for your blood, there are two more sets priced at a more palatable $80 and $60. The G432 7.1 Surround will feature 50mm drivers and DTS Headphone :X 2.0 surround sound, while the cheaper G332 Stereo Gaming Headset will be the same build, but without the surround sound gimmickry. For my money, it'd be the cheaper set that actually sounds better, because virtual surround is largely terrible and unnecessary.
We've been told the sets will make their way to local retail channels within the coming weeks.
Last Updated: February 6, 2019