How would you write about one of the fastest single GPUs you've ever had grace your presence? How could you fault something that effortlessly turns the most demanding games into buttery smooth goodness? Could you look at something that achieves 60FPS on most games at 2560 x 1440p and playable 30FPS at 4K? Imagine a graphics card that did this while being as silent as a fish, and cooler than the other side of the pillow. The MSI GTX 1080 Gaming X is just one such rarity.
MSI GTX 1080 Gaming X:  Software and Overview
Alessandro has already introduced us to NVIDIA's Pascal Perfect GTX 1080 FE, and for the most part this non-reference GTX1080 is every bit the card you will find in the FE, having the same GP104 chip with 2560 CUDA Cores  and 8GB of that blistering fast GDDR5X memory operating at 10GBps.
It's also so much more; it's cat friendly.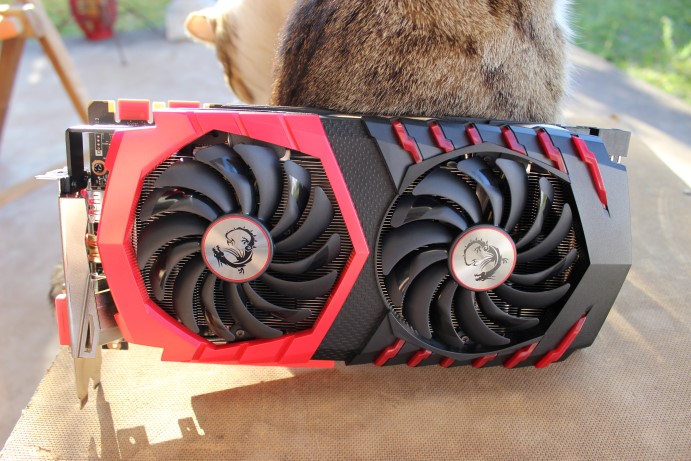 Besides being furry friendly, MSI have graciously factory overclocked the socks off this card to a maximum of 1,708MHz/1847MHz (although it ventured far above this), junked the FE cooler in favour of their own Twin Frozr VI cooling solution with four 6" and two 8" heat pipes to keep the 16nm 314mm² GP104 chip cool.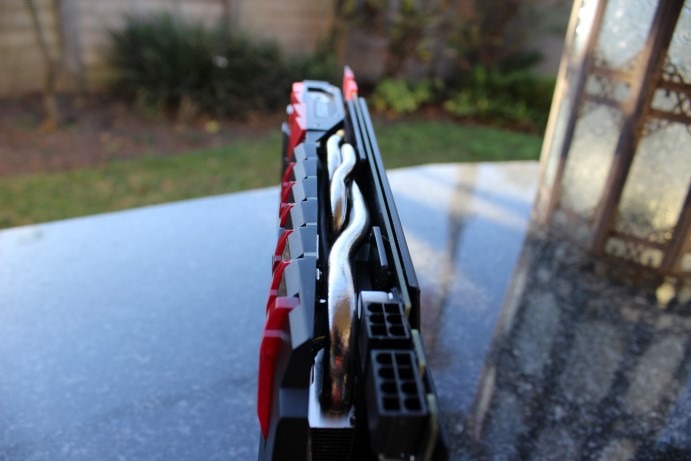 It's a non-reference PCB with an upgraded 8+6 pin power connector so the board can take a total of 300W of power. I was unable to disassemble the cooler for fear of invoking the mighty wrath of TVR and MSI South Africa (Thanks for the review sample!), but it's safe to say that MSI has crafted, if out the box performance is anything to go by, a spectacular card.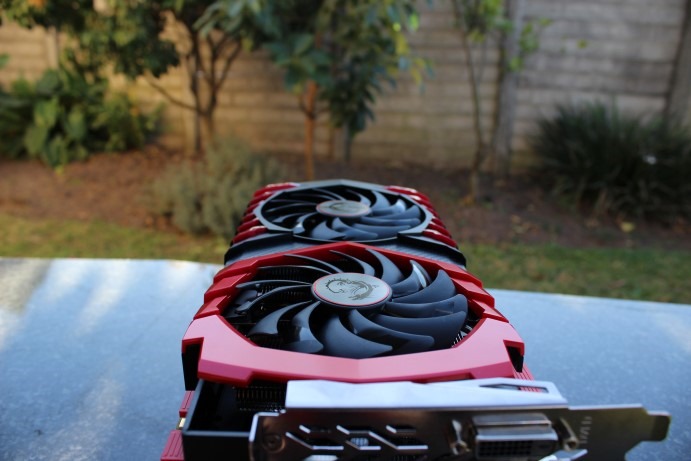 This card is simply a beast. It's a chunky 28.0cm long and 14.5cm tall 2.5 slot behemoth that thanks to the "anti-flex" bracket on the card actually prevents you from installing the card in a tool-less fashion. Nothing a screw driver can't fix, but it was literally the most irritating thing about this card. MSI have stuck with the same display connections as the reference model, giving us three DisplayPort 1.4, one HDMI 2.0b and a single Dual-Link DVI-D.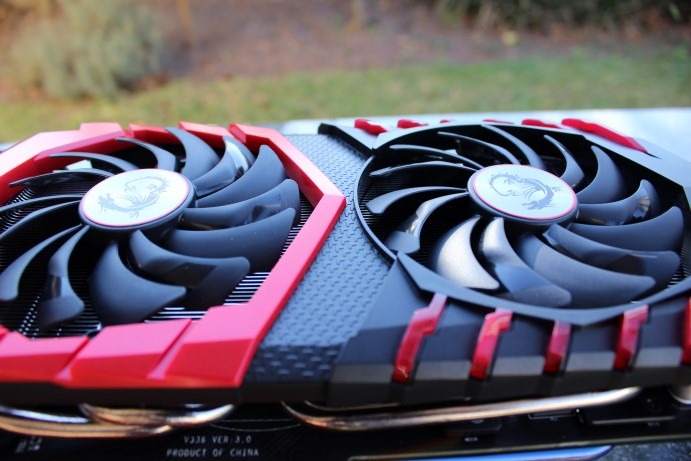 The majority of the cards chunkiness can be attributed to the Twin Frozr VI cooler. Besides the red "lightning" LEDs, the red and black fan shroud seems like a minimal update from the Twin Frozr V. Although the fans here are double ball bearing TorX 2.0 fans which have a "dispersion fan", apparently increasing air pressure and providing better cooling. I'm not sure if all of that is pure market-speak, but I cant argue with the results; the cooling on this card is fiercely impressive and the best I've ever experienced, something I'll discuss in the performance section of this review.
The backplate offers some kickass aesthetics (with the Dragon the right way this time!) while the RGB and fan shroud lighting does its job of providing effective, if a little incomplete, LED options. To make use of the LED lighting you need to download the provided MSI Gaming App since the version on the included driver CD could not access the LEDs or change the 3 different OC modes on the GPU.

The primary RGB LEDs on the Gaming X are able to match your build colour theme or operate in 8 different modes, or in my case simply sync with the Mystic Lighting on the MSI Z170A Gaming Pro Carbon that TVR sent with the card. The RGB lighting can react to music or in-game sounds, but it's far too haphazard to be anything but distracting eventually. A glaringly obvious omission is any GPU-centric LED lighting showing temperatures scales, GPU load or even fan speed—although admittedly the card runs so cool that I doubt you'd get lots of variation in colour. I can't argue with how good a LED lit interior looks in a case.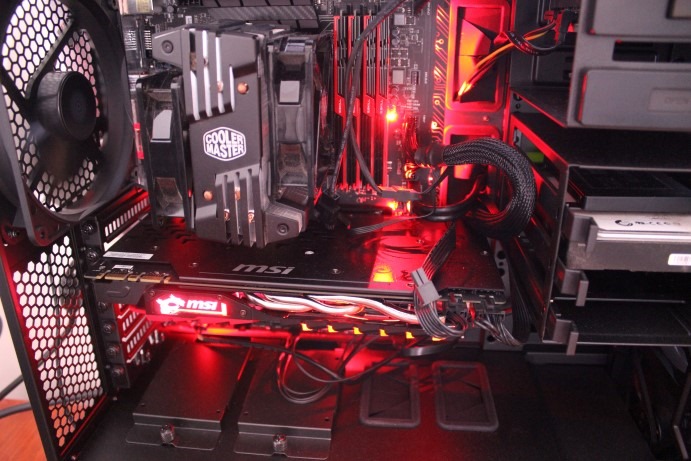 There is a bevy of software that might interest the streamer, such as a XSplit Gamecaster and Broadcaster 2 month premium license and  MSI Dragon Eye, which allows you to play a game and watch a YouTube or Twitch Stream simultaneously. It was not really an option I could use with my 2MB/s connection, even I was interested in it. The only software we made use of was the MSI gaming App and MSI Afterburner to crank up clock speeds.
Performance: Clock speeds, Temperatures, Noise
The card ships with three operating modes; Silence, Gaming and OC mode. Just like "clockspeedgate" controversy, this card came with the OC mode as the default clock speed, so for all stock runs this is the mode that was used in our testing. In Silence mode you achieve reference 1,607MHz/1,733Mhz clock speeds,  while Gaming mode ups the ante to 1683MHz/1,822MHz and OC mode nets you to 1,708MHz/1847MHz with a small 13MHz overclock on the memory respectively.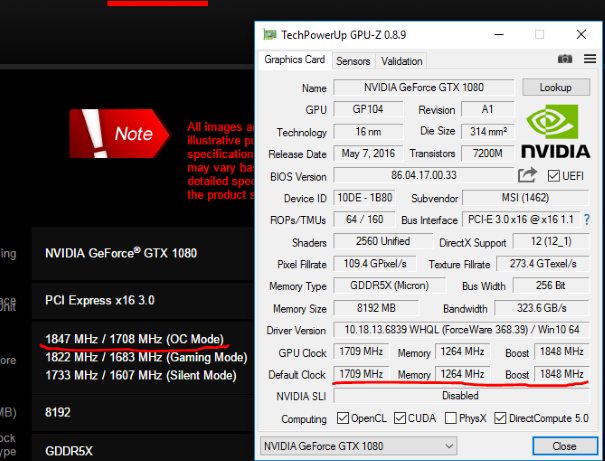 In operation, though, this card uses these core clock speeds as more of a guideline than an actual hard rule, with usual clock speeds operating well above these thanks to the spectacular cooling performance of the Twin Frozr VI. Usual OC mode clock speeds in gaming and synthetic benchmarks varied between a maximum of 1,964MHz, although the majority of the time the card hummed away effortlessly at 1934MHz–well above the supposed boost clock of 1847MHz
Obviously this is all possible thanks to the way NVIDIA have been determining their clockspeeds based of the interplay of heat and voltage overhead. With GPU Boost 3.0 the extra frequency headroom afforded to the MSI GTX 1080 Gaming X is in large part thanks to the Twin Frozr VI cooling prowess. The cooler was able to keep a GTX 1080 at 1934MHZ under 70 degrees Celsius all the while humming away between 55 and 65% fan speed—even at this level the graphics card fans are not audible above most case fans. I was often left checking to see if they were still spinning since idling or light gaming in which temperatures remain under 60 degrees Celsius, the fans would engage a zero-rpm mode.
To really test the cooling chops on the MSI GTX 1080 Gaming X I forced the fan speed down to 25% and played a game of Witcher 3 at 4K Ultra.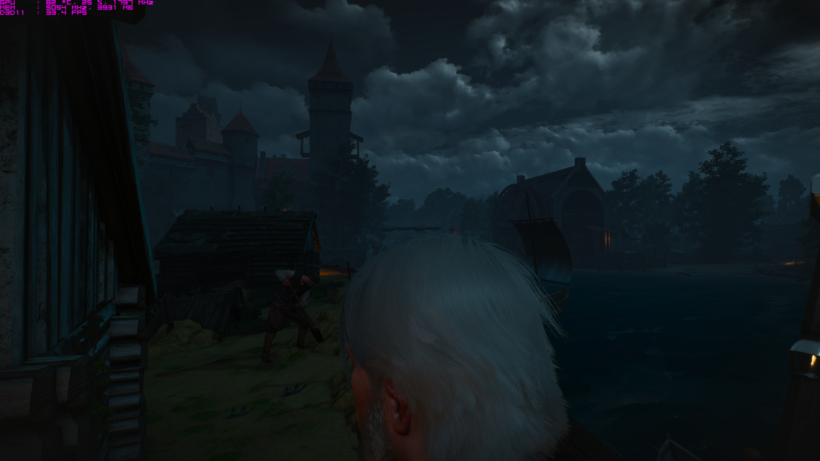 Running in OC mode at 25% fan speed the card was able to stay below 83 degrees Celsius and maintain a higher base and boost clock than a GTX 1080 FE, only going as low as 1,797MHz after a solid 20 minutes of running around. I force this card to under-cool itself and it still maintained a higher boost clock than an FE card, while being quieter—simply brilliant if you ask me considering the main concern with the GTX 1080 was temperatures affecting boost speeds somewhat.
Gaming And Synthetic Performance
So, with all that said, let's get to some gaming and synthetic benchmarks! We've included some benchmarks against Alessandro's GTX 1080 FE, standalone DX 11 games, some comparisons regarding DX 11 and DX 12 modes and then some overclocking results. I tested the card along a wide variety of games and game genres. The system used to test the MSI GTX 1080 Gaming X was:
Core i7 6700K @ 4.4GHZ
MSI Z170A Gaming Pro Carbon
4x4GB G-Skill DDR4 @2700MHz/3200MHz
OCZ Vertex 3 120GB SSD
Windows 10 X64
NVIDIA 368.39 WHQL Driver
This card was so beastly I was able to get into 17th place for single card Fires Strike Ultra scores when overclocking this card in my system. Maybe that's more testament to the lack of supply of NVIDIA's best, but it still speaks volumes for how this card simply decimates the old guard in synthetic scores. Up against its reference Founder Edition, it clears it by some margin.
Testing of most games were done using either their in-game benchmark facilities, or doing repeat runs of pre-set sections in games. For example, Star Wars Battlefront scores were done playing the Speeder Tutorial mission, while Witcher 3 was a pre-set run across the same path you take at the start of the game heading into White Orchard and then towards some forested areas.
Comparing the card to the FE we see quite a hefty lead. Not surprising thanks to way higher than reference clock speeds.
Moving on to other standalone tests in the DX 11 stable: GTA V, Metro Last Light, Witcher 3:The Wild Hunt, Rome II: Total War, Star Wars Battlefront, Company Of Heroes 2.
The scores are mightily fast across many old and new games, and although the card is probably one of the fastest in the world out the box, it still wont manage an average of 60FPS at 4K on modern titles. We really punished the card in terms of detail settings, so tweaking some settings can maybe hit that magic number.  However, if you want over 60FPS and more, gaming at 2560 X 1440 is this card's sweet spot for image quality and performance. Now let's compare some DX 11 and DX 12 titles and see if the new API can boost some frames.
Looking at Ashes of the Singularity (AOTS) it's telling how NVIDIA has done their homework regarding DX 12 in that game, with increases in average frame rates moving to DX 12, making it playable at 30FPS at 4K, which for an RTS game can actually be bearable. Tomb Raider in DX 12 is not as forgiving for NVIDIA however, as playing in DX 12 mode does drop frame rates across the board.
Overclocking
Trying my hand at navigating GPU Boost 3.0 means you have to get used to a new and interesting way at overclocking based on predefined voltage offset percentages. So after setting time aside I dutifully got to work and soon found the max the silicon would allow: with only a 7% power limit increase available to me and the voltage offset set to 100% I quickly smacked into the infamous NVIDIA OC wall, managing only a meagre 50MHz core overclock and a pretty par for the course 490MHz memory overclock.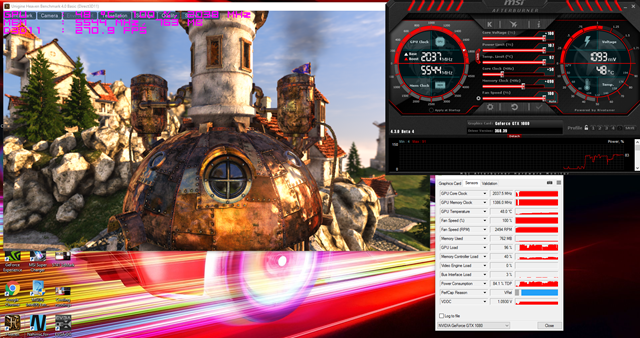 MSI has so vigorously turned up the dials that they've left almost no overclocking headroom on this silent beast! In Synthetic benchmarks 2050MHz was stable, but for gaming it hit a maximum of 2038MHz while averaging around ~2012MHz. Memory operated at over 11000MHz giving us a jaw-dropping 354.6GBps of bandwidth. Looking at other reviews, this sample seems to be on the lower end of the overclocking headroom spectrum, which again goes to show that just because something has a fabulously effective cooler and non-reference PCB does not automatically mean the silicon inside is better. Gaining 60FPS at 4K is still not achievable when giving this card all its got.
Conclusion: Silence Is Golden. Just Not A Golden Chip.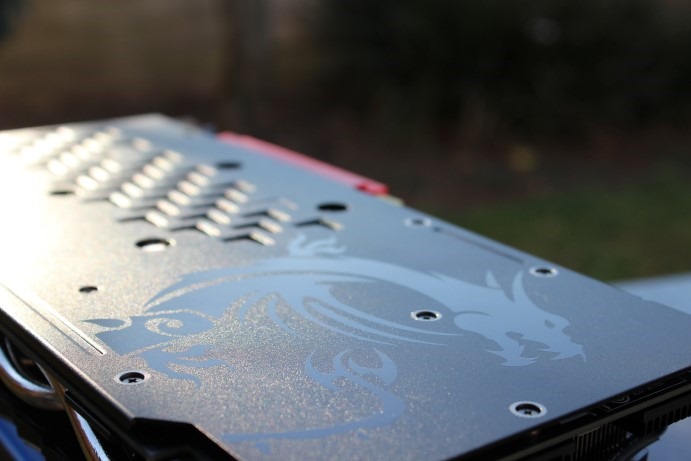 So is the MSI rendition of NVIDIA's Pascal Perfection worth the R15 000 investment, a good R2500 more than regular FE models? That is a question with two answers — if you are after spectacularly ridiculous out-the-box factory overclocked performance, then you can't do much better than the MSI GTX 1080 Gaming X. If you are expecting better chances of a golden GP 104 chip at the heart of the GTX 1080 MSI Gaming X, then you will be sorely disappointed. Regardless of its cool operation, extra 6- pin power connector and non-reference PCB, the silicon can only go so far without adding in a voltage hack of some sort. That being said, once you experience just how fast this card is while gaming, you'll never think twice about its "gimped" overclocking performance.
Last Updated: July 20, 2016
MSI GTX 1080 Gaming X

The MSI GTX 1080 Gaming X is monstrously fast, maintaining on average at least 30FPS at 3840 X 2160 and 60FPS at 2560 X 1440 on modern and older games at maximum settings—for a single card solution, that is mightily impressive. Couple that with the extremely silent operation and exceptionally pedestrian operating temperatures and you have something fast, quiet and cool—what more could you ask for? Well the MSI GTX 1080 Gaming Z - we'll see about that one!