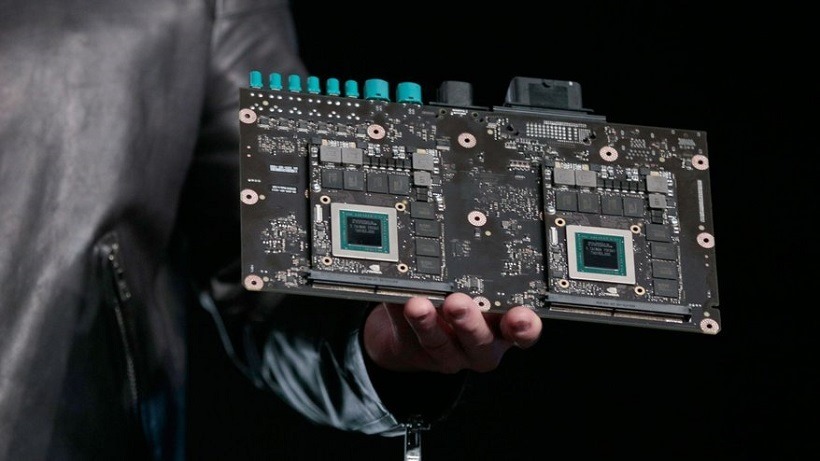 CES 2016 was a hoot and a half this year, with a plethora of exciting new technological reveals setting the tone for the year going forward. A big part of CES this year was self-driving cars – an industry that Nvidia themselves focused on heavily during their keynote at the conference. On stage the company revealed their Drive PX 2, a chip that would be capable of handling all the strenuous tasks of self-driving AI.
At the time it was presumed that the prototype was making use of Pascal, Nvidia's new architecture standard that is expected to release this year. I mean, CEO Jen-Hsun Huang even boasted that the Drive PX 2 packed the computing power of six Titan X boards. But taking a closer look at the chip in his hands on stage reveals a different story. Turns out that the Drive PX 2 prototype might have been running on current Maxwell tech – with Pascal nowhere to be found.
This is a deceptive way to sell a product, and its not the first time Nvidia have tried to over-reach with their announcements without being entirely honest. The same happened back in 2009 with the Fermi chips. Back then Nvidia promised that the chip was in full production, and that it would be out in the same year that it was revealed. The truth was that the team in green was having major issues with the GF100 – which eventually lead to a delay into 2010 and egg on Nvidia's face.
It might not be a cut and paste scenario here with Pascal (there's no indication yet that Nvidia might not release the cards by the end of 2016), but it's another notch in a weird deceptive history that Nvidia is now building for themselves. And it's not even necessary, considering Nvidia didn't use their keynote to talk about Pascal directly. Instead of trying to pass off the Drive PX 2 chip as powered by Pascal, the company could've simply focused on how it's going to push self-driving AI forward without making outlandish claims around power.
Because it only took a few days for savvy internet viewers to realise that the board shown bore a striking resemblance to the MXM GTX 980 architecture instead of something new. And it's just just put a massive cloud over Nvidia's head for no real gain.
Last Updated: January 12, 2016