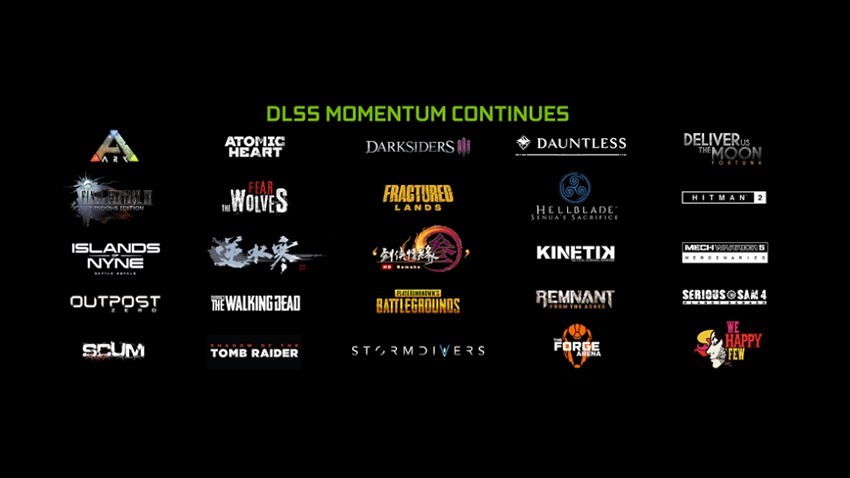 One of the big features of Nvidia's upcoming new graphics cards – along with that Ray Tracing stuff – is DLSS. That stands for Deep Learning Super-Sampling, which according to Nvidia is "a technology that applies deep learning and AI to rendering techniques, resulting in crisp, smooth edges on rendered objects in games."
Effectively it's AI-powered anti-aliasing and supersampling, which means that games that support it should look significantly crisper – and it does that with an increase in performance. Unfortunately, just like Ray Tracing, it's not widely supported yet. And that makes sense, given that the RTX cards aren't available just yet. The list of games that'll support it grows though with nine new games announced with DLSS support.
Here're the nine new games that'll support DLSS:
Darksiders III from Gunfire Games / THQ Nordic
Deliver Us The Moon: Fortuna from KeokeN Interactive
Fear the Wolves from Vostok Games / Focus Home Interactive
Hellblade: Senua's Sacrifice from Ninja Theory
KINETIK from Hero Machine Studios
Outpost Zero from Symmetric Games / tinyBuild Games
Overkill's The Walking Dead from Overkill Software / Starbreeze Studios
SCUM from Gamepires / Devolver Digital
Stormdivers from Housemarque
That brings the overall list to 25, though that support will no doubt grow over the coming weeks, as we lead up to the launch of the Turing-based RTX cards. Here's the remaining games with DSLL support:
Ark: Survival Evolved from Studio Wildcard
Atomic Heart from Mundfish
Dauntless from Phoenix Labs
Final Fantasy XV from Square Enix
Fractured Lands from Unbroken Studios
Hitman 2 from IO Interactive/Warner Bros.
Islands of Nyne from Define Human Studios
Justice from NetEase
JX3 from Kingsoft
Mechwarrior 5: Mercenaries from Piranha Games
PlayerUnknown's Battlegrounds from PUBG Corp.
Remnant: From the Ashes from Arc Games
Serious Sam 4: Planet Badass from Croteam/Devolver Digital
Shadow of the Tomb Raider from Square Enix/Eidos-Montréal/Crystal Dynamics/Nixxes
The Forge Arena from Freezing Raccoon Studios
We Happy Few from Compulsion Games / Gearbox
It's all exciting new technology, but at this point we can't really say whether or not it's worth spending the vast amounts of money that Nvidia's new cards cost – and we won't until we have one in our hands, or reviews are out in the wild. For the limited number of games that support its marquee features, it's hard to imagine how it could be worth the money right now.
Last Updated: September 14, 2018