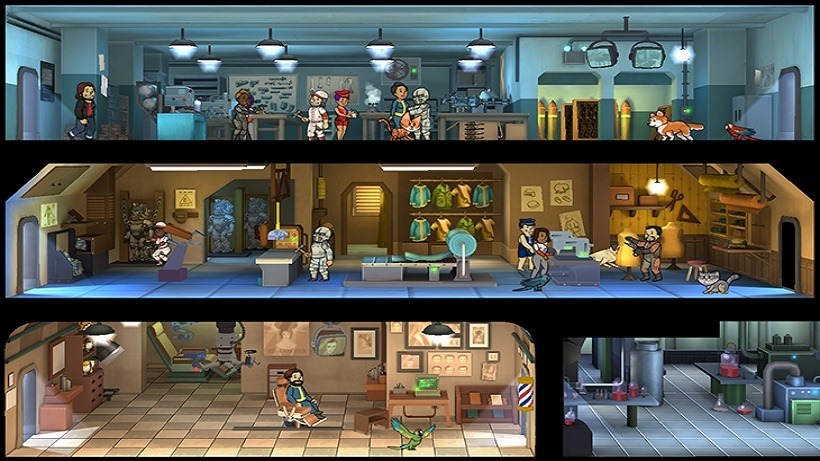 Apart from the odd game of Hearthstone, I seldom play games on my phone. Last year however, I found myself playing a lot of Fallout Shelter. I don't know what made me download Bethesda's mobile title in the first place (the hype for Fallout 4 was real I suppose), but once I did, I got utterly lost in the wasteland.
I ended up getting over the game though, after a month or two. There came a time where all I seemed to do was send out explorers, and call them back, and send them out, and call them back again. You get the idea, right? It just wasn't fun anymore – Fallout Shelter lost its appeal, and I've since uninstalled it and moved on.
The latest update however, 1.4, is rather meaty, and may just pull me back into the mobile wasteland once more. Here's what the new content includes (via Destructoid):
Turn worthless junk into useful items! Introducing… crafting!
New Rooms! Build the new Weapon and Armor crafting rooms and use them to create your own items in game!
Lunchboxes now contain a bonus 5th card: Junk! Trust us – it's more useful than it sounds. Lucky wasteland explorers may also find junk on their adventures.
Take the Overseer role to the next level. Build the new Barbershop and customize the look of any Dweller.
Keep up with the latest fashions! Find new Outfits and Weapons straight from Fallout 4 in lunchboxes, or craft them yourself!
Because four-legged companions bring overwhelming happiness, we've added new Dogs and Cats, and are introducing… Parrots! Plus, new Pet bonuses!
Time of day is now properly reflected. Because authentic Vault simulation is our #1 goal!
Crafting? Parrots? SOLD! Junk though? What's that used for? I guess I'll have to download Fallout Shelter once more to find out.
Are you still playing the game? Are you excited for all this new content?
Last Updated: March 1, 2016