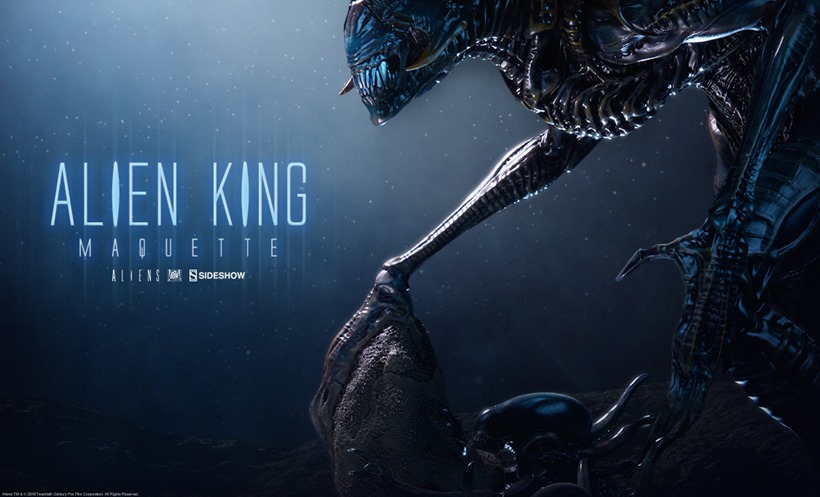 Anyway you look at it, the Xenomorph is a humanoid shape of death, terror and the worst penis envy since Sean Connery wore a red diaper in Zardoz. It's thankfully a fictional monster, just like Bigfoot and your parent's disapproval of you wanting to be a YouTube star. Thing is, it gets worse the deeper you go into an Alien hive. Because your stock standard Xenomorph isn't bad enough, you to still have to deal with face-raping facehuggers, Praetorians and the apexiest of predators, the Queen herself.
For many, many years the Queen was considered the most lethal example of the alien hierarchy. Bigger, faster and tougher than a R20 steak, the Queen was a Xenomorph that you wanted to avoid at all costs. And now, something bigger has come along. Behold, the Alien king:
Working in direct partnership with Legacy Effects, the artists and nightmare makers behind the creatures and Queen from Aliens, Sideshow is extremely pleased to present the Alien King Maquette. Standing as a compliment to his Queen, the Alien King is a fully-realized canon character brought forth to once more haunt the dreams that Geiger so carefully crafted for us all.
Standing a a massive 20? tall and 21? long, the Alien King Maquette strikes a pose of unrelenting drive and energy. This is heavily accentuated by the seven aliens that swarm around his clawed feet.
Hot damn. So what's the catch? Well, prepare to shell out MASSIVELY for this piece of extra-terrestrial royalty. Sideshow Collectibles has the Alien King pegged at a price of $999. At current Rand/Dollar exchange rates, that works out to over R15 000. And not including shipping. Still, it's absolutely magnificent. It's something that really stands apart yet complements the Alien Queen, and I love the more regal crown that the Alien King sports. And that extra dose of biomechanical details ain't bad either.
Last Updated: May 11, 2016