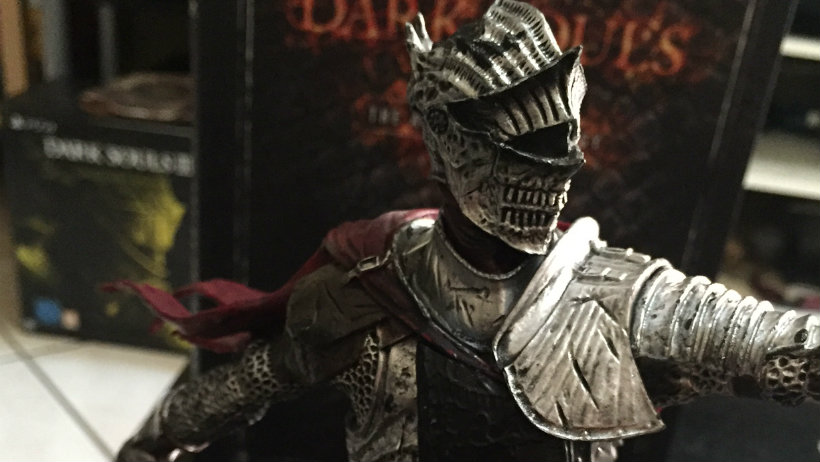 Normally, I leave toy and figurine reviews to Darryn. He seems to know what he's looking for in a modeled piece of plastic, and is much better toy photographer than I am. However, when I saw the Red Knight statue that came in the Dark Souls 3 Collector's Edition that I bought for my other half (from the awesome people at AWX), I was blown away.
The statue that came with the Dark Souls 2 collector's Edition was also impressive, there's no doubt, but this one is even more so. I think what impresses me the most is the sense of movement that is somehow brilliantly translated to a stationary figure. The arms can't move, and yet it seems like the dual wielding Red Knight is going to come whirling at me any moment in a flurry of death and mayhem.
The detail on the Red Knight is equally impressive, with every link of chainmail, buckle on the armor and chink in the plate recreated in exquisite detail. From the boots all the way to the helmet, every inch of the statue is well textured, with plenty of details to be found upon closer inspection.
While heavy, the statue isn't so heavy to be immovable. The swords are inserted into the hands by removing the pommels, which can then be replaced. They are quite small, so this can be a bit of a delicate procedure if you're not careful.
Combined with the comprehensive art book and cloth map, this Collector's Edition is definitely worthwhile. I will be admiring this statue for years to come, almost as much as I admire my husband's skills in the game – I would throw my controller before I'd have the patience to play like that, but at least he doesn't seem to die all the time, which I would do constantly.
If you haven't already, you really should enter to win the Dark Souls 3 Collector's Edition we're giving away – it's so very worthwhile, even if you intend to play the actual game on a different platform.
Last Updated: January 4, 2017